BTS demand respect, attention, and well deserved fame with their era defining seventh studio album, 'Map of the Soul: 7'.
Stream: 'MAP OF THE SOUL: 7' – BTS
---
There is an elephant in the room. There is a notion that needs to be addressed. In large part, music groups or individuals that predominantly sing in another language do not do well in America. Foreign musicians are overwhelmingly negated simply because American audiences do not understand the lyrics.  If the group comes from a non-European country, it's twice-fold, and especially in the beloved pop genre. Hopefully, however, there is a shifting tide by way of prolific pop group BTS – one evidenced by their monumental Grammy nomination for Best Pop Duo/Group Performance.
K-Pop group BTS, or Bangtan Sonyeondan, "Bulletproof Boy Scouts" have been dominating the pop charts globally for almost five years now, ever since the release of the group's EPs: The Most Beautiful Moments in Life Pt. 1 in 2015 and Pt. 2 in 2016. BTS slowly climbed thereafter with each album release, before exploding onto the scene with their sixth album, Love Yourself: Tear in 2018. Now, BTS have gained international fame and celebrity with their most recent releases: The EP Map of the Soul: Persona, and Map of the Soul: 7.
BTS' seventh studio album, Map of the Soul: 7 debuted on Billboard 200 with a first-week metric of 422,000, cementing  four number one albums for the group – a title last held by The Beatles in 1968. BTS is reinventing pop music culturally, artistically, and statistically, and Map of the Soul: 7 is undeniable proof.
Map of the Soul: 7 is not just executed well; it's very thoughtful. The album is named after the Map of the Soul theory by psychologist Carl Jung, while the 7 is in reference to how long the band has been together since their "debut". The brilliance of Map of the Soul: 7 comes from how multifaceted it is: It doesn't rest on the laurels of its features, the band's impeccable fashion, of even their magnetizing sex appeal. Instead, the group shine through with musical flow and a seamless blend of seven eclectic different styles and talents. The song "Black Swan" touches on neo-funk with a classic hint of soul, "Respect" is an ode to early 2000s hip-hop, and if you're not throwing yourself around to "UGH!" then there are bigger issues at hand. As a whole, BTS traverses genres with ease and is never afraid to experiment, and you can count on a flawless dance number to accompany every track.
While their music has absolutely soared and demanded its arrival, there is another component to the success of BTS: Their dedicated fanbase. Male K-pop groups, understandably, have a very similar trajectory to boy bands. Every fan has a favorite member: Liam, Harry – but for BTS and K-Pop as a whole, it's called a "bias." They also have a "bias breaker," which is the one member who could take the focus away from your bias, but that's for a later time. It's not just the fans who have taken notice of BTS' artistry or their kind and playful demeanor – the group is responsible for consistent and impressive features. On Map of the Soul: 7 alone, there's "Boys with Luv" ft. Halsey and "ON" ft. Sia. The men have also collaborated with Charli XCX and Nicki Minaj. Needless to say, BTS have been turning heads outside and inside of the music industry.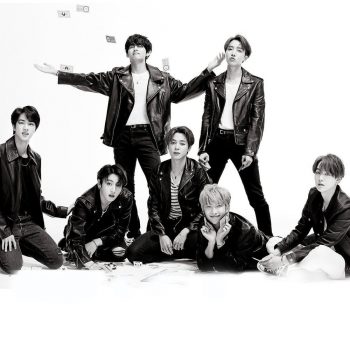 Something that feels remiss to not mention about BTS is also their overwhelming kindness. The group have spoken consistently about their love for one another, and how grateful they are to be able make the art they love. Member Suga has spoken as an out and proud bisexual man, Jimin has opened up about his eating disorder and offered support for those struggling, and the group as a whole donated a million dollars to Black Lives Matter. The men of BTS are rare and have their respective talents, therefore fostering a special convergence of talent, a well-curated ear, and ambitious dreams.
As we usher in 2021, we leave what we can of 2020 behind. Included in the year's tragedy, hatred, etc we should make sure some of the stigma surrounding non-English speaking music groups is included. BTS have been dominating the music sphere as of late, and that's just it – we're all a little too late to the party. Hopefully we can celebrate with BTS not just a Grammy win in February, but a shifting tide and a new era of music.
— —
— — — —
 © 2020
:: Stream BTS ::
---