Kelsea Ballerini released her surprise EP 'Rolling Up the Welcome Mat' on Valentine's Day. Like Kacey Musgraves' and Carly Pearce's albums before, Ballerini's new record exposes the Southern misogyny in country music and in its male artists.
'Rolling Up the Welcome Mat' – Kelsea Ballerini
---
I've never been married and I've never been divorced, but listening to Kelsea Ballerini's new EP Rolling Up the Welcome Mat makes me feel as if I had.
Released February 14, 2023 via Black River Entertainment, Rolling Up the Welcome Mat is part of a larger narrative of famous women within the country music industry having to shrink themselves down for their partner who couldn't handle their success – Kacey Musgraves' star-crossed, Carly Pearce's 29, and the discussions surrounding Ballerini's divorce from fellow country artist Morgan Evans and Evans' response to not only their private divorce, but also Ballerini's artistic expression, has continued keeping this narrative in the spotlight.
Why are women held to a higher standard than men when it comes to relationships ending?
And why are women artists vilified when they choose to express themselves artistically whilst their male counterparts are not?
Rolling Up the Welcome Mat is another story of the reckoning of a relationship between a famous woman over a much less famous man. Could this succession of divorce albums open- up the conversation about what the expectations are of a wife versus a husband, particularly in the confines of the country music and in the southern United States? Ballerini even acknowledges this in the "Interlude": "And ain't it like this town to only criticize a woman."
The EP is as much about what wasn't said in the relationship as what was: "We played the part five nights, but we were never there on the weekends, baby," Ballerini sings on "Penthouse." In the soft "Just Married," Ballerini sings about a relationship built on distance and an idea of marriage rather than what marriage actually is.
Long distance texts, make-up-for-time sex
Tired of asking when I'll see you next
I'm too mad to fight, so I stare and cry
At the picture of you and me wearing white
Just married
---
Ballerini sounds weary throughout the EP.
The title depicts the literal rolling up of the welcome door mat; the last task to complete before you move out. It somehow all feels inevitable, and if you listen the lyrics and to Ballerini's interview with Call Her Daddy, you begin wondering how the relationship lasted this long when only one person was putting in the effort.
"Mountain With a View" opens the record with Ballerini meditating whether she can handle "another year of us just being fine" against a sparse and ominous series of guitar chord progressions. The track builds as all the reasons for leaving fall into a pile. The song ends with "I think that this is when it's over for me."
I'm wearin' the ring still, but I think I'm lyin'
Sometimes you forget yours, I think we're done tryin'
I realize you loved me much more at twenty-three
I think that this is when it's over for me
---
Ballerini leaves space in the middle of the EP to lay out the media's misogynistic circus that follows a famous woman who chooses divorce over marriage. The questions, the judgements, the sides the media, the industry and the fans choose to take. Nuance is not a word most people don't want to understand.
Cause people that I loved are just people that I knew once
The rumors going 'round, but the truth is kinda nuanced
I wanna set it straight, but my lawyer says I shouldn't
And ain't it like this town to only criticize a woman"
"Blindsided" and "Leave Me Again" are my favourite of the six tracks. They are the second half of the EP and the tougher half. "Blindsided" crosses into R&B andpop territory, which is something Ballerini has done on all of her records. It is self-aware, but also pulls no punches about how bad Evans' behaved during the marriage and divorce, and the disconnect the two of them had throughout. "I'd go write a song, and you'd go for a walk; we had to get drunk to ever really talk."
Ballerini closes Rolling Up the Welcome Mat with the acoustic masterpiece, "Leave Me Again." This song is where I could feel Ballerini going on her full-length album SUBJECT TO CHANGE. Uncomfortable honesty and vulnerability have always been important to her. When I interviewed Ballerini in 2022, she said she wanted to include a piece of the real her in each album and not just be playing a character: "I'm doing myself a disservice if I don't have one song on this record to anchor it in the personal growth that I've experienced through writing the book and then just growing up the last couple of years."
---
Rolling Up the Welcome Mat is a definite snapshot of Kelsea Ballerini's personal life, but the record is also a pivotal moment in her career.
Rolling Up the Welcome Mat is one of the best pieces of music Ballerini has released. The EP feels like her through and through. It is honest and there is no character to hide behind. Alongside the EP, Ballerini wrote and directed a short film of the same name. Like all timeless art, the film and the EP was undoubtedly written for Ballerini. There is no other person's story in the lyrics or the music, there doesn't need to be. I suspect Ballerini would have been perfectly happy if no one listened to the EP or watched the short film. The art was made for art's sake, and Ballerini's heart's sake.
— —
'Rolling Up the Welcome Mat' (A Short Film) – Kelsea Ballerini
— — — —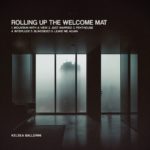 ? © courtesy of the artist
:: Stream Kelsea Ballerini ::
---