A bright spark of light in dark times, Ferris & Sylvester's new EP 'I Should Be on a Train' is a hearty surge of rock, folk, and blues: An expression of connection and isolation reminding us what matters most.
Stream: "I Should Be on a Train" – Ferris & Sylvester
---
Ferris & Sylvester's sophomore EP arrives this autumn with an emphatically fresh sound and a spirited, resilient outlook. A twenty-minute surge of hearty rock, tender folk, and silky blues, I Should Be on a Train is a bright spark of light in dark times: An expression of connection and isolation reminding us what should matter most.
I should be on a train
I should be on a train
Be gone before you wake
Head some place far away
Oh where we can't tempt our fate
I should be on a train
I should have been tough
I should have been tough
Tell you not to call me up
Put an ocean between us
Oh but my feet can't come unstuck
I should have been tough
Should have been,
could have been, would have been
Released on October 2, 2020, I Should Be on a Train arrives on the heels of Ferris & Sylvester's recent singles "Everyone Is Home," "Knock You Down," and title track "I Should Be on a Train." The EP follows the band's 2018 debut EP Made in Streatham and a series of compelling song releases in the latter half of 2018 and 2019. The British duo of Issy Ferris and Archie Sylvester defies genre definition: Their music is unapologetically emphatic, a force to be reckoned with regardless of subject matter or scope. This holds particularly true for the songs on their new EP, which seem to shimmer with the intense weight that has been the year 2020.
"We wrote and produced the record in the spring and are so happy we decided to go for it and put it out," Archie Sylvester tells Atwood Magazine. "The backdrop of this year has been a heavy, confusing rollercoaster for so many. Once we came off tour in March, the UK went into lockdown pretty much straight away and that feeling of danger that has overshadowed this year lingered as we began fleshing out the songs. It's amazing how we've watched the world change, all the while being at home. Each song, from 'Everyone Is Home', to our decision to close the EP with The Beatles' 'With A Little Help From My Friends,' has been driven by the loneliness that surrounds these uncertain times, yet also celebrates the togetherness, bravery and resilience that has come with it. The world is adapting to a new reality, and we've been determined to adapt with it and get creative. It can be difficult in isolation to know how to move forward. We were busy writing for future projects, trying to map out the next chapters. But we decided it was more important to give what we can now. These songs show who we are right now, so why keep them private?"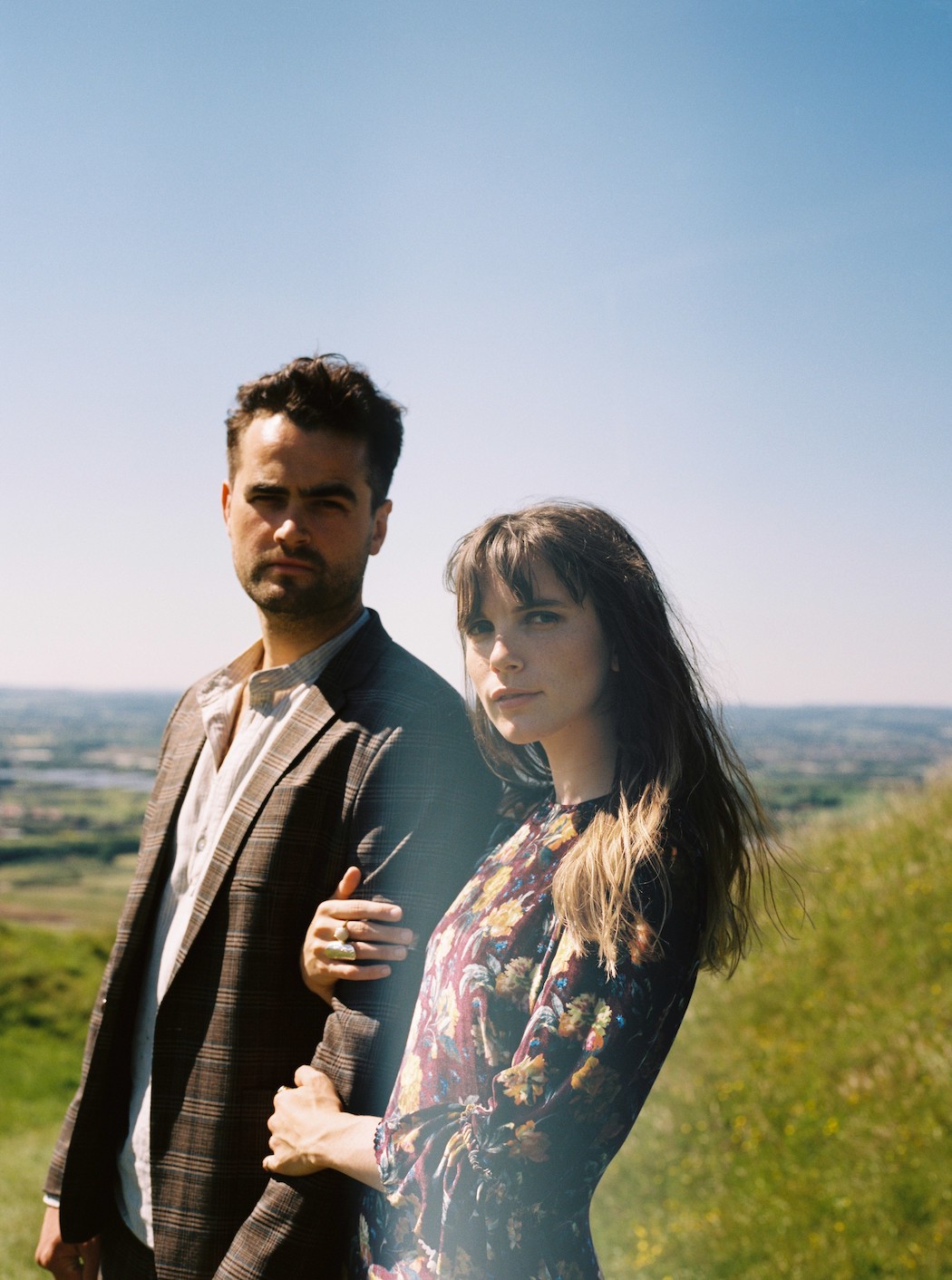 But this EP is more than just a sign of the times: It's a recognition of Ferris & Sylvester's art and artistry, a time capsule of where the band has found themselves during this pandemic and how they've responded to a kind of universal hardship.
"We do feel this record embodies who we are and for that, we're really proud of it," Issy Ferris shares. "It feels like it has a maturity and depth to it, and is a real insight into the direction our music is taking, pre-album. We've never tended to stick to any particular genre or mood bracket. We like playing with light and shade and have always tried to keep that fluidity, never getting stuck in a corner. This record is no different, each song has its own thing about it, yet it feels like we've created a cohesive piece of work that fits into its own story."
Opening with the title track "I Should Be on a Train," Ferris & Sylvester immediately open their hearts with intimate, vulnerable lyrics. Ferris' lilting voice sinks into a daydream as she glides along an acoustic backdrop, only to soar with striking force at the one minute mark and suddenly take on new shape: Electic guitars, keys, and drums join in the intense reflection of "should have, could have, would have," injecting a resounding presence into the moment.
Sylvester speaks to the EP's vision: "We wanted the record to sound fresh, interesting and confident. This collection was written and recorded at our studio at home and hasn't been played to a live audience, so we had to just trust our gut and go with what we thought was best for the songs," he says. "Recording it in lockdown did bring about some limitations, but that forced us to be creative and work with what we had. When we decided to work on the EP, we'd already demoed up the songs throughout the spring and knew how we wanted it to sound. We've demoed up pretty much every song we've ever written from day one, it's a part of our writing process. We then invited producer and mixer, Michael Rendall to come and help us take it to the finish line. We've worked with him for years and have formed a real connection with him. We're always keen to push boundaries with the production without distracting from the heart of the song. We wanted to honour our F&S sound, bringing blues, Americana and folk together in harmony. But we also wanted to experiment and use new instruments, like the mellotron flutes and cellos, which take the melody in 'Knock You Down'. It was a lot of fun to create and we hope it's fun to listen to."
The band cite their personal favorite song as "Knock You Down," the dynamic second track full of spunk and staying power. Ferris sings sweets at the start:
I wish I was a child at school
Learning about the vikings
And thinking shapes were cool
I would fight you like a knight
Instead I fight you like a fool
I would colour across the lines with green and gold
Turn it on its head
And make something new and bold
They don't let you do that here
You gotta stick inside your mould
The pair ultimately join forces to express frustration over a staid, rule-following adulthood versus a childhood spent with abandon; together, they rise to a fever pitch:
I had dreams but I cut them loose
I had so many things to do
Always found some dumb excuse
I wish I was a child but I'm someone new
Don't let the system knock you down
Don't let the people throw you out
Don't let the system knock you down
"We hadn't done anything like it before and it felt fresh," Ferris notes. "For us, it feels like the most personal song from the collection, referencing our own childhood nostalgia. The song actually grew from the mellotron hook. That's what came first, and it felt different and exciting. It was one of those songs that came very quickly and easily, unlike a lot of the songs we've written. The demo felt really exciting too, in fact we used all our original vocal takes in the final version because we felt we had captured something. Our favourite lyric is, 'I would fight you like a knight, instead I fight you like a fool.' It sums the song up in one bite."
---
The EP's lead single "Everyone Is Home" offers a different kind of safe space. A bittersweet power ballad of connection, seclusion, and lockdown, the track provides comfort at a time when we need it most. Ferris' lyrics are particularly powerful, and her delivery is absolutely stunning:
They told us to stay home
But don't they know
Home is never home without you here to keep me warm
It's you singing in the kitchen
Instead I turn on the radio
Can't help think everyone is lonely
Yet everyone is home
Everyone is lonely
Yet everyone is home
They told us stay away
Don't hold your breath
It might be quite a time before I get to hold you next
I can't wait until I see you
And wrap my arms around your neck
Can't help think everyone is lonely
And everyone is scared
Everyone is lonely
And everyone is scared
"We wrote 'Everyone Is Home' and decided to release it three weeks later," Ferris recalls. "There didn't seem to be any reason not to. If we could bring any comfort to people in those dark days, then that was good enough. We played it on a Facebook livestream and had an influx of messages from people separated from their families, people working on the frontline for the NHS or in schools. As soon as we released it, we decided we should follow it up and get the EP recorded. It felt good to have reached out and connected on some level with the world."
I Should Be on a Train notably ends with a gritty, bluesy, dynamic cover of a Beatles classic: The Sgt. Pepper's classic, "With a Little Help from My Friends."
Sylvester explains, "We decided to close the EP with the cover in honour of our weekly livestreams that we did across April and May. Every Friday night, we'd play a set and chat to our fans, and every week we'd play a cover. From Led Zeppelin to Jimi Hendrix to Simon & Garfunkel. One particularly difficult week, we were aching to see our friends and family, and felt so far away from everyone. We dedicated the song to anyone who was apart from loved ones, and the response was amazing. It felt like everyone was feeling the same way and that we were able to provide a bit of comfort. It only felt right to include it on the record. Plus, it's such a brilliant song and was so much fun to record."
---
Leaving listeners on a high note, I Should Be on a Train ultimately serves as a call to stay the course; to hold our heads up high and persevere in the face of a life-threatening pandemic that has already claimed 1 million lives. We must each do our part, but these sacrifices are small in comparison to the overall health of our respective nations and the world at large.
For the band, this EP was a growing experience in its own right – and one whose lessons they will carry with them into their (eventual) album:
"We feel we've got a lot out of the process. It's given us a purpose during a strange time and forced us to trust ourselves. We were feeling frustrated, having all our shows cancelled and album plans pushed back," Sylvester says. "We decided we wanted to make a body of work and dived right in. Three weeks later, we had the 5 tracks mastered and ready. We made bold decisions quickly and ran purely on our instincts. In the past, outside noise and pressures have sometimes made us overthink details that perhaps were better left untouched. Sometimes the magic of an initial idea needs to be preserved. Of course, it's a balancing act – but we feel we're closer to getting that balance. I also realised how much I love producing. We've demoed up pretty much every song we've ever written from day one. It started out on a 2 channel Focusrite interface and one microphone in my bedroom, and slowly over time we've expanded into a fully functioning studio. The restrictions of this year gave me the opportunity to properly get in the driver's seat when it came to production."
"We want listeners to feel empowered and understood," Ferris says of the EP. "It's a hard time, people are lonely, lost and yearning to connect. If this can bring people joy, then we'd be happy."
Ferris & Sylvester took their own pain and suffering, and created a record of understanding, reckoning, and the strength of the human spirit. Experience the full record via our exclusive stream, and peek inside Ferris & Sylvester's I Should Be On A Train EP with Atwood Magazine as the pair goes track-by-track through the music and lyrics of their new release!
— —
Stream: 'I Should Be On A Train' EP – Ferris & Sylvester
:: Inside I Should Be on a Train ::
— —
I Should Be on a Train
Issy: We started writing this on tour in February. We had some time, so climbed into the tour van out the back of a venue in Vienna and got to work. We had no idea what the year would bring, and before we knew it, we were tucked away in our studio day after day, fleshing out our 'back of van song'. We wanted to make something bold and fierce, mixing light with heavy in a way that we hoped would translate on stage and on record. It's not an autobiographical song, but we definitely put our own frustrations as a couple into it. We've never run out on each other, never boarded a train… maybe a few slamming doors. But we worked with what we knew, played with it and made it something different, until only shadows of ourselves were recognisable in it.
Knock You Down
Archie: We decided to take this somewhere different, away from anything we'd done before. We loved the idea of having a mellotron sound for the main hook – in fact, that''s where the song started. We loved the energy it brought, it felt fresh and different, yet still had a classic 1960's Beatles' influence. For us it feels like the most personal song from the collection, referencing our own childhood nostalgia, like learning about vikings and pink icing on Friday's. There's such a pressure on young people to reach their goals and dreams as quickly as possible. It can make you feel older than you are, wishing that you could be younger, braver and more free. Making this one was a lot of fun and we hope it awakens the confident, daring child inside the listener.
Everyone Is Home
Issy: This is a song about hope. This was the first song from the EP to be released and we felt a need to get this one out to people. It was from this that the EP collection came together, we thought 'why stop there?' and got to work on fleshing out the other tracks. We asked some amazing musicians to record remotely for us, which makes the project feel very unique to the situation. Recording this felt like stepping into new territory, the 'new normal', where a song can be recorded and mixed in four different studios. We recorded the last few lines outside, and you can hear the birds singing. We've been humbled to hear this song has brought comfort to those still separated from loved ones.
Good Man
Archie: This is the only song from the EP that wasn't recorded at home. It was recorded at Bear Creek Studios in Seattle late last year with producer, Ryan Hadlock (Lumineers, Brandi Carlile) and is a taste of our upcoming debut album. This one has rage and hunger at the centre, highlighting the hypocrisy of what it means to be a man. It needed to be bold and unapologetic. We had a lot of fun making this; a guy called Kimo Muraki came into the studio one day and played us his Sitar. We'd been itching to get Sitar on the song to give it that Ravi Shankar vibe and he absolutely nailed it. We were keen to push the boundaries with different sounds and instruments without distracting from the heart of the song.
With a Little Help from My Friends
Archie: We wanted to sign off the record with a dedication to our fans who tuned into our Facebook livestreams every Friday during lockdown. We absolutely loved playing week after week and hearing heart warming stories from people watching across the world, coming together for a drink and a laugh. We threw this into a set one week, and the response was amazing. It's such a great song and just feels good to play. This year has been tough for so many, and we wanted our record to be something for people to get immersed in and come out feeling joy, passion, an understanding and a togetherness. This felt like the perfect close.
— —
— — — —
? © Felix Bartlett
:: Stream Ferris & Sylvester ::
---