To celebrate "the most wonderful time of the year," Atwood Magazine's Mistletones column features fresh holiday/wintertime tracks and exciting covers of beloved classics. December has a knack for bringing out some of the most poignant, tender, and celebratory music, and we want to highlight that excitement by showcasing new and alternative holiday greats! Spice up your holiday season with songs you can listen to now and cherish in the years to come.
Megan Davies brings a charming warmth and dazzling freshness to her cover of "Blue Christmas," capturing sweet emotion through elegant acoustic grace.
Nashville's Megan Davies is no stranger to cover songs: Over the past five years, she's made a full-fledged career out of reimagining some of the decade's most popular tracks with her sweet voice and acoustic instrumentations. She began sharing her own original songwriting last year as well, releasing debut EP Bad Poetry in June 2017 to considerable acclaim.
Davies' ability to capture emotion through elegant simplicity has helped her achieve well-earned respect and praise, both within the music industry and in households across the country — and it's precisely this talent that shines ever-so-bright on her new cover of the beloved holiday classic, "Blue Christmas."
Stream: "Blue Christmas" – Megan Davies
---
Covers or not, some songs demand (or at least request) a thorough scholastic analysis. With Davies' "Blue Christmas," such in-depth verbiage feels like unnecessary eloquence. Her rendition is sweet and straightforward; accompanied by her acoustic guitar, she glides effortlessly across the familiar chords and melodies with sublime dolce, embracing every word for the few seconds it spends on her tongue.
I'll have a Blue Christmas without you
I'll be so blue just thinking about you
Decorations of red on a
green Christmas tree
Won't be the same dear,
if you're not here with me
Embodying longing, love, and appreciation, Davies brings a charming warmth and dazzling freshness to "Blue Christmas," which celebrates its 61st birthday this year. As well-known and endlessly covered as this song is, something about Megan Davies' beautiful acoustics makes her rendition feel novel and exciting.
It's like celebrating your very first holiday, all over again.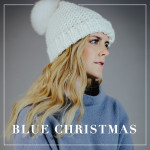 ? © 2018
:: Stream Megan Davies ::