A "record about getting freaky even while you're freaking out," Hembree's kaleidoscopic sophomore album 'It's a Dream!' is a stunningly colorful indie rock record ready to shake up our ears and refresh our spirits.
Stream: "It's a Dream!" – Hembree
---
A kaleidoscopic musical indulgence brimming with sweet soaring highs, cool smooth lows, and everything in-between, Hembree's sophomore album is a stunningly colorful indie rock record ready to shake up our ears and refresh our spirits. Radiant and spirited, uplifting and inspired, It's a Dream comes to life with passion and drama. Between the cinematic guitars and full-bodied harmonies, celebrations of the present and intimate reckonings deep down inside, Hembree have delivered a seductive release we'll surely be returning to for years to come.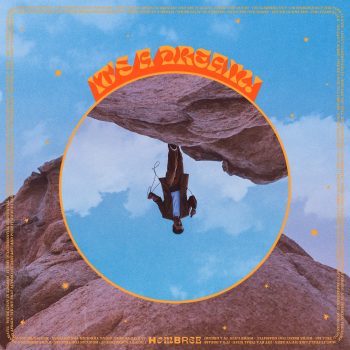 I don't understand it
How can you tell me
We're being too dramatic
We're livin' in a dream
It's my quintessential existential
Crisis of the day
Hit that automatic restart
And push it away
And I've been going through the motions
You know playing the game
I hit that automatic restart
And try it again
Released February 4, 2022, It's a Dream! is a warm and welcoming technicolor burst of sonic flavor. The enthusiastic follow-up to 2019's House on Fire sees Kansas City, Missouri's Hembree capitalizing on the high-octane energy and resoundingly catchy indie rock/pop fervor that earned their debut its deserved praise. This time feels freer and full of possibility: The five-piece of Isaac Flynn, Garrett Childers, Eric Davis, Alex Ward, and Austin Ward have broken more boundaries in their music, delivering an invigorating soundtrack to life lived in the here and now.
"In 2019 we were touring our first record House On Fire like crazy, and in between tours I would hole up in my home studio and write demos for what became It's a Dream!" Hembree's Isaac Flynn explains. "I remember being pretty worried that I had only written 15 songs prior to when we were scheduled to start recording in March of 2020. I remember a very long call with our keyboardist, Eric, about how we just needed a little more time to write some more songs to make a record we were truly thrilled about. Ask and you shall receive. In fact, we got an eternity, ha! The band and I really took the extra time to figure out what sort of statement we wanted to make. There was no outside noise, and we really made whatever we wanted. Which is how it should always be, but it can be tough when everything's moving and shaking."
"It was tracked almost entirely remotely, with the exception of a few studio days in Burbank. That being said, I think the record sounds more live and collaborative than anything we've done to-date. It was made during an insane time, so we just tried to enjoy the opportunity to make a record and push our creativity further than ever before."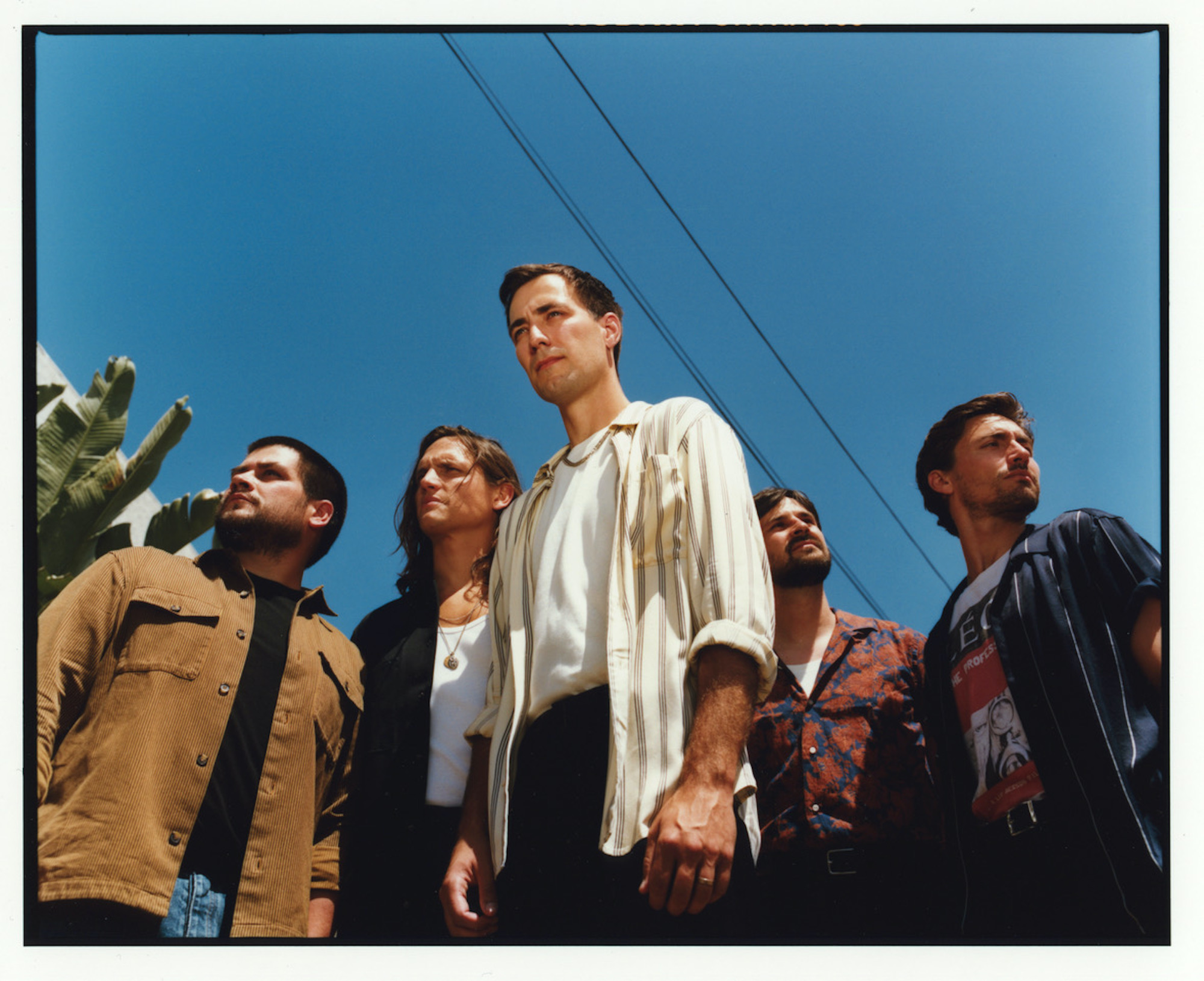 All that effort was time well spent, as Hembree made a conscious effort to further develop their sonic identity and evolve beyond the realm of their debut. "I think we are all proud of House on Fire, but we really wanted to level up with this new album," Flynn tells Atwood Magazine. "Our mentality was to try and break out of some of the boundaries of that record. Again, I really like it, but it's 10 alt-rock bangers front to back. We wanted to show more versatility and craft something with more of a narrative. I also wanted to make sure that the songwriting was the main focus, and that production was only there to support the songs and help them shine when needed. The vision for the record was beginning to form in early 2020, but I think the extra time really allowed the band and I to solidify our ideas and make something that we're incredibly proud of."
"I'm hoping this record can kind of put us in our own little world and kind of break us out of the traditional alt rock realm. I hope it shows that we can still write off the wall, danceable, indie rock tracks but then immediately hit you with something with a lot of depth and emotion. I see this album as a gateway to continuing to push the songwriting to the forefront of the band. Over the course of the pandemic I did a deep dive into some of the greats— The Beatles, Paul Simon, Petty, Bruce, etc. The production changes over the years, but their great songs always shine through. I think this record is a launching point for us to continue to try and create classic songs."
Thirteen eclectic songs – ranging in style, texture, and feeling – come together with a special flare on It's a Dream!, an impressively cohesive musical journey that packs a punch with achingly honest sentiments. More Glass Animals and Tame Impala than they are The Strokes or Arctic Monkeys, Hembree have breached genre barriers and seem intent on flying by the seat of their pants. We imagine said pants to be some kind of worn, yet still-good condition bell bottoms from the sixties that have worn through generations of rock music, ultimately to come to this moment, where It's a Dream! once again shakes us awake and gets the blood moving.
---
Flynn calls it a "record about getting freaky even while you're freaking out."
In fact, the origin of the title actually harkens back to these zany, otherworldly living conditions that have brought all of us here to early 2022: "The album has a song called "It's a Dream!" and a song called "It's Real!" We really liked the combination of these two together and how the songs on the album weave in and out of reality and a dreamlike state. It seemed to really capture the entire mood of the album. And at risk of being too on the nose, it fits the times. As you know, things have been pretty wild lately."
Wild indeed. It's a Dream! is an electrifying time, from rollicking opener "Reach Out" through the angular "I Don't Believe You," and straight through to the cathartic closing ballad, "Time to Leave." Highlights include the groovy Talking Heads-esque "Operators," the inspiring title track, and the spirited anthem "Close to Me" – a song brimming with passion and possibility. Truth be told, every song has its moment in the sun: For instance, the sweeter "Panic" radiates with a certain kind of intimate ache – an energy that we connect to through an irresistibly clap-able beat, and Flynn emotion-drenched vocal performance.
---
"I love how "House on a Hill" turned out," the lead singer says. "Our guitarist, Alex, and I wrote that one together. There's something like five or six versions of that song, but the final one feels so great to me. I also really love "Daylight". There's something peaceful and calming about it for me. Just feels good to listen to."
Meanwhile, he cites the irresistibly buoyant title track as one of his lyrical favorites: 'It's my quintessential existential, crisis of the day, hit that automatic restart and push it away.' "I had this line for years and couldn't figure out the rest of the song. It's always seemed really relatable to what everyone has felt over the last several years. Like everything is completely insane, but we keep on moving."
The thing about such a full-bodied record as It's a Dream! is that, while the saying is sure as well worn as those aforementioned '60s jeans, Hembree's album really does have something for everyone. There are songs to dance away the day; songs to sink our hearts into; songs to sing at the top of our lungs, and songs to save for a rainy day. Hembree have gone above and beyond on It's a Dream!, a record that holds true to its name: This really is a dream come to life.
---
"I hope people can feel some peace and optimism after listening to the record," Flynn shares. "I hope people can hear the time and thought that went into these songs. It's all in the details, and I think the difference on this record from the last is a new level of focus for the band and me. I was able to work on these songs every day for several months and really think about what I wanted to say and how the music would fit that message."
"The album weaves in and out of day and night, and the pendulum of optimism and pessimism swings back and forth with these songs, but I hope at the end of the day the listener feels like they went on a journey that ended with them finding themselves right where they need to be. I've learned that it's critical for the band and me to be as expressive as possible. To always run with a wave of inspiration and push the songwriting to the forefront of the music. I think we learned so much about who we are as a band, and we're happy with it regardless of what happens on a scale of success."
Experience the full record via our below stream, and peek inside Hembree's It's a Dream! with Atwood Magazine as Isaac Flynn goes track-by-track through the music and lyrics of the band's sophomore album!
— —
Stream: 'It's a Dream' – Hembree
:: Inside It's a Dream! ::
— —
Reach Out
It's the thesis song of the whole album. It's about how society treats the oppressed, and how people are too embarrassed and neglected to ask for help. The character in the song has lost touch with reality, which could happen to anyone.
This song was one of those songs that just kind of appeared out of nowhere. I was working on a different song, and I started to record some bass. As I was getting my levels set, I stumbled onto the "Reach Out" bassline. I immediately abandoned the song I was working on, and started working on what became "Reach Out". I think because the initial riff happened in such a playful and organic way, that led me to wanting to keep the whole production in that realm. Hence, the "Hey kid, whatcha lookin' at?" sample, and the gliding synth. I was also listening to a good amount of Pink Floyd at the time, and I always loved how they combined some disco grooves with funky and big guitars. It was the first song we finished for the new record, and it was very clear it was going to set the tone for the whole album.
It's a Dream!
Believe it or not, I wrote this song before the pandemic, but I think we could all tell things were feeling strange! I was channeling the balance of feeling like everything was completely insane while going through the motions of everyday life. Musically this one started as a beat and mandolin riff that our co-producer, e.hillman (of Foreign Fields), sent me in 2017. I just couldn't find the right inspiration to write to it for nearly three years. It's like the song was just lingering in my mind until I finally found the right words and melodies for it. It's strange how songs can take thirty minutes or three years to write.
When we were recording it, we felt it needed more voices than just the band, so when Alex's partner and our great friend, Devynn Carter, was visiting LA we had her join us on the song. That's the real feel of this record. We wanted to be as collaborative and creative as possible. You know, try to have as much fun as possible while living in such strange times. When it became clear that this song was going to be the title track, I decided to really focus on the narrative of going in and out of reality.
Operators (feat. Bodye)
"Operators (feat. Bodye)" is the only song on the album that is directly about 2020. I wrote it right when all of the protests started in the summer, and the chorus in particular is about when the officers, national guard and even some of the city officials would act like they were with the protestors in solidarity, and then turn around and gas and attack them. That's where the idea of "they're saying: tell me where you want me to be, tell me what you want and you need, you can tell me" originated from. They were acting like they were there to help, but it was all for show. It all felt almost cartoonishly villainous to me. I wanted to reflect that in the lyrics and in the dark, dance heavy groove of the song.
As a band, we had always wanted to collaborate with our great friend, Bodye, as he is one of the most brilliant artists we know. His perspective is always so intelligently thought out, and we knew he would be able to infuse his brilliance into the song. Lastly, it was an absolute delight to work with Henry Solomon (Haim, Thumpasaurus) and have him join us on saxophone for this one. It was an amazing collaboration, and it was so cool to see this song come to life from LA and Kansas City, as we were all tracking remotely from our home studios in the heart of 2020.
Luna 
The band and I wanted this to serve as a little interlude and breath after the first three tracks on the record. I liked the narrative of waking up from a dream and not really knowing where you're at in the world. The mood feels like a hazy delirium and the character in the narrative is missing their home.
House on a Hill
The hazy state of mind continues. This song is definitely one of the most introspective songs on the album and is about the feeling of being in limbo– losing yourself and your identity. Just being overwhelmed by the world and trying to find the willingness to persevere.
I co-wrote this song with Alex (our guitarist), and the first lyric he had when he sent the initial demo over was "I'm a stranger in my own skin". I wanted to capture that feeling of not knowing how to carry on, but knowing you have to keep going to find yourself.
I'll be on Time
This is the first love song on the record. It's about being with someone and both of you letting go of anxiety and worry because you know you can depend on each other. I love that the record has some slower songs. It sounds ridiculous, but up until this record, we hadn't done many before. I really enjoy the spectrum of emotion on this album.
Close to Me
"Close to Me" is a song that I had written a few years ago that just kept lingering in my mind. After finishing all the demos for what became, "It's a Dream!", I felt like the record needed a lift and a bit more optimism, so the band and I opened this song up again. It's a love song through and through with a narrative based in companionship. It's about devotion to whoever is down to pull you out of the dark, and get you through the strange times and all of life's struggles — that could be a partner, friend or even your dog. This one's for the ride or dies :).
I Don't Believe You
This song gets real wild! I was really into Talking Heads while we were working on the record, and I was feeling inspired by David Byrne's stream of consciousness style rants he goes on. The character in the song is realizing that the world is completely insane. I was channeling the way that the philosophy of "profit over people" really pits people against each other and is greatly harming our society.
At the end of the song the band is yelling "fire in the back!". You can feel the fire surrounding, but everyone is just carrying on with their daily lives. We wanted the music to match that energy and be a bit reckless. I love Henry Solomon's sax work at the end of the song.
Panic
Another song about the world being unbelievably overwhelming mixed with some self doubt. It's about needing to give yourself a break, but everything is just so out of sync. "Every single morning I leave home I need a warning" This is another one I wrote before the pandemic, but I feel like it captures a lot of the anxiety we all felt.
Present
I wrote this after having a panic attack, so it's interesting that it follows the song "Panic". It feels like the response to that song. It's about being in a daze and desperately trying to get back to those that you love. How you can lose yourself in a moment of panic, and how you have to find your way back. Both of the interludes discuss going home. I tend to reference home on the record as a place of peace and stability.
Daylight 
As the listener works their way through the album, I wanted some optimism and relief towards the end of the record. The songs always tend to be a blend of my personal life with some sort of character in a narrative.
Throughout the process of making this record, I feel like I became fully happy and content with my life. I also think the band found our most fully realized version of ourselves. This song is about finding relief and just enjoying your time with those that you love. Two of my favorite lyrics: "I don't want to stay in a heart that only aches." and "It's a new wave, invite in."
It's Real!
This one is definitely about humanity trying to push its problems aside, but the problems keep catching up to us. I wanted the record to have some social commentary without being too preachy. But I was just thinking about people getting stuck in their routines, going through the motions and pretending that everything will miraculously work itself out.
People in every state
The happiness-depression pendulum
Will stay
Swinging back and forth
We cannot concentrate
We close our eyes
Tomorrow
It'll be the same
But that's just how we try to disappear
We fear, we fear
Maybe none of this is real
Time To Leave
The closer! This song came together very naturally–  acoustic guitar sitting on the couch. I didn't want to deviate too far from that initial feeling. I was just enjoying that simple 90s classic chord progression. It feels nostalgic, and musically, it's like nothing we've really done before.
Lyrically, this song started from when you see people in a situation you know they need to get out of, but they just keep living in it– immersed in their world and they can't see out of it. And you want to help them, but you know that ultimately they have to make the choice to remove themselves from the situation. It felt like a proper closer to end the narrative of the character weaving in and out of reality vs. a dream world.
— —
— — — —
? © Jonny Marlow
:: Stream Hembree ::
---