Sløtface's sophomore record 'Sorry for the Late Reply' has more punch, more power, and more pop as the Norwegian rockers embrace change.
— —
The goal of a lot of these songs are to reflect strong opinions about what I think is right or wrong, but in a nuanced way because it usually isn't that black and white.
Sløtface demand your attention. From their provocative name — formerly written and still pronounced Slutface — to their powerful messages of a warming planet and woman's rights, the Norwegian four-piece are here with a purpose: To let you know you're never alone.
When the band's frontperson, Haley Shea, is reached by Skype, the mission she's in the midst of is a little less ambitious: "I'm in the middle of some very menial labour; I'm working on our new stage set up. I'm cutting thousands of pieces of pink fabric to be the same length." She adds with a laugh: "It's definitely not glamorous but hopefully it'll look good."
This down-to-earth conversation opener was to be expected from a band clawing their way out of Norway's underground. Sløtface's 2017 debut Try Not To Freak Out was a fuzz-filled punk offering, completed with Patti Smith references and fist-raising feminist anthems. It caught people's attention both inside and outside Scandinavia, making the band's follow-up highly anticipated.
---
Never one to settle however, the band chose to change its whole process for their followup, Sorry For The Late Reply (out January 31, 2020 via Nettwerk/Propeller Recordings)."For the first record nothing was intentionally about anything; there was a lot of stuff about feminism and about being anxious, but I didn't sit down and have very many conscious thought processes so I wanted to be better about that this time and be even more specific in being able to have a story for each song."
The solution turned out to be a wall of sticky notes. "I just wanted to start working on the lyrics as soon as possible to really have the time to think about what everything was going to be about. I didn't really know where to start for that so I started trying to make sure I was writing things down and by covering a wall I was forced to look at it a lot more—it was the last thing I saw before bed."
While Shea wasn't sure if this process fully worked — "even though the whole concept album wasn't 100 percent followed through it probably still shaped the way I thought about the lyrics" — the album does possess a laser-sharp focus on the issues addressed. Each song is its own contained attack on a particular social issue, with lines that leap out the speaker and into your heart.
After some deliberation, she concedes she probably won't do follow this process again though: "I think for the next one — at least how I'm thinking about it now — will have more of a different feel. It won't be as much a school project as this one was."
While most of Try Not To Freak Out was worked on together in the rehearsal space, Sorry For The Late Reply was a combination of ideas demoed alone and a desire to simplify the sound. The result was unknowingly, a lot poppier: "I don't think it was a conscious decision to make it poppier, because it also has some songs that are less than other things we've done, but we just trying to simplify everything compared to the last record."
We're going to try and tell very specific stories about me and hopefully those ideas of alienation or not feeling like you're fitting in will be universal to everyone else.
This can be heard on the singles so far released. Talking to Consequence of Sound, Shea explained that album opener "S.U.C.C.E.S.S" is a satire about the constant societal pressures to be the best: "'S.U.C.C.E.S.S' is an attempt at being tongue in cheek about how we're always pushing ourselves to be harder, better, faster, stronger. I meld together these two lyrics ideas where I wanted to step out of the very heartfelt songs  we were writing and try on this self-help mogul…"
She echoed this idea to Atwood earlier this week: "The goal for most of our stuff is to talk about things that are important to us and to see more sides of the story than one, and also to try to do it with a little bit of sense of humour or tongue-in-cheek because the world is so fucking serious as it is."
Why be good enough when you could be a success?
Why be good enough when you could be a success?
If you're not throwin' up
You're not running hard enough
You could be hard enough
If you're not bent down over another toilet bowl
With your cheek pressed against the porcelain
Face against the cold
You better represent
Be the best damn immigrant
You better represent
Be the best damn immigrant
It's not all social issues however. "Stuff" is Shea's honest attempt at a breakup start, chronicling the accrued possessions that fade to "Stuff" as you heal and move on. With synths-throughout and charming backing vocals, it had a bright feeling of optimism — a reoccurring theme throughout the record.
One lumpy couch
Three pans with Teflon, all scratched up
I know that freaks you out
Hole in the wall
Punched straight through to something raw
I think I've felt enough
One new mattress that I bought
Just for myself
Clean sheets and bright spots
---
Growing up on a steady diet of "English-spoken rock and indie music" — and wanting Sløtface to be a Brit-pop band when it first formed — makes the band's sonic bedrock plain. However, it's when Shea starts namedropping her current favourites — Julien Baker, Phoebe Bridgers, Mitski, and Better Oblivion Community Center — that the full Sløtface sound comes into focus.
The influence of producer Odd Martin Skålnes, best known for his work with Scandinavian pop heavyweights Sigrid and Aurora, is undeniable too. From some of the different recording techniques he recommend — "we used more modern pop tricks to record it; things like plugging instruments right into the mixing desk, which is a very pop music way to make music" — to his hands-on songwriting process, his fingerprints are all over this record.
Skålnes' impact mixed with the "cheaper, simpler" demoes the band was working with led to an album that hides its powerful message in a simpler, sugary sound. "But a lot of it was just us trying to keep things as simple as possible and use as few elements in each as possible. We didn't want to be make anything sound too heavy or dense or big," Shea adds.
The message is big enough.
At its core, Sorry For The Late Reply is an album about struggling to fit in. An American raised in Norway, Shea has lived most of her life as a "third culture kid." She defines the album's dominant emotion as "a combination of acceptance and confusion."
Her deep-rooted belief that the strongest way to reach others is talk specifically about yourself spears through the heart of all 12 tracks: "My goal is always for people to have that same feeling I have when I love a record, which is that there's one sentence that is really speaking to me, and I can love the rest of it — I don't have to understand what 90 percent of the other stuff even means as long as I have that one thing that pulls me in. And for me that's always about being as specific as possible."
The dream for me lyrically always is to have one sentence in the whole record—at least—that leaves people like 'ugh, that's exactly how I feel about that thing'.
Shea's lyrics showcase this ideal in droves. Take "Passport" for example: It's specifically about her experiences growing up an outsider as an American in Scandinavia — and all the stereotypes attached to that. While this doesn't relate to most of us, the isolation Shea speaks of is universal. It's moments like these that elevate Sorry for the Late Reply from a simple pop record to a thought-provoking conversation starter.
It may have started as sticky-notes on a bedroom wall, Sløtface's hope to move people all around the world. "I want you to be able to listen to us on your way to work on a really dreary, crappy day and feel slightly more motivated."
— —
— —
— — — —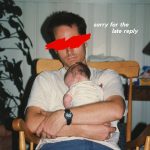 ? © Jonathan Vivaas Kise
:: Stream Sløtface ::
---