Signe Vange delves into her ambient, soothing, and softly stirring 'Human' EP – a tender, ambient record of introspection and connection that finds the Danish singer/songwriter delving deep into the raw core of human experience.
•• •• •• ••
The title says it all: Atmospheric and ethereal, intimate and lush, Signe Vange's EP hits at the core of our human experience. Heavy and light, soothing and softly stirring, Human is a tender, ambient record of introspection and connection – both to ourselves, and to our surroundings. In five fragile tracks, the Danish singer/songwriter enchants the ears and warms our hearts with an alluring, immersive exploration of the challenges, and the beauty, of life.
Independently released May 3, 2021, Human is visceral, vulnerable, and achingly raw: A hauntingly beautiful indie folk journey that finds Copenhagen-based Signe Vange returning after ten years of silence (she released her debut EP, When Silence Is Too Loud, in December 2011, followed by the standalone "Christmas Song" in late 2012). Lilting and layered with hushed, glistening sonics and equally captivating lyrics, Human is a product of love as much as it is one of heartache; each of its tracks glows with the passion and pain of a soul spilling her deepest thoughts and feelings through song.
The EP is named after the track of the same name, which according to Vange, deals with the present moment in time "with the ongoing destruction of our planet and the opportunities for change the pandemic has brought us."
"I hope there are people out there who will recognize their own experiences in my songs and thereby add meaning to them," she tells Atwood Magazine. "I am fascinated with the balance between what is personal and what is universal, both in terms of lyrics, harmonies, and production. My musical heroes are artists who put themselves out there for listeners to really feel them while still leaving room and mystery for listeners' own interpretations and emotions."
"The EP was made in close collaboration with Morten Bue (production, mix and mastering). He helped make my first EP too, but back then I had this idea that I would get lost in the project if I let others contribute too much. This time I was wise enough to just let go. My songs have gone places I could never have led them on my own, thanks to Morten and the incredible musicians who played with me: Jeppe Skovbakke (bass, guitars), Anders Filipsen (piano, synths, Wurlitzer, organ) and Jeppe Gram (drums)."
"I ended up making this 'virtual pamphlet' consisting of small videos with lyrics for each of the songs. When I buy a new record, I always sit down and do the first complete listen while reading the lyrics. I wanted to give listeners the opportunity of doing the same, despite only releasing digitally."
From the serene glow of "Go Grow Old" to hypnotizing beat of "To Receive"; from the yearning embedded deep within "So Summer," to urgency and ache surrounding "Human," and the unsettled closure in "To Leave with Me," Signe Vange ensures Human is a multifaceted, engaging, and enduring collection for all who listen. She inspires us to not just sit with our thoughts silently, but to plunge in headfirst; to dig deeper, confront ourselves and our world, and figure out what we might do to make it a better place than when we found it. Not bad for a return after a decade-long absence!
Experience the full record via our below stream, and peek inside Signe Vange's Human EP with Atwood Magazine as she goes track-by-track through the music and lyrics of her EP!
— —
Stream: 'Human' – Signe Vange
:: Inside Human ::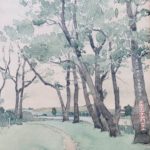 — —
Go Grow Old
The song was written at a time where everything around me seemed to end. I chose this as the first track, because of how it captures the vibe of the EP. I always have a million ideas for vocal arrangements and therefore constantly have to contain myself to avoid drowning the pureness of a song with my voice. On this track I gave myself permission to let loose a bit at the end.
To Receive
I played a version of this song at the release party of my first EP When Silence is too Loud ten years ago, thinking that I would be recording it for an album shortly after. Then my life took a different direction and I stopped sharing my music publicly. Last year I suddenly felt inspired to play for others again. These lyrics have changed and matured with me over the years. And then in the studio the song met Jeppe Gram who started playing these tight yet easygoing drums, that just makes my right foot move up and down when I hear it now.
So Summer
I was not really feeling this one, when we were about to record it. Then the song was deconstructed in the studio. The verse became a chorus, and the chorus became a bridge. And Jeppe Skovbakke started playing this guitar riff, which lifted the song above its original sense of depression and gave me a whole new sense of the song.
Human
The title song is a little hymn contemplating this moment in time – the ongoing destruction of life on our planet and the opportunities for change the pandemic has brought us. The video was made over a three-week period in a corner of my husband's home office. The room temperature was turned up high to speed up the flowers' decay. The things we put up with for art. And love.
To Leave with Me
This was the first song we recorded for the EP. We ended up using the second take that was recorded. It just felt right instantaneously. Anders Filipsen did this layer of synths that placed the sound somewhere between heaven and earth. Right where it belonged.
— —
— — — —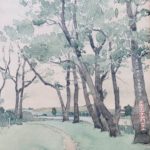 ? © courtesy of the artist
:: Stream Signe Vange ::
---