Stephanie Lambring's "Little White Lie" is both nostalgic and forward thinking Americana.

Stream: "Little White Lie" – Stephanie Lambring
---
Certain types of country music has long since relied on the well-worn tropes of its storytelling world to reach mainstream audiences. So much so that they've been parodied by country artists and others alike; Rascal Flatts' "Backwards" good-naturedly details all the things you get back in your life "when you play a country song backwards," and comedian Bo Burnham's "Country Song" plays on some of the less savory aspects of the stereotype.
Of course, there are incredible country writers in the world, and it's especially refreshing to hear someone subvert those familiar tropes. Atwood Magazine is proud to premiere Nashville based Stephanie Lambring's "Little White Lie," the second single from her upcoming album.
Lambring's album, Autonomy, is one that deals in heaviness. With her clear, haunting voice, Lambring skewers bigoted Christians, the way the elderly are treated, and domestic abusers, with "Little White Lie" as the album's searing center. There are weddings and heartbreak in countless country songs, but most writers don't wield the kind of patient subtlety that Lambring does. "Little White Lie" describes a marriage that was doomed from the start, with the wedding dress as its symbol of decline.
I said it was the happiest day of my life
Then I slipped into the
Sunday School room and cried
From its opening lines, it's clear what kind of story this will be: without even using the word, a wedding is evoked. "The happiest day of my life" is often synonymous with weddings, especially in a culture that places such intense value on marriage and what it represents. Lambring says, "I thought about how little girls are programmed to fantasize about their wedding day. How those with relationship anxiety might feel under the pressure of finding 'the one' and the expectation that their wedding day be the 'happiest' day of their lives. How a closeted person might marry someone of the opposite sex because of pressure from the church." Though it isn't her story, she tells it with a simple emotional honesty. It's reminiscent of Chris Stapleton's gut punch of a song, "Either Way," or Gillian Welch's "Look At Miss Ohio." With these artists, it's the simplest lyrics that make something devastating — it's a detail, a casual word, a nearly thrown away vocal. Lambring brings this skill to her writing, telling the story of "Little White Lie" like a diary entry.
I can hear that lonely echo in the kitchen
The kind that lets you know that something's missin'
Take one last look through the closet
behind my little black dress
And I find my little white lie
Lambring sings and writes with a beautiful tenderness that is both achingly familiar and fresh. She's also a voice that is much needed in country music, and her willingness to tackle what she does makes her special.
Stream: "Little White Lie" – Stephanie Lambring
— — — —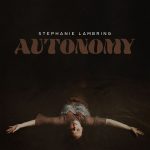 ? © Brandi Potter
:: Stream Stephanie Lambring ::
---