With their first full-length album since 2013's debut 'Hell Bent', 'SNAFU' finds Potty Mouth doing things on their own terms and having total fun in the process.
---
Catchy, simple, and rhythmically loud, Potty Mouth's sophomore album SNAFU (an acronym for "Situation Normal All Fucked Up)" exudes pop punk fun.
It's prominent in the opener "Do It Again," a straight-to-the-point expressing of being in a monogamous relationship but not wanting to be tied down. "I really wanna – yeah, I really wanna – don't know if I'm gonna – do it, do it again" sings vocalist and guitarist Abby Weems, the 'do it, do it again' repeated throughout as though emphasising the repetitiveness of the situation.
Lead single "22" also holds this instant energy. Written on Weems' 22nd birthday, the song's about the psychology of age and how, by turning 22, adult responsibilities seemed thrust upon her compared to the eager-eyed age of 21. It's relatable but pragmatic rather than nostalgic, a similar approach to that of the music's sound. While harking back to the 1990s (years in some ways just being a number), it's very much Potty Mouth doing what's comfortable for them.
Oh 22, I still do what I used to do
Don't you think it's strange that number's just an age but it changes you?
What'd you expect?
This year the magic's gone and I'm all that's left
Yeah, you know it's true, there's nothing new about 22
"22," Potty Mouth
---
The band, meeting in Massachusetts while attending Smith College, consists of Abby Weems on vocals and guitar, Ally Einbinder on bass, and Victoria Mandanas on drums. When Potty Mouth formed in 2011, the process of writing and playing was largely new thus a DIY mentality was always at the forefront. It's been six years since Potty Mouth's debut album Hell Bent was released, a low-fi, gritty stream of punk, and four since the 2015 self-titled EP. Around the time of the EP, they made connections with a major record label only to become frustrated by the mainstream expectations and parted ways.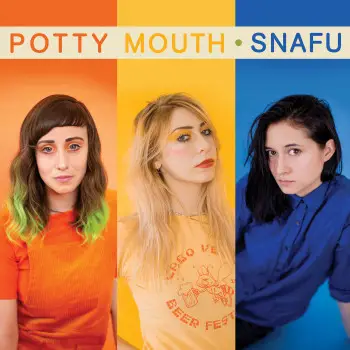 Released March 1, SNAFU, as a result, is out via Get Better Records – a DIY label run by Einbinder and her partner Alex Licktenhour. Its a no-bullshit approach to music-making that allows them to do things their way.
"Smash Hit" highlights those frustrating mainstream expectations. "Super extra, ultra special, fantastic – modern dazzle from a time-capsule smash hit," goes the chorus, the words cheesy and over-enthusiastic as though the mindset of a middle-aged moneymaking businessman but sang with playful attitude and a tinge of spite. It fits poignantly into the album's title which is an anagram of 'situation normal all fucked up', the band's journey very much put into a period of instability.
Other examples include observations of everyday life. In "Plastic Paradise," Weems is passing time wondering around shopping malls, trying to figure things out while being confronted by an abundance of fakery, while "Massachusetts" puts spotlight on the transitioning away from a local community artist to something bigger and the resentment that can be felt by those remaining in the community. "Fencewalker," written with Gina Schock of The Go-Gos, is about distrust, a projection of annoyance towards unfavourable personalities. 
Walking a white hall this could be a dream
It's just a strip mall, heaven wouldn't be this clean
I remember why I'm here
Only browsing for the perfect life
All the posters make it clear
I have entered plastic paradise 
"Plastic Paradise," Potty Mouth
---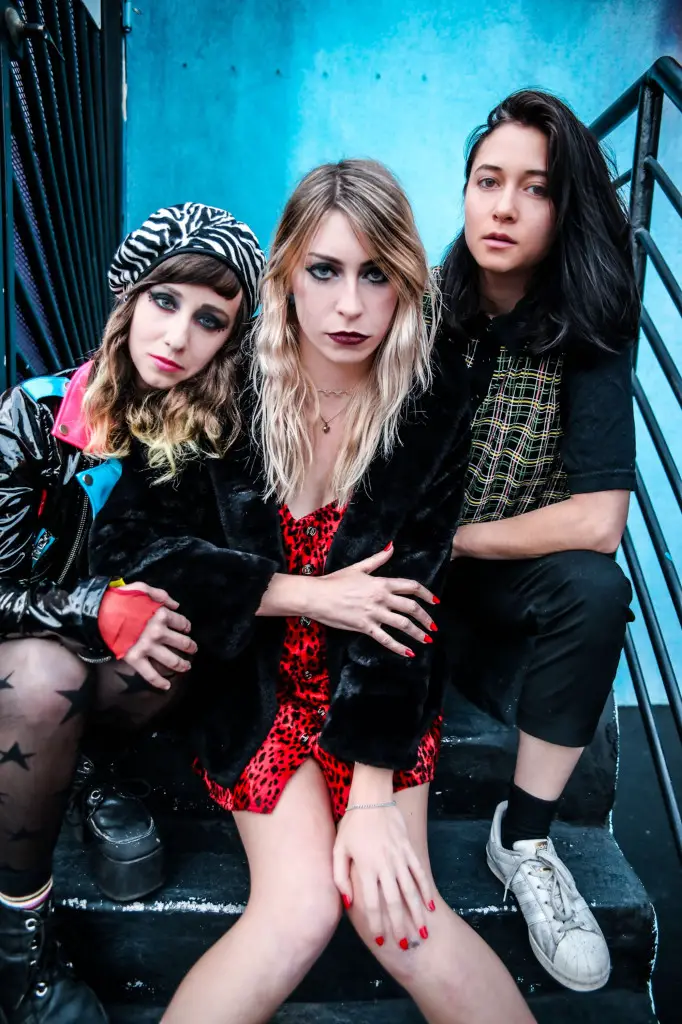 Potty Mouth's early comparisons have always been to the likes of Veruca Salt, Liz Phair, female voiced artists of the underground. With SNAFU, angst is still at the core but it's notably more lighthearted, being less of an atmosphere of rage compared to Hell Bent and Potty Mouth and more of a Green Day and Weezer-style singing along in the bedroom. 
You're walking on the line
'Cause it's easier to get by
when your head's down all the time
Well you know that won't sit right
But you wish that we could work
it out without starting a fight
Too bad you'll never see it coming
You're a fence walker
but you better start running
"Fencewalker," Potty Mouth
Alongside the album is a comic book produced by Weems which stemmed from a demand from fans after she uploaded some illustrated portraits to Instagram. Titled Potty Mouth: Situation Normal All Fucked Up, it's a black and white cartoon depiction of the band during the making of their album. The independent creation of a comic gives an insight into the wholesomeness of Potty Mouth's approach to music, continues the traditional DIY community spirit of the underground scene, and adds to the vitality that's distinct to their return.
SNAFU isn't forward-thinking in sound, feeling like a soundtrack to a '90s teen movie, or lead by imaginative lyricism. You do, however, get the sense that they're having a good time. Music should be fun and Potty Mouth's idea of fun is instantly infectious.
— — — —
? © 2019
SNAFU
an album by Potty Mouth