Cali surf-rock band Sun Room share their influences, roots, and lessons from their first stretch of touring.
Stream: 'Somewhere Tropical' EP – Sun Room
---
We all come from pretty outgoing places, like there's no seasons in Southern California, so it's kind of like summertime all the time. We're always just doing stuff, and I feel like there's always such high energy cause there's never a hibernation season so we constantly just have a bunch of energy.
Seldom does the name of a band capture the vibes of the group as well as Californian band, Sun Room. In the way that Rage Against The Machine briefs you on what they're about before "Killing In the Name Of" can even grace ones ears, Sun Room achieves a similar effect. The four Californian lads exude that sunshine that their name alludes to, in both their music and their spirits. Each sunny in their own right, the four current members, Luke Asgian (lead vocals & guitar), Ashton Minnich (guitar), Max Pinamonti (bass), and Gibby Anderson (drums) joined together less than half a year ago.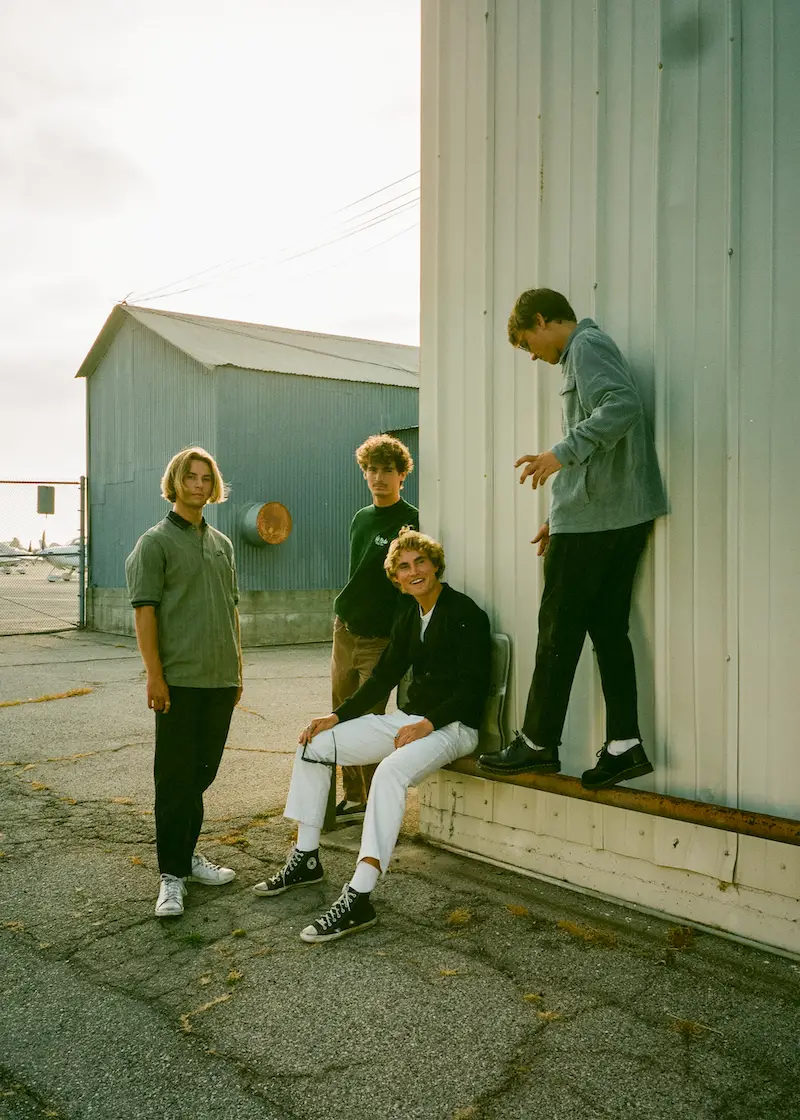 Sun Room began as a quarantine project by Asgian, who was beginning to see his life moving in the direction of music. "I originally learned music playing in church," the frontman noted, "and then in high school, there were a lot of surf rock bands going around, like there was a show every weekend in Long Beach," where Asgian grew up. "And then I went to college and those bands I played with in high school just stopped because everyone was moving out of Long Beach. Then during quarantine I just got super bored, and I knew I really wanted to do music with my life, so I was like 'I'm gonna do my own thing.'"
The other three members fell into place in the aftermath of the project's inception, each with their own musical backgrounds. Minnich was the first to join the group, his inciting incident being a request for a guitar for his seventh birthday. Following such an infectious event, Minnich joined the band after playing in some bands in high school, similar to Asgian. After space was left for a rhythm section, Anderson and Pinamonti were taken on as drummer and bassist as Asgian knew them from a previous band that they played in to beforehand. Both learned the love of music from their families, Pinamoni having learned from his dad and Anderson having played in a traveling family band as a kid.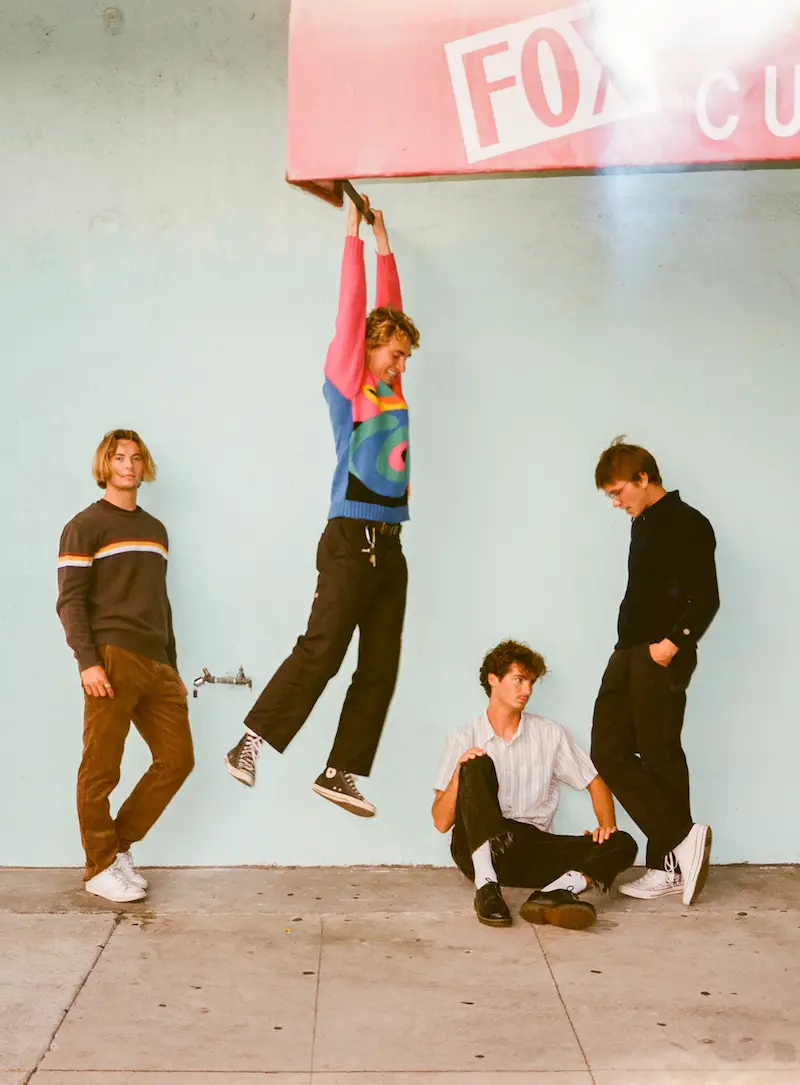 Having all grown up in different Californian beach towns, there's a level of eclecticism that the four members bring to the band's general sound.
Anderson referred to their neighboring scenes as having different "dialects," as opposed to totally different sounds. "It's kind of hard to explain" Minnich noted. "They're similar but they all have their own kinds of personality."
Alongside their varying hometowns, Sun Room's members also bring different musical influences to the table, all having different style that they grew up hearing and playing. "Even with the last few months with me and Gibby joining," Pinamonti said, "even with the things that we've been able to provide, we're all from different backgrounds of music so it just adds little elements that maybe wouldn't be able to happen if we were all in the same culture growing up." Pinamonti referenced 70's classic rock and 80's new-wave as some of his defining genres. Minnich is quoted as "the metalhead" of the group, Anderson as the "soul" guy, and Asgian brings the central surf sound to the group. "It's pretty funny," Asgian said wryly, "if you look at our Spotify Wraps, between the four of us it's so different but it's really cool because it just like adds a whole nother layer for the sound. Like between what Max contributes to a song adds a different layer than what Gibby adds what Ashton adds like. We all come from very different corners in the music space, but I feel like we're able to kind of tie it all together and something that's really cool."
The band noted that, though their sound could be put under the umbrella term of "surf rock," "rock" would be a better way of describing their genre, calling the "surf" aspect of their work more of an aesthetic based around where and how they grew up. "The song will just kind of make its own vibe, you know?" said Asgian. "So like some songs are more punky, like, "Red Dress," but then there's like "Sol del Sur," which is more 60's reverb, so I think it depends on the song. But that's kind of that's kind of the cool thing about Sun Room, is that I feel like, surf rock is an umbrella term, but we could have one like surf punk song and then we have just one like, classic surf song, you know? So, and you could just call it rock too, if you want."
Asgian credits TikTok as the group's first boost. ​​"I just kind of on a whim made this TikTok, and now I didn't really know anything about [the app]. I'd even kind of forgot I even made it, but then I checked it the next day and there were like 1000s and 1000s of views, plus it translated to our Spotify. In one day of the Sun Room EP being out, we had more streams than I had had in my high school bands combined, it was crazy."
---
Following the TikTok boom, Sun Room toured with Irish band, Inhaler, as their opening act during their first American headlining tour. When the tour was postponed due to visa issues, they took it upon themselves to fulfill the promise of performance in the cities where they were scheduled to play, marking their first official tour as a band. "We'd had some small trial runs," said Anderson, "but this was our experience of getting a sprinter van and roughing it out type of tour. It was pretty sweet, sleeping on floors and just figuring it out."
One thing that can be undisputedly taken away from a Sun Room show is their insane energy. These guys have the ability to get a room moving and floor shaking. When asked about how they ensure execution on this enigmatic presence, Anderson said, without hesitation, turning the volume to 11. "We all come from pretty outgoing places," he continued, "like there's no seasons in Southern California, so it's kind of like summertime all the time. We're always just doing stuff, and I feel like there's always such high energy cause there's never a hibernation season so we constantly just have a bunch of energy." "We're all very grateful to be able to play music too, and see all these places," Pinamonti added, "so pretty much every time we're playing we're having the most fun of our lives."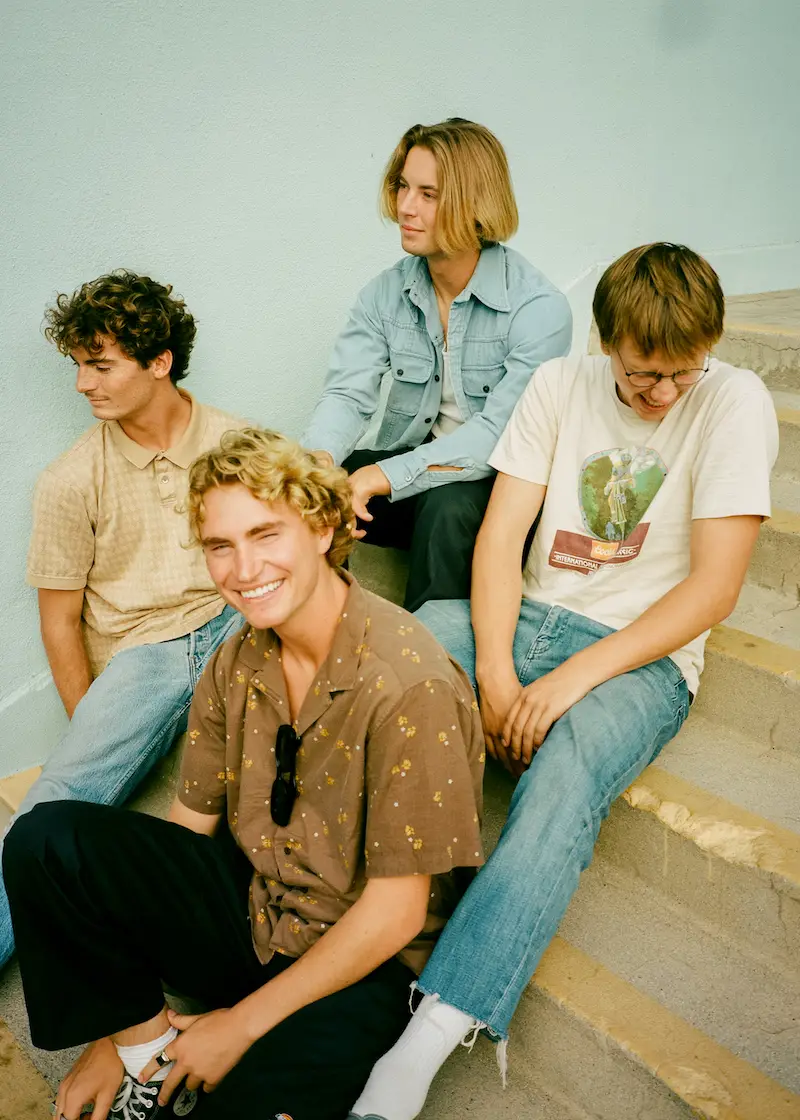 As a very green band, there's a lot to take away from these early touring experiences: getting enough sleep, the right places to stay, eating right or preserving your energy level. Yet when asked what the group took away from this first experience, they said, to quote one Harry Styles, that it was important to treat people with kindness. "I feel like the biggest lesson that at the end of the day, the most important thing is the way that you treat people," beamed Asgian. "I think Inhaler embodies that so perfectly to where they're just like the kindest people ever. And it just makes like traveling and everything so much more enjoyable. When you're just around people who are just like genuinely kind I think that just goes beyond music by a longshot like. It's so much more important to just be a good person and be kind to, you know, your fans and the people and the other bands that you're playing with and your team. I think that's the biggest thing that I've gotten from all this is just like, how much more important it is to be a good person and the music will flow from that."
Pinamonti added, "We've been able to meet so many people, and everyone has been so kind, Inhaler especially really embodied that kindness, as well as their whole team. And that was what made the trip so great." In the upcoming year, the band is hoping to continue traveling as much as possible and release whatever new music they can. Their upcoming tour, supporting Louis Tomlinson, begins February 1, and is currently sold out. They have added a headlining show in Nashville supporting Secondhand Sound and Daphne's Couch at 6th and Peabody on February 6th. If you're in the area, it's worth it to try and make it, these guys are not an act to miss.
— —
— — — —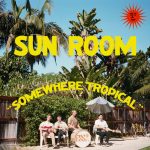 ? © 2022
:: Stream Sun Room ::
---