Nashville (by way of Texas) rockers Cardboard Kids came out guns a'blazing with their 2014 debut Echo Boomer (via American Echo Records). Songs like "Honey," "Dime A Time Lover," and the album's title track are loud, in-your-face reminders that rock 'n' roll is alive and kicking, but Cardboard Kids are more than your average DIY garage band. A penchant for raucous overdrive and soulful performance lands Cardboard Kids somewhere in-between The Black Keys and Kings of Leon (both of whom have also called Nashville "home" at one point or another), and it is within those subtle walls that the trio manage to do something that is all their own.
Lead singer Jake Germany's vocals offer a unique mix of textures: Sometimes breathy, sometimes piercing, yet always powerful, Germany's emotive singing is the captivating feature that will draw in most first-time listeners to Cardboard Kids. Guitarist Austin Cunningham's delicate and daring axe playing buoys that attention with distorted walls of sound and inventive hooks, while producer Tres Sasser creates an excellently polished anchor, balancing the band's music without overproducing them or losing their wild spark.
Cardboard Kids remain an underground Nashville gem at the moment, but the talent and voracity showcased on Echo Boomer guarantee that the band cannot stay hidden for long. With that in mind, Atwood Magazine sat down with Cardboard Kids frontman Jake Germany to learn all we could about Nashville's loudest, hardest-working DIY. Our exclusive interview is below! 
Listen: Echo Boomer (album) – Cardboard Kids
How did you come up with the Cardboard Kids name?
[laughs] Actually there's nothing really cool about it. What happened is, we play this game all the time where we pretend we have this imaginary side band. I was hanging out with a friend of mine from Kansas City and he said if he had a hip-hop band, it would be named Cardboard Kids. I thought that name was really cool, and Austin and I have this fake hip-hop band called Zombie Goliath that we literally pulled out of a Magic the Gathering deck. So we thought Cardboard Kids was cool.
I've got a lot of respect for a band who up and moves to Music City, USA. How did that happen?
Austin and I lived together back in Texas, and one night we decided, living in the sticks in East Texas, that there really wasn't much we could to do to further our stuff. It was between Los Angeles and Nashville, and we're not really the LA type, so we decided, finally, to move to Nashville. We were sitting down at the kitchen table, and we went through a calendar and planned out six months, including the making of the record and the rollout plan of the record… literally everything was so specific!
What were your first few months in Nashville like?
For the first two months, we were literally in the studio the whole time. We didn't even really get settled into our own places yet! We went into the studio the day after we moved and we were in there from 10am to 10pm every day… I think that a lot of people who move to Nashville just want to play shows. We took an alternate route: We showed up, started making the record, and outside of making the record, we got a feel for where things were popping.
So how did American Echo Records come about?
We are the first band on the American Echo Records label. We got introduced to (label heads) Tres Sasser and Robyn Davis the first time we were in town, and they wanted to work the record so badly that they literally made the label so they could work the record!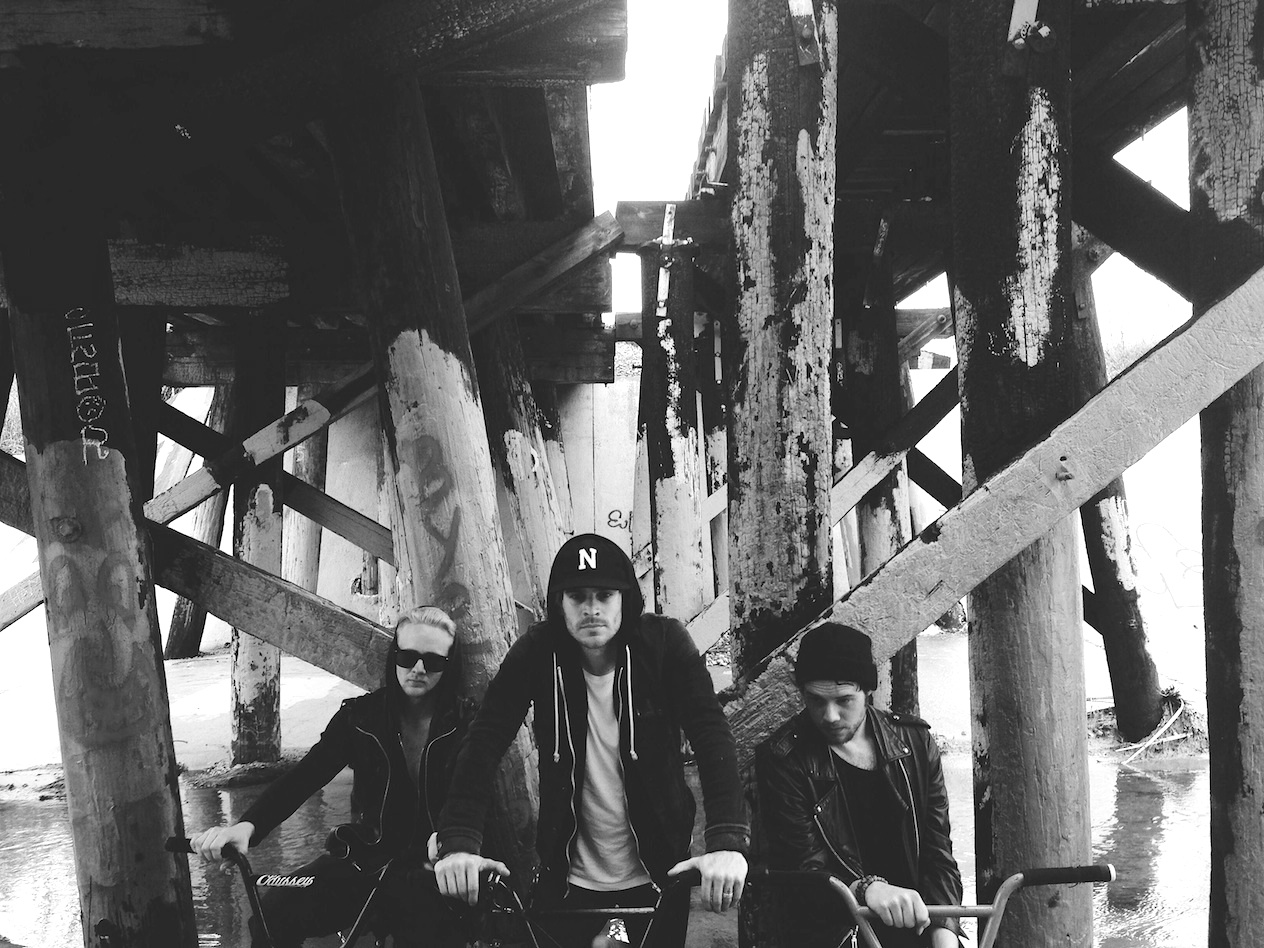 Why did you title your debut Echo Boomer?
We wanted to capture the restlessness of our generation. The "Echo Boomers" are pretty much the offspring of the Baby Boomers, and we wanted to write a record that encompassed what our generation feels like. People our age get really hyped: They want to make moves and become action oriented, but there's this constant struggle of the individual wanting to take action and make moves, but no one around you wanting to "make moves" as well.
Our record is about being passionate, but also being withheld by the fear of making the wrong move. The three of us are really introverted, but we are all passionate about what we really care about, and so it's hard to figure out what that voice sounds like to us.
How did you develop your sound?
We took our time making Echo Boomer and we're happy with it – it's loud! I think each of the three of us contributed something different. For me, I listened to a lot of late '80s and early '90s pop and R&B growing up – TLC, Michael Jackson, Boyz II Men. Austin is just direct '90s rock – Third Eye Blind, REM, and stuff like that. Then Brandon, our drummer – he only listens to Garth Brooks. When it all comes together, our sound is pretty rock 'n' roll, with its riffs and stuff. I invest a lot in the writing process – our songs are just layered with hooks. I guess our sounds are just full of rhythm guitars and rock 'n' roll.
Your songs are very rock and blues driven, but there's an unmistakably southern grit as well. Do you consider your music a sort of 'southern rock of the modern age'?
Inevitably we're from the South, and some of those sounds come out of us. It's really just the fact that we're from three different upbringings based on riffs. Austin writes these dirty riffs, and we're developing them on top of catchy sounds… Like we'd take these riffs, write what we thought was a chorus or prechorus, and then put those to the side and put an even catchier chorus on top!
We didn't just want to write songs that we liked – we wanted it to be something that we really cared about, and that was honest, too – but something that was honest, and that people would latch onto. We wanted it to be something fun, and that we could play live. Austin and I write most of the music, and it's all kind of based on tension, I think.
The title track really sets the tone for the rest of the album.
When we wrote "Echo Boomer," we really didn't have an idea of what the complete record was going to sound like – but when we finished writing that song, all of us knew that "Echo Boomer" was going to start the record. It felt right… I don't know, it was weird. Having that song in place gave us a direction for the rest of the record.
Listen: "Echo Boomer" – Cardboard Kids
"Our record is about being passionate, but also being withheld by fear of making the wrong move." – Jake Germany
So what's coming up for you guys?
I don't know, we've been laying low recently with a new record we've been working on. We recently tracked three new songs over at RCA Studios in Nashville – you know, Elvis and Dolly Parton played there. We just shot a documentary that's about to be released, and then we're going to hit the ground running. I think the only downside of us going to Nashville is that we didn't organize a team yet. Now that the record is out, we've finally developed a team here, and we finally have our ducks in a row.
What's the documentary about?
We're one of the youngest bands probably to have ever recorded at RCA, and the cool thing about getting to record there was that just a few months prior, some random developer had bought the space and was going to tear it down. The whole city of Nashville rallied behind what was right, and even The New York Times got involved to save the studio because of its history. Our management team, who manages us and Ben Folds and who also has the lease for the studio, became the voice for the "Save Studio A" campaign.
We weren't even sure we were going to record there, and then at the last minute some people came in to save the place! So it's kind of a documentary about where we're headed with this new sound and this new stuff, as well as being able to record in such an historic place. We're really lucky. It's a huge, huge space – it's like an amusement park for us. I actually heard that Elvis used to roller skate in there. I'm thinking about getting some skates too!
When can we expect to hear this new music?
  Well, the songs we did at RCA are not going to be what's on the record – they will be re-recorded for the record. These are more like rough, live sessions… We'll be releasing those really soon!
Studio vs. live performance - which do you sway towards?
That's tough… I think that for us, because we're so detailed and anal about everything, I think that the studio brings out the best in us. It also brings us stress, but like I said, everything we do is built on tension, and tension is good for us… But I think that live is really where we prefer to be.
Think you'll come visit us in New York any time soon?
[laughs] Hopefully soon! We got a new booking agent and we're making moves after SXSW – so late spring, early summer!
What's it like to be on tour with Cardboard Kids?
The van that we tour in has an empty area we can venture into, and the three of us are kind of quiet – we're not like crazy people on tour. We read comic books and listen to '90s music. We go to the back of the van while someone's driving – we call it the lair, and while one of us is driving, the others go to the back, to the lair.
I don't think anybody can say that we're not a hard working band. The three of us are completely involved in every detail – even on tour, we do everything. We take out a bass player with us, who's really the only added person. We drive ourselves, we load our own gear. We like it that way – it makes it feel right for us. I don't know if it's about being from the South and the pride of being in the South, as well as the humility of being raised in it that gives us that feeling, but it doesn't feel right for us sometimes to let other people do all the hard stuff.
:: CARDBOARD KIDS :: ON TOUR ::
3/17 – Tyler, TX – Lago
3/18-21 – Austin, TX – SXSW
3/22 – Waco, TX – Common Grounds 
Echo Boomer is available now via American Echo Records!
For fans of: The Black Keys, Kings of Leon, The White Stripes