"Spotless Mind" is the latest track from the London quartet ISLAND, off of their upcoming double A-side record set to be released May 20th. Although the song starts out with peaceful strumming, it builds quickly, establishing ISLAND as a sonic force to be reckoned with. As the first quiet verse transcends into a thundering chorus, the drums thrash in tight coordination and lead singer Rollo Doherty's voice hammers out the central question of the song:
"What if I never asked you your name? Would I be this way?"
Listen: "Spotless Mind" – ISLAND

[soundcloud url="https://api.soundcloud.com/tracks/259928105″ params="color=ff5500&auto_play=true&hide_related=false&show_comments=true&show_user=true&show_reposts=false" width="100%" height="166″ iframe="true" /]
---
The chorus' thrust of drums stops you in your tracks, pairing beautifully with lyrics that reach out for a moment of clarity. It's an introduction that will shake you to your bones. And its the next verse's gentle riffs fluttering out of that aftermath that leave you coming back for more.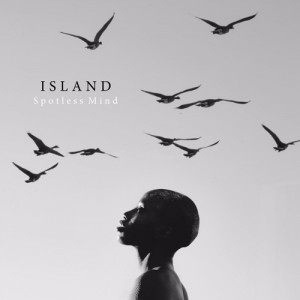 "Spotless Mind" is an excellent example of how exciting it can be to snatch a song out of its quiet, comfortable ambiance and catapult it into an arena bursting with energy. The band discussed their penchant for playing with high-to-low dynamics in an interview with 1883 Magazine earlier this year, explaining that their live shows offer this ebb and flow to be amplified even more. "Spotless Mind" explores how varying levels of sound can manipulate a song and in turn, recharge its audience. There's no question that ISLAND will have no problem launching concertgoers onto their feet during their tour dates this summer.
The band consists of four Oxford-bred musicians, led by Rollo Doherty on vocals and guitar, Toby Richards on drums, Jack Raeder on guitar, and James Wolfe on bass. After getting picked up by Beatnik Creative, their popularity has soared through the London music scene and they're now headlining international venues. Their warm, contagious energy is perfectly suited for sunny festival crowds as well as those smaller venues that are lucky enough to absorb their sounds up-close and personal.
The "what if" question that "Spotless Mind" centres around sparks feelings of self-doubt and vulnerability about one's place in the world. In the first verse, for instance, Doherty sings about having nowhere to run despite the world moving around him. The question being asked in the song is similar to that posed by the movie that shares the same name, Eternal Sunshine of the Spotless Mind. Although it's a risky path to travel down, when confined to small doses it offers an opportunity for self-reflection. "Spotless Mind" asks, if it weren't for someone else, would you be the person you are today? And if it were possible to erase those parts of yourself that stemmed from another person, would you? The bitter "what if" question can lead to so many different answers that it can drive you insane if you're not careful. Yet ISLAND has the confident precision to delve just deep enough into it to keep things interesting.
As the song winds down with the familiar trickling guitar, these what-if's are put to rest. Regardless of wherever they used to be, the boys of ISLAND are doing quite well for themselves at the moment. If you're across the pond, you can catch them at Citadel Festival, The Great Escape, or any of the other shows they've got lined up this summer. If you are not, unfortunately, on the other side of the Atlantic, you can keep up with the band online.