NYC's Mail the Horse join the list of artists fighting gender norms and outdated ideals with their new single "Kid Gloves," a raw and bluesy critique of toxic and fragile masculinity full of soulful and heartfelt ire.
Stream: "Kid Gloves" – Mail the Horse
---
As toxic masculinity becomes an increasingly apparent scourge of our society, artists everywhere are taking up the mantle and addressing the issue head-on. Earlier this year we praised Henry Jamison's sophomore album Gloria Duplex for its transformational examination on what it means to "be a man"; last month we examined GRAE's empowering anti-harrassment song "Woman's World," and just last week we featured Myylo's "Sad Boys," which aims to "create a safe space for men to express their feelings."
Today, New York City's Mail the Horse join the list of artists fighting gender norms and longstanding, outdated ideals with their single "Kid Gloves," a raw and bluesy critique of toxic and fragile masculinity full of soulful warmth.
Got to wear kid gloves around me
Gimme creature comforts
Turn down the heat boy
I won't change
Got to wear kid gloves around me
You know I call myself a renegade
Turn down the heat boy
I won't change
Beggin you, can you come back to me?
How did we do it before?
Atwood Magazine is proud to be premiering "Kid Gloves," the latest single off Mail the Horse's forthcoming self-titled album, out November 22nd via Baby Robot Records. Following "Sweet Red Lies" and "P-Town," "Kid Gloves" finds Mail the Horse continuing to explore 1970s "classic rock"-era sounds through guitar-fueled rock and blues-influenced songs rich with melody and earthen grit.
According to the band, "Kid Gloves" is "loosely based on the current President, but reflective of traditional masculinity as a whole." Simple and incredibly effective, the track centers around an ignorant narrator unwilling to change his ways or hear contrary opinions (or facts) to his own:
I wanna tell ya, keep it light
Keep it off the ground my man
Ain't got no saddle, I'm free
But you gotta wear kid gloves around me
Got to wear kid gloves around me
I gotta learn to shout it all around
Turn down the heat boy
I won't change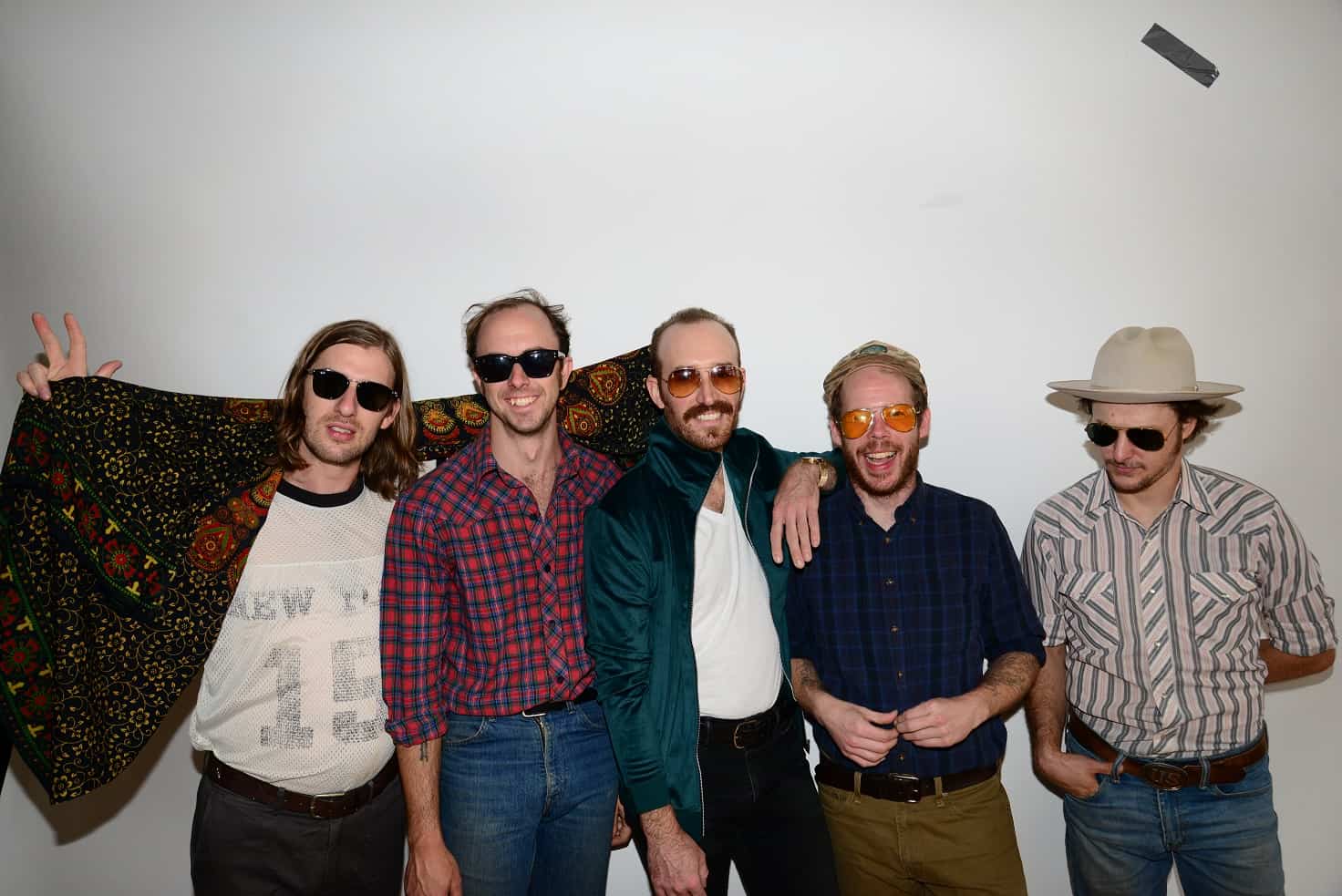 According to Mail the Horse's Michael "Hess" Hesslein, the creation of "Kid Gloves" is itself a labor-of-love story. He depicts the intricacies of the songwriting process as he describes the ins and outs of the song itself:
"The creation of 'Kid Gloves' started simply with the main riff and I played it over and over again for about 2 days. Tom Petty said that he wrote the "The Waiting" that way and you know I think that inspired me — it made me feel like it's ok to do that with stuff I write — because if I like the first 15 seconds of something, the chances the rest turn out good are high if I just keep ruminating on it — like a mantra. You repeat it over and over again 'til it becomes an integral part of your reality. Anyway, after two days, I had the first line "Got to wear Kid Gloves around me." I didn't really know what that meant yet but I let it sit there on the page for a day and then one night – maybe the next night – I had had this big fight with a girl I had been seeing where my most stubborn and reactive tendencies were on full display and it really shook me afterward when I finally let go and realized how fragile my own masculinity can be. I stayed up a lot of the night free-writing — stream of consciousness style — gathering what I call and is otherwise widely referred to as "source material' — which for my purposes is a scattering of words together on a page often in a psychotic fashion that will be employed one way or another to serve in a poem or become a set of lyrics I'll use for a song. Another day passes and I head into the studio, taking my source material from my late night post-argument writing session and I sat down and wrote the full lyrics to "Kid Gloves" in about 5 minutes. I set up some gear and I had a full demo in about 2 hours. I wrote the chorus on bass actually just by messing around playing over the drums. I realized while playing along to the drum track that I thought it would be fun to transition from a downbeat, minor chord driven thing into brief, spacious modulation in the prechorus, and then a full release a major chord driven upbeats in the chorus, which became the full musical blue-print for the song. The thing I like about this particular method of songwriting – call it 'the source material exercise' – is that I find when it comes time to actually create a full draft of the song, it can come together quite quickly if you spend a little while in quiet thoughtful rumination on a small handful of ideas and not worrying at all about the process. Anyway, I remember being really excited to send it to the guys and I felt like it was going to be the sister song to 2016's "Magnolia."
The character of the song is of course a version of myself, or an imagined re-manifestation of my own consciousness as a lot of my songs are. Often times I like to think the self-characterization that appears in my songs is a slightly more impulsive or dangerous version of myself. Someone built up to shed some of the feedback loops we find laying deep within most of the insidious and unhelpful behaviors we engage in on a daily basis. The opening line "Give me creature comforts, turn down the heat boy, I won't change. I am a man." is essentially the narrator saying "Give me my positive feedback loop that I'm used to, and stop pestering me or asking me to self-examine because I'm not changing." The second verse repeats a similar sentiment with "You know I call myself a renegade, turn down the heat…" which refers to a what to me is a type of commonly found paradox in the depths of whatever comprises masculine energy that says, "Whatever destructive thing I choose to do is badass and statement-worthy, even if incorrect or unhelpful, because I chose to do it and I am a man and I'm a rebel who does what I will and if it leads to unfortunate or unintended consequences for others, tough cookies.
When it came time to record it for real, we re-arranged some of the format from the demo and we added another verse. Donny and Brendan and I came up with this slinky second guitar part which repeats over and over throughout the verses which to me is that insidious and unhelpful behavior I mentioned manifested throughout the song. And then when the chorus drops, it changes to a major chord rock song with a feel good groove and the line "Keep it light, keep it off the ground, my man. Don't got no saddle, I'm free." There's our main character really feeling himself, rolling over all those unintended consequences of his unbridled and unchecked masculine energies with reckless abandon. "
Formed years ago in Bushwick, Mail the Horse currently consists of Michael Hesslein, Mike "Donny" Amidon, Andrew Joseph Weaver, Brendan Smith, and Chris May. The band have two albums and an EP under their belt, and their song "Magnolia" has eclipsed 750,000 streams on Spotify alone. "Kid Gloves" in some ways represents a continuation of a band drenched in sweet melodies and dynamic sounds; in other ways, it finds them continuing to break the mold as they address serious issues in this day and age, checking modernity's privilege and highlighting our need to improve as individuals and as a collective.
"Kid Gloves" reminds us that we all need to grow up and do better. It's a call to take off the training wheels and own up to our truths. Stream the new single exclusively on Atwood Magazine!
Stream: "Kid Gloves" – Mail the Horse
— —
— — — —
? © Shervin Lainez
:: Stream Mail the Horse ::
---