Storme reassure and delight with emotive electro-pop masterpiece "Starlight," combining perfect production with sensitive songwriting.
— —
Crafting enchanting electro-pop music that is as stylish as it is entrancing Swedish / Italian duo STORME are a definite artist-to-watch. Their debut release "Burning Echoes" partnered an exuberant lyricism with sophisticated, stylish production, while sophomore single "Volcano" built on their momentum with gleaming beats and vivid lyricism.
Look up at the stars hun
Do you see the magic oh
All the dreams we want
All of it is right beyond us
Listen: "Starlight" – Storme
---
Atwood Magazine is proud to be premiering "Starlight," out everywhere July 20, 2018 via Waterheart Records. The track represents a definite evolution in the duo's sound while still retaining the underlying essence of their first two single releases. Swedish frontwoman Amanda Liedberg's vocal serves as the anchor for the track, guiding the listener through an alluring conglomeration of prepossessing sounds and rhythm. Throughout, her forceful voice remains an assured presence, maintaining a sense of delicacy and authenticity.
Starlight
I see the echoes
I feel It all the way into my bones
So let's try it
To breath your echoes
Together we can move your heavy stones
"Starlight was inspired by one of my best friends," Amanda Liedberg tells Atwood Magazine. "For years, she had no self-worth, putting herself down so many times, she became her own worst enemy. This song is for those who need that extra little confirmation, to say, 'you are great, you're doing well and are so much more than you think you are'."
This confirmation feels increasingly important in a world where anxiety can manifest itself abruptly and self-doubt is becoming ever-present. While this track feels astonishingly personal, the themes tackled are undoubtedly universal. No matter who you are, where you come from or where you're heading, uncertainty and indecision can plague every single moment of your being and sometimes it just takes music to reassure and calm. By using the delightful clever metaphor of Starlight, the listener is gently reminded to take comfort in the fact that you're part of something much bigger than your existence.
We're running faster than the night
Just like a saint you paint the sky
I can see your lungs can breathe the fire
We are much stronger than the ice
STORME recently played to an infused crowd at The Great Escape this May, and the duo will play at Camden Assembly in London on the 26th of September. Their latest track's message is infinitely infectious, while the delivery is confident and impeccable. Despite the euphoric production, "Starlight" feels deceptively intimate. Every single syllable is delivered with such a heart-pounding emotion, resulting in a deeply emotive reminder of your potential.
— —
— — — —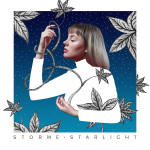 ? © 2018
:: Stream Storme ::