Jackie McLean of the indie band Roan Yellowthorn grants us an inside look at the making of an album from start to finish in her 'Breaking The Record' column.
Stream: "Little Love" – Roan Yellowthorn
---
Wow, we're on part 50! I've been writing this column for 50 weeks. Fifty. That's close to one year of writing this column. I love having this platform. And I'm thankful to Atwood Magazine for lending it to me. It's been transformative to me in many ways. And it's been immensely therapeutic and cathartic for me to have a safe place like this to speak and write and share.
Just jumping into the Breaking The Record series documenting the making of our album from start to finish? Read part 1 here!
For this, my fiftieth installment of this column, I am happy to present to you a new song. The song is called 'Little Love' and it's pretty special to me.
Produced by John Agnello, this song was recorded with an amazing group of musicians – Jesske Hume on bass, Andy Burton on keys, Emil Amos on guitar, and my partner, Shawn Strack, on percussion.
We recorded it back in February, a year ago. Out of all of the songs we recorded with John, this was one of the earliest songs I wrote. I remember where I was when the verse came to me. I was in my kitchen. I was doing something – getting food ready or cleaning up – and I wrote a few lines down on the back of an envelope. I remember wrestling with myself, not sure that I wanted to capture the idea at all. Sometimes, an idea comes and I forcefully ignore it. I don't do that often but sometimes, if the subject of a song is just something I don't want to think about or if I'm tired or feeling lazy or resistant for some reason, then I just don't write it down. And then sometimes the idea floats away and disappears. Or sometimes it keeps knocking at the door of my brain, harder and harder, until I let it out.
In this case, I wrote down a few lines. But I did it reluctantly. And then was resistant to fleshing it out. But the song kept knocking. It wanted to be written.
It took me a while to get it right. Some songs come all at once, almost fully formed. This one came in pieces. And the process of stitching it together felt like quilting – with something here and something there. I didn't even end up writing a proper chorus. There's a refrain, instead. The song has its own unique shape. And, for me, it faithfully reflects the experience I was channeling in its creation.
The timeframe that this song honors was about 11 years ago, when I was 19. I feel it took me that long to fully process the events that I experienced. About ten years between the time of the events and my writing about them. Sometimes it takes distance to achieve perspective. To look at an experience. To have the wherewithal to write about it. To have the strength and courage to examine it.
That was the case with this song. And, I have to say, the process of writing about the events that I write about felt like an important step in achieving a sense of closure around the experience, itself. Sometimes making art out of something is a piece of the healing process.
Not only am I happy to be able to share this song, but I'm also happy to be able to share the video for it. It comes out tonight. From me to you. I hope you watch it and that you enjoy it. Let me know.
— —
Stream: "Little Love" – Roan Yellowthorn
— — — —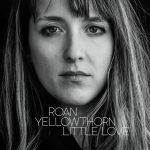 ? © Jackie McLean
:: Breaking the Record ::
---