A bombastic, heavy glaze of emotion and meaning, X. ARI's Dis-Order EP glows with a love for life and electropop passion.
— —
Never forget the beauty of life and the power of the human spirit. "We are golden," as MIKA once sang; every single one of us is a bright spark of magic. A bombastic, heavy glaze of emotion and meaning, X. ARI's Dis-Order EP glows with a love for life and electropop passion.
Listen: 'Dis-Order EP' – X. ARI
---
Atwood Magazine is proud to be premiering Dis-Order EP, the latest release from Los Angeles-based indie pop artist X. ARI (independently out everywhere this Thursday, July 19, 2018). She may not be able to solve all of life's problems through music, but X. ARI is on a mission – "to not only raise awareness about mental health, but also to focus on using her platform to empower others to turn their pain into power." Embracing the electronic side of pop music, X. ARI is the indie world's response to Katy Perry and Ellie Goulding – artists who stood for something in their nascence, but seem to have lost their way in recent years. In contrast, X. ARI's music is chock full of lessons and statements on the world. Whether you're listening casually or listening to feel something, Dis-Order has something special in store for you.
As a lyricist, X. ARI uses personal experiences as opportunities to learn and glean some meaning from our crazy world. Opener "Kingdoms Fall" serves as a testament to everyone's individual fragility – "from roses to rust, our foundation crumbled," she sings, using the story of a relationship's crash to explore, in a larger sense, our collective turmoil – and what we can do to keep our heads above the water.
"My goal is to spread love, light, empowerment, and emotional healing through my message," X. ARI tells Atwood Magazine. "I don't want suicide to be an option for people anymore. Artists are especially effected by mental health and myself being one them, I've made it my duty to uplift and help people feel less alone on their healing journey by sharing mine."
She continues, "Dis-Order separates the word in two, because disorder is essentially disorganized order. I believe that we can find order within ourselves and quiet the chaos by separating ourselves from labels and not letting them define who we truly are. These six songs are a journey of tragedy, loss, hope, growth, catharsis and enlightenment. I hope they make people feel less alone and encourage others to find their own conduit for healing."
Roll you in my fingers tips
Feel guilty a little bit tonight oh oh oh
Use my tongue to lock the glue
Pack it tight no residue, all mine oh
oh oh
Cuz I'm disposable to you and I can
be brought to life to please you
whenever you feel you like
And you got all the money ya run
through it like water sinking your
teeth deep into every bite
– "Vapors," X. ARI
In truth, it will take repeat listens for most folks to connect with X. ARI's deeper messages: The majority of her lyrics utilize the relationship turbulence trope as a metaphor to explore issues like self-confidence, self-love, anxiety, depression, and more. These are the "real" issues she's focused on – the "love game" isn't exactly a new concept – but it's not always easy to know that, especially when so many of these songs seem to, at least on the surface, revolve around romance and intimacy.
What cannot be denied of Dis-Order's songs, however, is their strong focus on empowerment and resonance – two especially important themes for X. ARI. "I've been through a lot of ups and downs, and writing has been my constant source of healing," the artist recently shared on Instagram. "Opening up and sharing my journey with you through writing and turning Pain Into Power has made every high and low worthwhile." Single "Stay v Go" is perhaps one of the best examples of this: A shimmering pop explosion, the song opts for the literal high road, offering refuge from the storm and inviting us to find our own special spark.
Ultimately, Dis-Order is a token of the artist's personal journey through darkness and into light; its songs represent the person she was, the person she is now, and the person she is becoming. They capture an artist on the rise, a pop star in the making whose dynamic voice and stadium-sized anthems are ready for the world's stage. Stream X. ARI's Dis-Order EP exclusively on Atwood Magazine ahead of its worldwide release! Folks in the LA area can catch X. ARI at her release show this Thursday, July 19, at Sayer's Club – tickets and more info here!
— — — —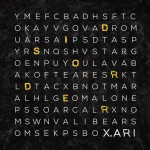 ? © Dan Abramovici
:: Stream X. ARI ::