Cementing themselves as royalty of the indie pop-punk sound, The Beths' ear for a hook and sugary-light tone feels like summer in every note on 'Jump Rope Gazers'.
Listen: 'Jump Rope Gazers' – The Beths
---
Here's something few people will admit but is undeniably true: Living your dream can be hard. Even when it's all you wished for on those sleepless nights, when it arrives there are still tough moments. It doesn't mean you don't love it, or even that you'd change a thing. Just that even the best things carry a dark side.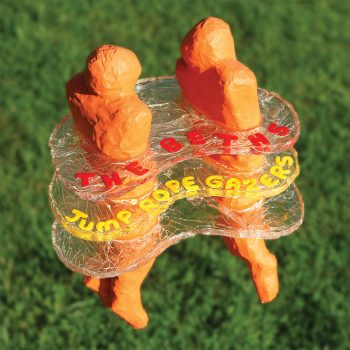 Auckland's pop-punk darlings The Beths are living their dream. Following the release of their critically acclaimed debut, Future Me Hates Me, they quit their jobs and toured North America and Europe. It was all they'd ever wanted. But there were still tough moments; be it loneliness or troubles at home they were simply too far away to help with. "If you're at a certain age, all your friends scatter to the four winds," Stokes says. "We did the same thing. When you're home, you miss everybody, and when you're away, you miss everybody. We were just missing people all the time."
Their sophomore offering, Jump Rope Gazers, tackles the double-edged dream head on. Cementing themselves as royalty of the indie pop-punk sound, their ear for a hook and sugary-light tone feels like summer in every note. Stokes's undulating vocals—complete with an endearing hint of an Australian accent—carries an emotionality that betrays the song's seemingly sunny disposition. Think a synth-less Motion City Soundtrack and you'll be on the right lines.
Watch: "Jump Rope Gazers" – The Beths
It's more than your typical pop-punk release however—there's a variety to the sound that can often be missing on even the most classic albums of the genre. Be it the powerful "Acrid" that draws you out of yourself and into Stokes's words or the vulnerability explored on "You are a Beam of Light", Jump Rope Gazers offers the chance to feel validated. One of the record's greatest accomplishments is that by exploring her own loneliness, the listener feels more seen—and ironically less lonely.
Jump Rope Gazers encapsulates a moment in time for Stokes that contained many highs and lows. "It was a rough year in general, and I found myself saying the words, 'wish you were here, wish I was there,' over and over again," says Stokes. Creating this record during this time both shaped the form of the record and her relationship to it. "When the album was close to finished, it was strange to see the shape it was taking. I could now look at it as a kind of time capsule, and it was interesting to see what I'd decided to put inside it," says Stokes. "Playing the songs from our first album together and touring them, playing them again and again in different cities, gave those songs a new context for us. It has been wild to see how the current context has already affected my relationships with the songs. They seem to mean different things to me now."
Nowhere is this clearer than on the stunning "Do You Want Me Now." A lot softer than the rest of the rest of the record, it's a beautiful diatribe on distance, loneliness, and the powerlessness they create.
Long distance is the wrong distance
There has never been a gulf that's quite as great
As the one we wished into existence
The one that spans between your eyes and my face
The power of this song lies not its distorted weight—like a lot of other songs in this genre—but rather the tone of resignation that permeates the whole song. Stokes delivers the lines as a reluctant conversation between two lovers, breaking your heart on every listen.
Do you want me now
Or do you wanna leave it out
We can talk about it
I want to tell you something but I don't know how
Do you want me now?
Or is this way out of bounds
I won't be mad about it
If you wanna go without it
Then I'll see you around
The Beths' Rope Jump Gazers captures the dark side of living your dreams without ever feeling ungrateful. It's charming and honest in a world of social media ramming success stories down your throat. And it's so damn catchy you'll be singing it sweetly for the whole summer.
— —
? © 2020
:: Stream The Beths ::