Thanksgiving is a time for community and togetherness, recognition and gratitude, and it's safe to say that music is one of the things we're most thankful for here at Atwood Magazine. It's the one thing which binds us all together – the writers, the readers, the artists; music is our common denominator. To celebrate the true spirit of this special holiday, the Atwood team decided to pick a musical moment we are thankful for in 2019 and take the time to explain how it impacted us. We encourage our readers to take this opportunity to reflect on their favorite musical moments as well, and to share them with us! From our family to yours, Atwood Magazine wishes everyone a happy and healthy Thanksgiving 2019.
With love, Atwood Magazine
— —
Hozier's "Front and Center" Wasteland, Baby! Performance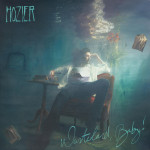 Few times can I say that I was spiritually moved by a musical performance: Some concerts blow me away and other shows leave me speechless, but Hozier completely shook my soul. Earlier this year on the eve of his sophomore album release, the Irish artist performed an intimate, specially televised show at Manhattan's 500-cap Gramercy Theatre. Hosted by PBS' Front and Center, the event found Hozier playing new songs off the album for the very first time in a live setting, alongside staples and standouts from his 2014 debut.
It's hard for me to describe how feeling the full force of "Nina Cried Power" and "Almost (Sweet Music)" moved me; these songs, packed with meaningful depth for the artist and listeners alike, inspire a kind of heat that comes from within. Older songs like "Jackie and Wilson" and "Take Me to Church" felt rejuvenating, like the warm embrace of an old friend – but this new material took on a life of its own. I had seen Hozier in 2018 at the Beacon Theatre and at Irving Plaza in 2014, but this firsthand experience of Wasteland, Baby! live was unlike any of those performances. This time, we as an audience were hearing these songs for the very first time on the stage. We were experiencing them in real time alongside the artist, giving him the space to explain his music and share it the way he had determined it should be shared. Hearing the stories behind the revelry in "To Noise Making (Sing)" or the driving "Dinner & Diatribes" gave them an added moving weight; it made them especially exciting to ingest, and ultimately, to listen to again and again in the comfort of my own home.
What more can I say? Hozier is a powerful voice in our current musical zeitgeist – a musician worth experiencing up close if you have the privilege. I'll never forget his special show, and it's made Wasteland, Baby! an easy favorite for my album of the year picks! – Mitch Mosk
The Comet Is Coming's Live Performance
One of the greatest musical moments of this year was my discovery of The Comet is Coming, a band that combines the world of jazz into otherworldly synth and electronic productions that provide experiences that are simply nonpareil. The energy they possess is infectious and enthralling, so being able to see them live was nothing short of enrapturing. They took hold of all of the melodic cadences on their album and managed to heighten them even further. The percussions were electrifying—improvising over the core tempo and creating something both familiar and new. The saxophones solos were then extended to provide room for seamless transitions into other tracks, resulting in a performance that felt removed from time—no beginning nor end. Simply an evening that can only be described as a roaring tempest of emotion, music, and mirth. No concert compares, and I'm unsure anything ever will. – Adrian Vargas
The Wonder Years' Halloween Tour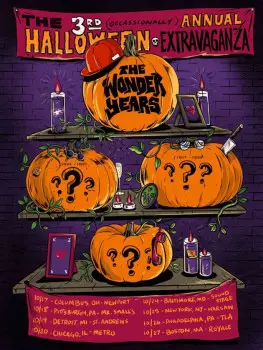 I'm thankful for every Wonder Years show I go to, but I was especially thankful to see them on their Halloween tour this year, because I really needed it. After going through a breakup that neither my ex nor myself wanted, a set from my favorite band seemed like a good antidote. The cover sets were a definite plus. I'm not a big Oasis (who Trash Boat covered) or Limp Bizkit (who The Wonder Years covered) fan, but I adore Carly Rae Jepsen and Future Teens even more for covering her.
While The Wonder Years set was cathartic the way they normally are, Future Teens' set, which was heavy on songs from their excellent (and fitting) new album Breakup Season, was the kind of emotional outburst I needed. Breakup Season went from a record that I really enjoyed to a record I've clung to from the time of my breakup until now. Tracks like "Too Much" and "Cut to the Feeling" provided a proper segue into songs like "Swiped Out", "Frequent Crier", and "Emotional Bachelor." While hearing The Wonder Years play "Woke Up Older" and "Passing Through A Screen Door" would obliterate me, singing along to "Born to Stay", "Crier", and "Bachelor" just teed me off: "I've been so busy screaming into the void, never noticed I was making a choice, to be just one more lonely, sad boy missing the point."– Jimmy Crowley
Grandmaster Flash at the Smithsonian Folklife Festival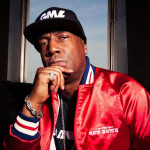 Normally a two-week affair, the Smithsonian Folklife Festival was cut down to a single weekend this year and could very well have passed with a whimper. So, I'm very thankful that Grandmaster Flash was brought onboard to spare the classic annual celebration from such an ignominious fate. But no matter the context, I would have been highly appreciative to witness the legendary hip-hop pioneer step in front of his iconic turntables and perform in person.
The 61-year-old DJ demonstrated just how singularly rich his hip-hop vocabulary is after 45 years in the game, paying tributes to fallen rap icons and blasting some current hits to the delight of the enthusiastic fans gathered on the National Mall. Most impressively, he took us all on a sonic tour of his native New York City, playing snippets of landmark records by rappers from each of the five boroughs. On top of all that, he made room for his most famous song, "The Message," which rocked the crowd on the Mall just as much as it must have rocked block parties in the Bronx back when Flash was one of the game's key founders. I've never been to as many rap concerts in one year as I have in 2019, but that sunny afternoon spent in the presence of greatness certainly stands out as one of the defining musical moments of the year for me. – Josh Weiner
Florence and the Machine at Sziget Festival in Budapest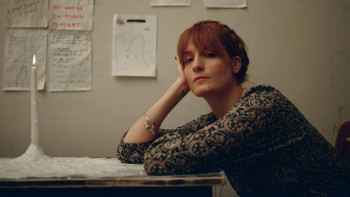 This year, musically, I have so much to be thankful for, so I feel like it is hard to narrow down this whole year to just one point. This April, in my university spring break, out of the blue, my Spotify did its job very well and recommended me to listen to Florence and the Machine. I've only heard of her in the past, as she contributed a song to my favourite teen TV show, Gossip Girl. So, me being in a very melancholy mood in spring, I started to listen to Florence and the Machine.
I can't really picture in words what happened, but once I properly listened to her songs, I felt understood. My sensitive heat and soul felt home, and for the first time in forever I felt like that there are people out there who feel things in the same way as I do. Her breakup songs like "What Kind of Man" or "Big God" helped me through heartbreak, and "Dog Days Are Over" always seemed to cheer me up. On a warm summer day this year, out of feeling very spontaneous, I decided to fly out to Budapest for a couple days to see Florence performing at Sziget festival. When she came on stage, it felt like an angel came. It was pure magic. When she started to perform "Dog Days Are Over," she asked everyone to put their phones away and jump into the air together. Whatever happened, the energy on that field, millions of people just being connected by one song- was simply incredible and out of this world. Being a part to have witnessed this musical manifesto of love and magic, is probably the moment I am most thankful for this year. – Nina Maria Schaarschmidt
Caleb Hawley's album Sad People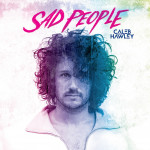 Being a fan of singer/songwriter music with soulful influences and meaningful lyrics, it's always exhilarating coming across new favourites by chance. Each month Atwood Magazine receives some phenomenal music submissions, and earlier in April I had the good fortune of covering an Atwood premiere request for Caleb Hawley's album, Sad People.
I loved it from first listen, but it was while taking the time to properly unpack it that I become truly engrossed in the stories and the depth behind each track on the record. Part of what I loved so much was how each song linked together by use of storytelling, creating an overall dynamic listening journey filled with ups and downs. It's comedic one moment, then devastating the next. After I finished the album, I immediately went to Spotify to check out the rest of Caleb Hawley's music and, following an hour of binging on his discography, decided I was undoubtedly a fan. Each release weaves a powerful narrative driven by strong songwriting and Caleb's somewhat rugged but explosive personality, that I just connect with for whatever reason! As a result, I haven't stopped listening to Sad People since its release and it's quite possibly become one of my favourite albums. Many of Hawley's tracks are now in my personal playlists, with the Sad People record being a go-to for long drives. – Ben Beamish
Elton John's Farewell Yellow Brick Road Tour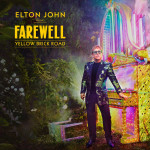 This year, I was lucky enough to see Elton John's 'Farewell Yellow Brick Road' tour when he stopped in Boston. John is a natural born performer. Not only did he sing and play the piano for not one, not two, but THREE entire hours, he put on a show that I doubt anyone in the audience will ever forget. He's been touring for decades, but still performs with more enthusiasm than pretty much any singer I've seen. Let's just say, there's a reason he's one of the greats. Seeing 'Farewell Yellow Brick Road' really solidified that.
There were a number of things that made John's performance stand out to me. His vocal register is obviously one of them, as well as his piano playing skills. I thought his set itself was very tasteful, and his band was awesome. He also had interesting visuals playing behind him on the screen which really enriched the music and the concert experience. It's obvious that John absolutely loves music, and was extremely gracious for his fans, as they are the reason he is where he is today. If anyone has the chance to see John before the tour concludes, most definitely take the opportunity! You won't regret it, and I'm really thankful I had this privilege. – Madison Zoey Vettorino
History of British Rock
I'm so thankful for those morning tunes that energize and uplift my spirit. I own a baby blue Crosley record player and I enjoy listening to classic songs from some of my favorites like The Beatles, Fleetwood Mac and Elton John. Waking up with a morning routine that starts with feel-good, vibrant music can set my whole day on a high note.
I recently made a trip to Amoeba Music and after digging around the records for a while I uncovered one entitled History of British Rock on sale for only $2. With cheerful upbeat hits like "In The Summertime" by Mungo Jerry and "You Really Got Me" by The Kinks, I dance wildly around my room as I make my bed and somehow I know everything is going to be okay. Discovering that record is a musical moment I'm extremely grateful for.  – Chloe Robinson
Tyler, The Creator's album Igor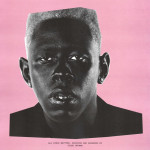 My favorite musical moment from 2019 is Tyler, the Creator's stylistic change-up on his newest album Igor. The project featured the Odd Future innovator at his creative apex-both in terms of production, and concept. Igor is one of the most poignant breakup albums of the decade in my opinion. After the stark proclamations about his sexuality on 2017's Flower Boy, Tyler felt more comfortable than ever focusing solely on love and all of its nuances. The experience as a whole felt like an amalgamation of Tyler's strengths-from the luxuriously soulful production, to the ultra-melodic choruses and potent wordplay. There's nothing better than seeing an artist finally hone in on all of their skills. Tyler continues to show improvement on each one of his albums, and IGOR no different. In a year where mainstream rap faltered, Tyler swooped in to save the day. I can't wait to see him featured at the 2020 Grammy's again. He deserves it. – Ryan Feyre
?❤?❤?❤?❤?❤
— —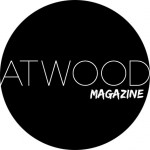 ---