Philadelphia's The Districts discuss the inspiration behind new album 'Popular Manipulations,' a stunning and cohesive follow-up to their favored indie rock releases.
— —
Philly-based indie rock band The Districts is what you call "classic." In an era of synthetic pop detours and electronic drops, the band is a refreshing blast to the past, just four guys, a guitar, a bass and a drumset. The rock group is staying true to the genre's roots, articulating their messages in the way they deem most practical: the way of the past rather than the way of the future.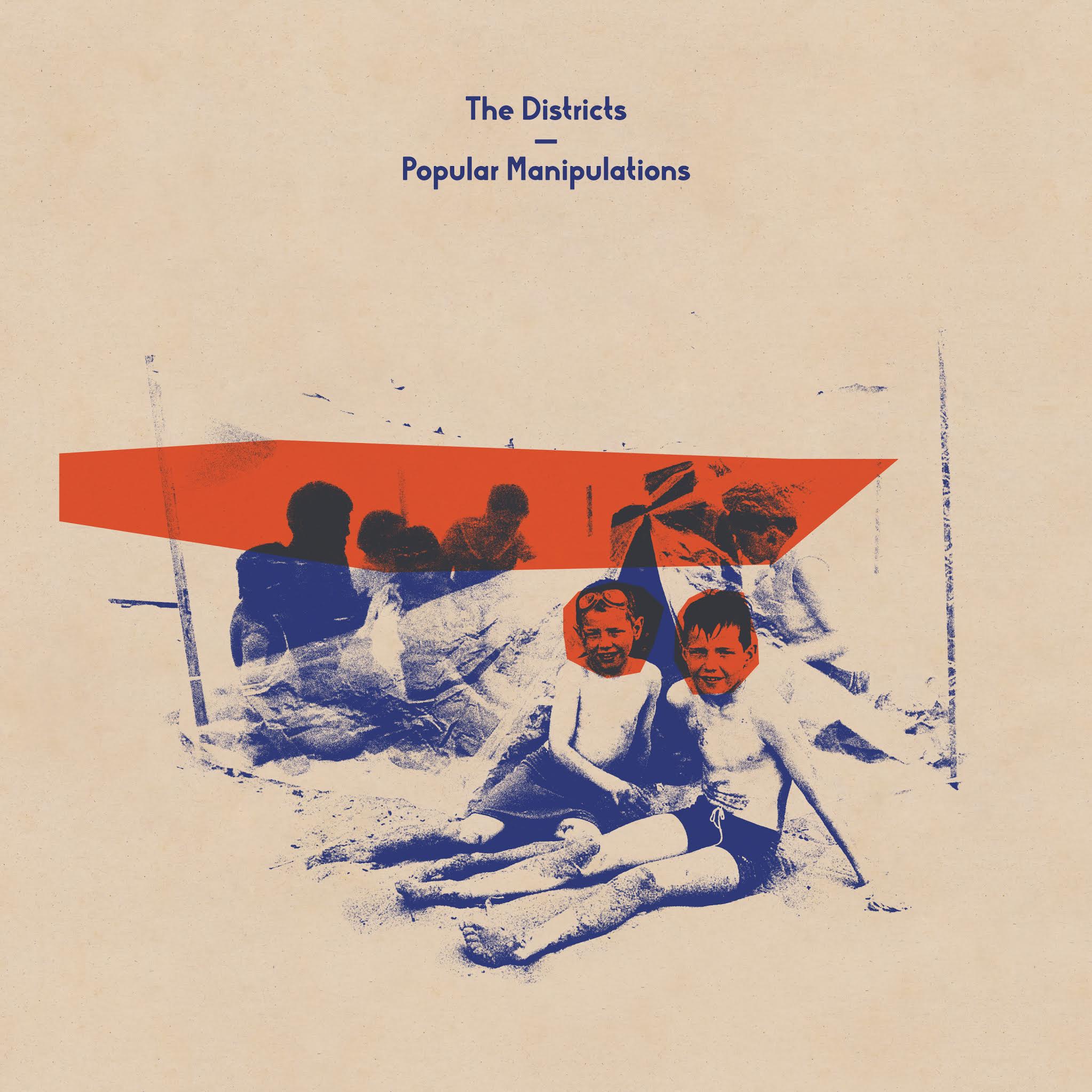 Rob Grote, Connor Jacobus, Braden Lawrence and Pat Cassidy make up the band that formed in 2009 as suburban teens who found comfort in the company of other musicians in an otherwise small, conservative town. Now, three albums deep and living in Philadelphia full time, the group who got their start as "kids" want to prove they're sticking around.
Out August 11 via Fat Possum Records, Popular Manipulations is the brilliant brainchild of a band who has evolved since their start but kept and coddled the elements that make them a truly special group of musicians, one incomparable to even the best in today's indie rock charts.
The eleven-song album is an ode to the band's past releases, yet advances in a direction of volumatic balance, breathing new life of peace and serenity into the band's heavy-instrumental arsenal. A Flourish and a Spoil, The District's last album released in 2015, solidified the band as a reputable name in the rock world in terms of dramatic instrumental acceleration and tone as a voice for the message of each song. Now, Popular Manipulations uses these same loud inflections strategically, changing the game with moments of quiet consideration.
"Ordinary Day," the first single released from Popular Manipulations, is a mellow representation of the band. At a first listen, it quickly points out the band's best qualities. Grote's voice serves as a strong, energetic yet dry, presence, something to be noticed on every track. It holds a classic indie rock tone, yet displays a warmth and power much neglected in voices in the genre.
---
Instrumentals may be The Districts' biggest success, continuously impressing with a tight performance and an all-enveloping sound. Even in quiet moments, the sound design is capable of feeling larger than life, never neglecting to carry the song with careless ease.
"If Before I Wake," released shortly after "Ordinary Day," may be the most universally-relatable track on the album. It will undoubtedly be heard on radio stations and television channels because of its energetic tempo and visible lyrics, a song that's easy to sing along to and become quickly enthralled in. It's an impressive tune to add to the band's repertoire because of its impressive display of instrumental unity combined with the relatability on a public-reception level.
---
It's hard to choose standouts on the album because in its entirety, the album holds itself as a cohesive piece of art, no song lagging behind the rest of the collection.
"Salt" is a melancholy manifestation of the band's best aspects. "Violet" is an energetic eruption of a love song, with beautifully poetic lyrics like "Lipstick smears, after parties, your hand in my mouth, I love how sweetly you dissolve into me." "Airplane" is a strong entity with a whimsical tune and extra-vintage vocals.
Each track is different from the last, yet all perfectly intertwined into one. Popular Manipulations may very well be one of the best full-album releases of 2017 because of its ease in design and portrayal. It's a clear manifestation of The Districts' skill set and inspiration, and their vision is clear. From their classic tracks on past albums, they have only continued to grow and impress with grace and creativity, crafting an album that should span decades as a new kind of classic.
We spoke with The Districts' Rob Grote about writing Popular Manipulations, the album's inspiration and the band's humble beginnings.
A CONVERSATION WITH THE DISTRICTS
I was thinking maybe you can just start at the beginning. I know you guys met in high school. Can you just talk a little bit about how you decided to start the band?
Rob Grote: Yeah. The history of our band is probably similar to a lot of bands. Maybe not all of the ones people start in high school end up staying together, but other than that it's a pretty small town, so there weren't that many other musicians around. In a relatively conservative area, so if you went that way you would gravitate toward the people that also went that way.
Braden and I have known each other for a long time, like just a little bit, like not that well. I don't know, you kind of just knew everyone in town a little bit. We just kind of…Connor and I, he plays bass and I liked playing music so I always loved the idea of starting a band. We just got together and started playing shows as much as could. So, now it's been living in Philly for four years and we've made, this is our second album we've made since living there, which is…I feel like it's a strange thing. A lot of people are interested in the origin story, but probably what's more interesting is who we are now. I guess what we are now is more reflective of who we are as people rather than where we came from.
That makes sense. So would you say it kind of took time for you guys to find your sound or your musical niche?
Grote: Um, [there have been a lot of] creative things the whole time. Ideally, over time, it will still a journey of discovery, quote of quote, so to speak. We're always trying to listen to new music, always trying to make new things. I think in our band it's cataloged differently than maybe other people's creative process because we've been the same band name with only one person changing since we were learning to write songs. Our first album we were like 15 and 16 years old. We didn't really expect to have anyone care about it. We were just trying to play shows to 20 kids in our town. I feel like a lot of times the group of people changed sooner than ours did and the name changes. I feel like a lot of bands where we're at now probably have all of the stuff that people have heard from us before but somewhere in the past. I guess it's a unique situation that our whole process of figuring it out until now is documented in one place.
That's very cool. I think it is pretty different from a lot of the bands out there. Everyone seems to go through phases almost. Comparing now Popular Manipulations to A Flourish and a Spoil at least, it's a very set sound. It's genuine indie rock, whereas it seems so many people are going really heavy in electronically-influenced songs. What has encouraged you guys to stick with such instrumental-heavy tracks?
Grote: I don't know. It's just partially what we know how to play. We always kind of do that. Also, well, all of us are interested in all sorts of things. We all make music other than this as well. We'll, like Braden and I are in a punk band, and I'll fuck around making electronic music at home. This is just how it ends up working out. Within our dynamic of four people, it makes the most sense. With a four person band it makes the most sense to be recording things live. I feel like electronic music sometimes owes itself to less people. Or maybe just two guys, a lot more triggering samples and the process of that is being creative in a studio and performing differently. With four dudes, or four people in general I should say, unfortunately there's too much of the stupid boys club thing everywhere. But with four people it works really well to be a rock band. The classic way to come together with multiple people and make music is to just play guitar and drums and stuff.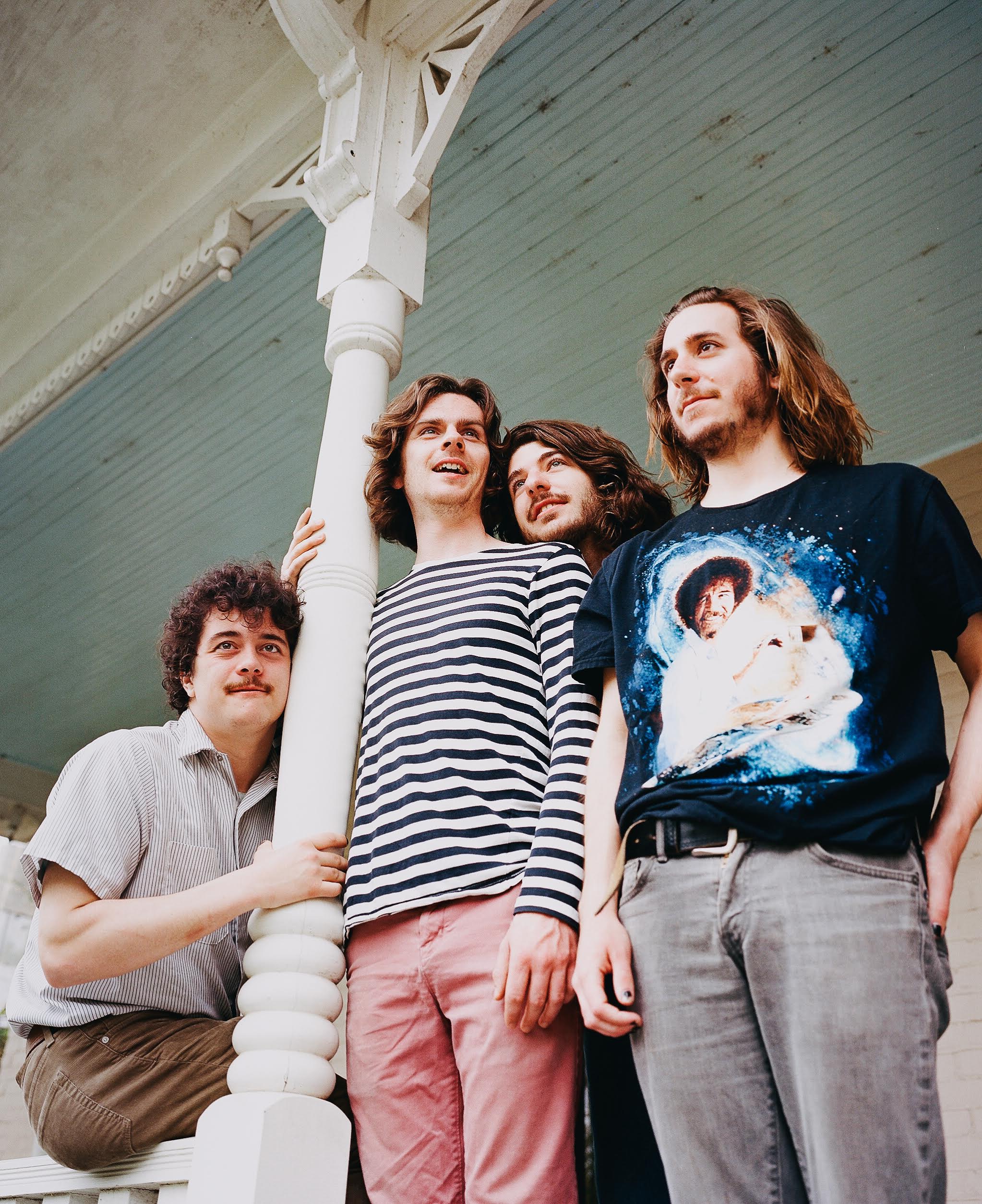 I want to discuss Popular Manipulations. Can you talk a little bit about the title of the album and how it relates to your vision for it?
Grote: Yeah. A lot of themes and lyrics are dealing with interpersonal relationships of people but also just kind of self-managing and figuring out how you work as an individual. So a lot of our thoughts were about how people use each other or how you're forced to kind of…I don't know. The ideas of control and power both within people who are romantically involved and how you learn to control yourself and your own inner workings and kind of sympathize these ideas and the ideas of coping with something. The idea of all of that…it seems like there's a lot of subtle manipulative entities that everyone operating in this society utilizes or is privy too, I guess you could say.
And can you tell me a little bit about the process behind writing the album?
Grote: We held ourselves to a higher standard than we had before. We're very dedicated to the creation of this album in a much more…I don't know. I was writing every day because we knew we wanted to explore some other sounds and ideas. We didn't know what. We figured the best way to figure it out was to just be doing it a lot. Toward the end of touring on the last album, we were still playing some shows and I was just starting to work on stuff in my room and pretty much the whole time since then we had been exploring different ideas and writing songs and recording demos and stuff. Then we had some proper recording sessions with John Congleton produced a couple songs on the record and mixed it all. Then we also did some sessions with Keith Abrams engineering and us self producing in Philadelphia as well.
Very cool. Is there a particular song on the album in terms of content that's important either to you or the band or just as a message that you really want to get across to your listeners?
Grote: Hmm. I'm trying to think of which one I'd like to talk about. I'm trying to think of something other than the singles cause people get the explanation for the singles a lot. I'm thinking maybe…I'm pretty happy with all of them. "Capable" is a song where I used a different lyrical style than other things I've done before. Musically, we were really talking about, with these songs, the idea of restraint. Both lyrically, but also musically. "Capable" had us thinking about removing instruments and also using instruments differently. There's no cymbals in the song which is something we found out with John. And just trying to use sometimes more of a less-is-more approach. Since we are this band of four instruments, like a rock band that plays loud music, sometimes, in the past, we would rely on playing loud and aggressively to convey one thing. We'll still do that now, but we're also trying to convey more things by doing less, like can we convey the same feeling with a different approach? Trying to do a lot of stuff like that, I think "Capable" is one of the many places we tried to do that.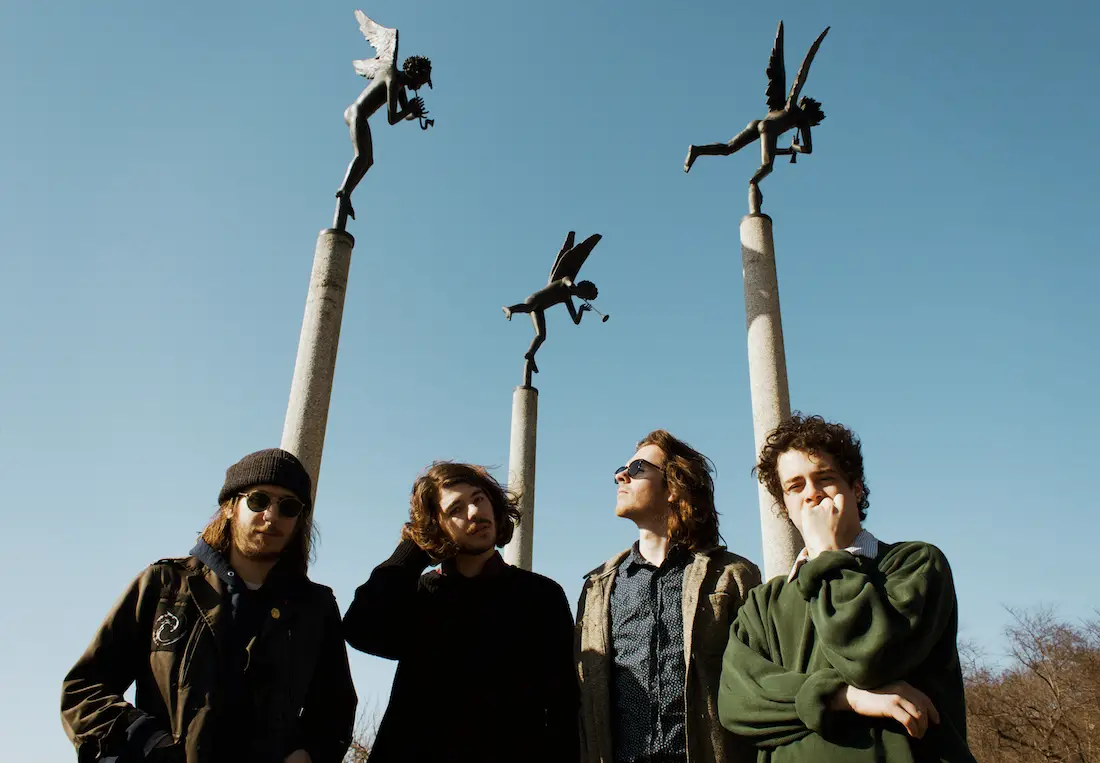 With this album, it seems there's an interesting balance between those really heavy instrumentals and these calm moments. So that was a conscious effort to design it like that?
Grote: Yeah, definitely.
And how do you think Popular Manipulations signifies where you guys are at now as a band as compared to your past?
Grote: I think we all view it as a pretty linear structure. I think we think of ourselves as trying to continue to learn. Ideally, this is similar along the path of us honing our craft. Hopefully every album gets better, and we think this one is better. Hopefully every album will feel like we accomplished something new and good.
What do you think was the biggest difference between this album and A Flourish and a Spoil?
Grote: I think we focused a lot more on arrangement. The last one was trying to capture what we do live normally. This one was putting less of…still obviously trying to get a good performance, but focusing on more of the other side of things from the performance, the arrangements and the melodies and thinking about how I was singing and stuff like that. Just kind of exploring stuff with that. I think we pushed ourselves into making some more creative choices than we have in the past. Not saying anything negative about how we made music in the past or anything, but more about how we were trying to expand.
— —
— — — —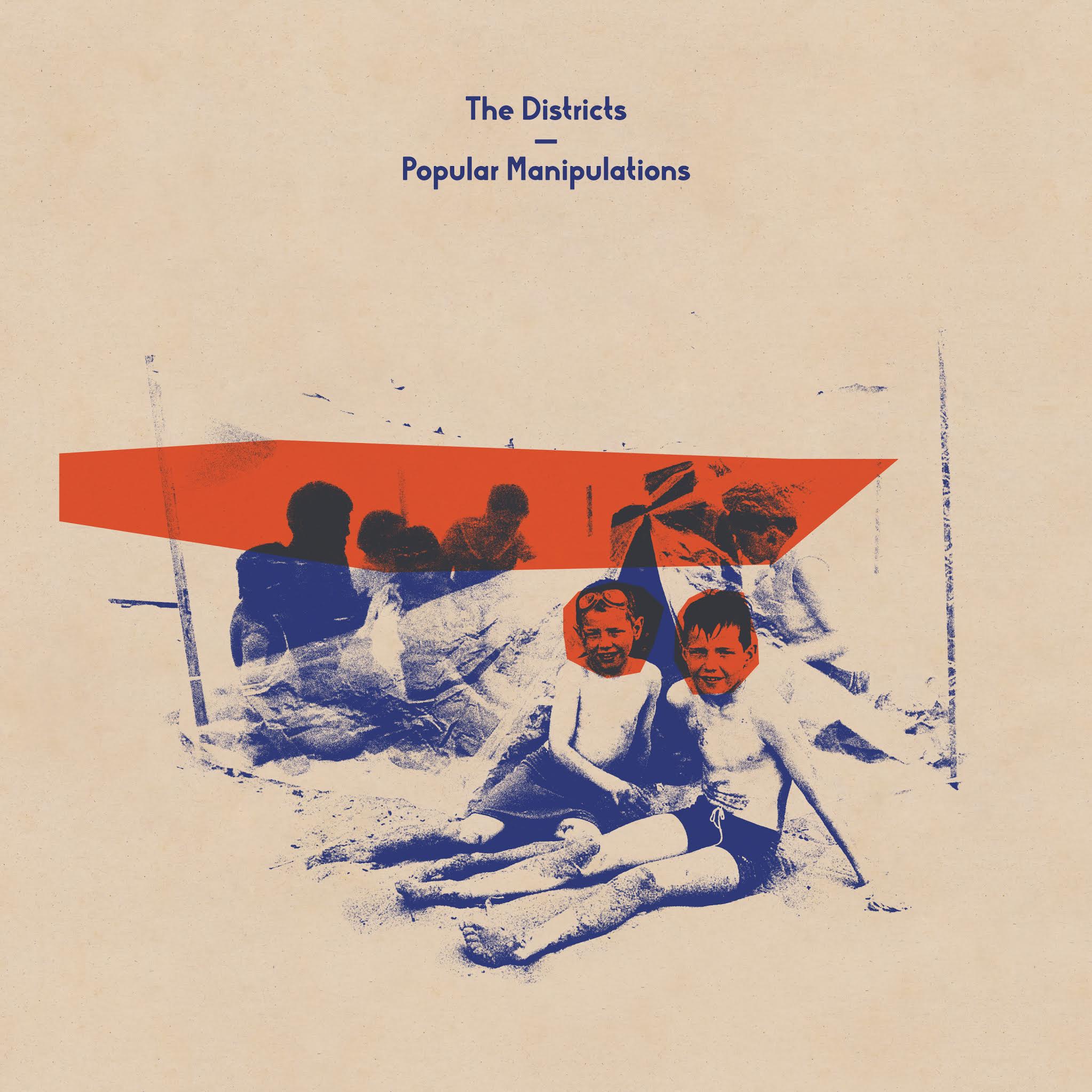 Popular Manipulations
an album by The Districts
---
:: The Districts Tour Dates ::
8/11 – Philadelphia, PA – Union Transfer
8/12 – North Adams, MA – Mass MoCA
8/16 – New York, NY – Bowery Ballroom
8/18 – Washington, DC – 9:30 Club
8/19 – Pittsburgh, PA – Mr. Smalls
8/25 – Reading , UK – Reading Festival
8/26 – Leeds, UK – Leeds Festival
8/27 – Hull, UK – Fruit
8/29 – Newcastle, UK – Cluny
8/30 – Edinburgh, UK – Caves
8/31 – Glasgow, UK – King Tuts
9/3 – Cambridge, UK – Portland Arms
9/5 – Nottingham, UK – Bodega
9/6 – Manchester, UK – Gorilla
9/7 – Cardiff, UK – Clwb Ifor Bach
9/11 – Brighton, UK – Haunt
9/14 – Monthey, CH – Pont Rouge
9/15 – Milan, IT – Serraglio
9/17 – Darmstadt, DE – Golden Leaves
9/18 – Zurich, CH – Werk 21
9/19 – Munich, DE – Strom
9/20 – Vienna, AT – Flex
9/22 – Berlin, DE – Muzik & Frieden
9/23- Hamburg, DE – Reeperbahn Festival
9/24 – Amsterdam, NL – Paradiso
9/25 – Brussels, BE – Rotonde
9/27 – Hannover, DE – Faust
9/29 – Nuremberg, DE – Club Stereo
9/30 – Dortmund, DE – Way Back When
10/12 – Iron Horse, Northampton, MA
10/13 – The Haunt, Ithaca, NY
10/14 – Higher Ground, Burlington, VT
10/20 – Grey Eagle, Asheville, NC
10/21 – Volvo Car Stadium, Charleston, SC
10/22 – Heritage Park, Simpsonville, SC
10/24 – Club Downunder, Tallahassee, FL
10/25 – The Social, Orlando, FL
10/27 – Cosmic Charlie's, Lexington, KY
10/28 – The Basement, Columbus, OH
11/30 – Motorco Music Hall, Durham NC
12/01 – Terminal West, Atlanta, GA
12/02 – Proud Larry's, Oxford, MS
12/03 – Mercy Lounge, Nashville, TN
12/05 – Hi Fi, Indianapolis, IN
12/06 – Colectivo, Milwaukee, WI
12/08 – 7th St Entry, Minneapolis, MN
12/09 – Empty Bottle, Chicago, IL
12/12 – Velvet Underground, Toronto, ON