Life is a one-way street: You can't go back, turn around or pause it. We live in the moment, always and forever, existing from one second to the next and building up a treasure trove of memories that catalog our existence. There is no "reliving" life, but you can dive into a memory and remember the feelings. CHNNLL's new single "The River" contemplates the forward motion of time and our relationship with memory, the past and the present.
We were young
We were strong
We were dumb
There was to rush to deliver, deliver anything….
Oh the sun
Shined right through the trees and I felt so alive
I did not hide or apologize
The smoke that filled our lungs
Oh by the river
It's where we were born
It's where we belong
We scraped, we scrounged, we won't go down
We swam right to the top
Listen: "The River" – CHNNLL
---
Atwood Magazine is proud to be premiering "The River," the latest single from from CHNNLL. The moniker and band for NYC-based multi-instrumentalist Chris Davidson, CHNNLL is a passionate exhale of thought-provoking music. "The River" is CHNNLL's first release in a year, following the powerfully electronic beat-driven "Out of Nowhere" and the impassioned "W A V E S." On his return, CHNNLL lets the rhythm take control. Like the rushing of water flowing endlessly downstream, "The River" feels forever in motion – pushed onward by an invisible force.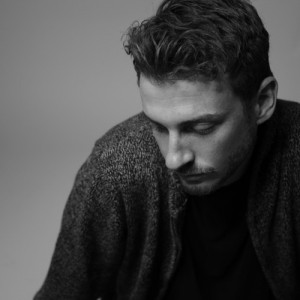 That ceaseless momentum feels appropriate considering the context; what drives us in life? What are our conscious motivators? We are constantly moving, but why?
Oh you know
That you can't go
That you can't go back to the start
Oh the river runs
With or with out, with or with out you
"You can't go back to the start," sings CHNNLL, anchored to the moment in the song's chorus. Life is much like a river, its heavy current throwing us every which way, but always in the forward direction. CHNNLL's clever comparison implores us to consider our place in the universe of things: What do we value most? Do we act in line with our values? Are we who we think we are?
"My house was right on a river growing up and further upstream, in the woods, there was a waterfall and a rope swing where me and my friends and many generations before us would go hang out," recalls CHNNLL. "Jumping off the waterfall and using the rope swing and zip line that we built was awesome. We were always there. Skipping school to hang out at the river wasn't uncommon. We would drink beer, smoke weed, hang out with girls there, girls who were actually willing to hang out with us… We grew up around there and it's just such a great childhood memory. When writing this, I was thinking of where we all were in our lives then and where we are now, and how time doesn't wait for you. You should look back on memories of the past fondly, but it is important to create new ones that are just as good because life goes on, with or without you."
Will you run?
As fast and as far as the current carries on
Remember when it took you past the sun?
Are you weak?
Are you strong?
Do you feel like you no longer belong?
Oh how did you stray so far from, the river?
It's where we were born it's where we belong
We scraped, we scrounged, we won't go down
We swam right to the top.
Life goes on, with or without you. What a mantra. There's a deep undercurrent of unavoidable truth lying at the heart of CHNNLL's latest single: Time ticks against us from our birth, and though we do not choose to be born, we do have control over what we do with much of our lives. "The River" invites us to step out of that chaos for just a second, to ponder our existence and reflect on the things that make us who we are. As hypnotizing as it is provocative, CHNNLL's new song will push you to the edge of introspective contemplation.
Few artists dare dive as deep as "The River," but CHNNLL is not most artists. Connect through social media below, and share your own meditations on memory and our relationship with the past. Time is one of those universal concepts that we nakedly accept, but it might benefit us to discuss it a bit more.
— — — —

:: Listen to More CHNNLL ::