Recomended If You Like: Bad Suns, Crystal Fighters, Colony House, Hippo Campus
What does it mean to freeze a moment? Time is all conceptual; we measure our existence through seconds, minutes, hours and days, but time doesn't "exist" in any tangible form beyond that. We see watches start and stop, rewind and fast-forward, but the same cannot be done to time. How, then, can we freeze a moment?
Peru's Hunters of the Alps capture a heartbeat in their debut single "Time (How to Love)," lamenting a doomed relationship while doing all they can to make a moment last.
Standing still with feelings that you used to know
Still the thrill, remembering your first time love
There was a day beginning with the end of yours
I regress, knowing that I won't belong
Watch: "Time (How to Love)" – Hunters of the Alps
[youtube=https://youtu.be/WXYVpPeQsME?t=0s]
---
Atwood Magazine is proud to be premiering the music video for "Time (How to Love)," the lead single off Hunters of the Alps' forthcoming debut EP (anticipated February 17. 2017 via Mishu Records). Named after the guerrilla style citizens who lived in the Alps trying to unite Italy in the 19th Century, Hunters of the Alps blend pulsing guitar riffs with a grooving backbeat on their musical debut. Their delicate blend of melody and rhythm, courtesy of lead vocalist Mario Giancarlo Garibaldi and guitarist Jorge Velásquez's effortless ability to bounce off each other, results in an electro-infused sound that is as much dark indie pop as it is brooding rock.
Think Bad Suns blended with The Neighbourhood and The 1975: Warm, beachy vibes ebb and flow under a hot sun and shining moon as Hunters of the Alps explore the complex emotions and discomfort that comes with knowing the end may be near. "Isn't it a shame we are wasting time?" protests the band in their impassioned chorus, with hints of unrest and the faintest hope shining through their song.
Time is a waste in time
Isn't it a shame we are wasting time
'Cause you don't wanna know
How to love
Once seemingly aligned, the antagonist and protagonist no longer see eye to eye with each other. The narrator assumes the burden of unrequited emotion, aware that this is going nowhere – yet cherishing it what it is, while it is.
How often do we find ourselves wishing a night could last forever? That we could somehow enshrine a moment in more than our memories, to experience again and again? Alas, we cannot make a fond memory into anything more than it is: A past experience we will take to the grave.
Perhaps you remember that passing brush of skin that made your hairs stand up; perhaps its the gentle warmth of that special someone's gaze. Sometimes, we know we're in a memory as life is happening: We know this is the moment to look back on. With "Time (How to Love)," Hunters of the Alps succeed in preserving that moment, but they are unable to freeze time… They cannot stop the inevitable.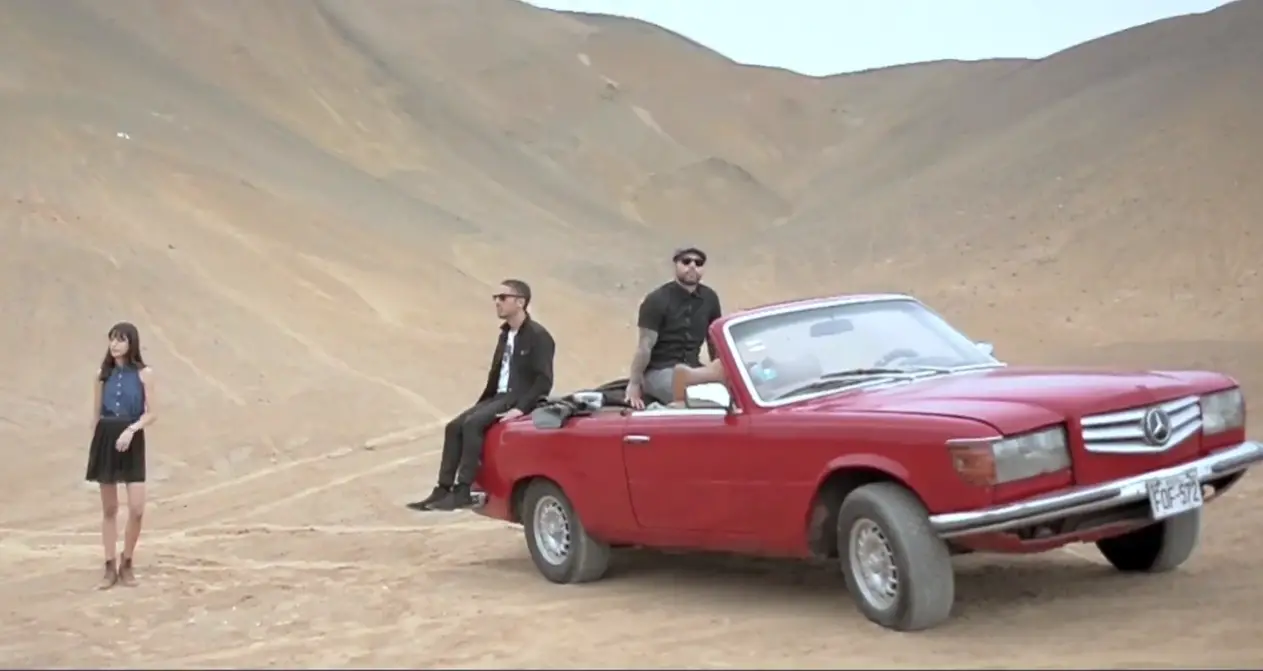 Loosely depicting the unraveling of said relationship, the "Time (How to Love)" music video depicts the band at the Peruvian coast. "We picked the southern desert coastline of lima in Peru as the visual landscape of 'Time' because it never changes," explains Mario Giancarlo Garibaldi. "Ever since I was a kid, visiting the beaches and small towns, nothing has changed; it's like time completely stopped and it's just wasting away."
it's like time completely stopped and it's just wasting away…
Feeling in the air, feeling in the show
The shaking of my knees
Gentle homicide hunting you so low
Cuz you don't wanna break and you don't wanna die
As long as you remember that these days are mine
Isn't there a place where you can can go down?
With their debut EP fast approaching, Hunters of the Alps are certainly an artist to watch in early 2017. "Time (How to Love)" taps into a uniquely warm, emotionally heavy and infectiously memorable sound that remains in the ears long after the music has stopped – quite like the narrator in "Time" embracing a special moment long after it has passed. Enjoy Atwood Magazine's exclusive premiere of Hunters of the Alps, and stay tuned for more from the promising Peruvian band!
— — — —
Connect to Hunters of the Alps on FB, Twitter, Insta
cover: Hunters of the Alps © Claudia Ortiz
::"Time (How to Love)" – Hunters of the Alps ::
[youtube=https://youtu.be/WXYVpPeQsME?t=0s]