London indie rock band This Is The Deep fuse enchanting visuals with a mesmerizing sound on new single "The Best Is Yet To Come".
— —
Ever hear a song that immediately sweeps you up and pulls you into a completely different time and place? This Is The Deep's sensational single "The Best Is Yet To Come" does just that. With its fanciful filmic arrangements and velvety vocals, listeners are carried away to a feel-good, tranquil ambiance. The track delivers a James Bond moment through horns yet it is contrasted with a soothing Beatles-esque air. The two sounds together make for a rare and highly pleasurable musical experience. Inspired by the scores of David Lynch and the eccentric style of bands like Suicide and Death Grips, This Is The Deep concocts charming tunes that are pure sonic bliss. Not only is there music so appealing to the ear, the band also produces visuals that are fascinating to view. Playing live to colorful backdrops such as a watery post-apocalyptic scene, there is something so magical about the bold creative esthetics they provide.
The quirky outfit consists of post-punk royalty Susie Honeyman (Mekons) on fiddle, Sammy Silue on guitar and vocals, Ranald Macdonald on synth and vocals, Hannah Tilson on Trombone and vocals, David Bardon and Oscar Robertson on bass and drums, and electronic drums and percussion from Liam Toon. Fusing their unique styles, the many members have attained a loyal, fervent fan base through their astonishing offerings. Atwood Magazine spoke with This Is The Deep discussing their band name, soaring sound and more.
"The Best is Yet to Come/Simulator" – This is the Deep
:: A CONVERSATION WITH THIS IS THE DEEP ::
Atwood Magazine: To start, This Is The Deep is a fitting title for your collective as your music displays such a richly deep and intense vibe. What sparked the conception of that name?
This is the Deep: We actually got it from David Attenborough's Blue Planet II, episode 2 was called 'The Deep'. (it was about the really deep bits of the sea).
This Is The Deep is an eclectic group of artists and musicians whose aim is to craft a uniquely compelling visual and sonic experience. How did the band form?
This is the Deep: It all spiralled out of a little studio under the arches in Bethnal Green that Dave and Oscar (our bassist and drummer) rented a couple of years ago. They would work on commercial projects by day to pay the bills and record their own stuff,  with friends at night. One of those friends was their flat mate Ranald (vocals, keys) and those recordings ended up being This Is The Deep's first songs. It then just expanded naturally one by one. A bit like The Blues Brothers. We saw Hannah Tilson (trombone/vocals) playing in an art show as part of a performance and asked her down to the studio as a one off (thankfully she decided to stay). Sammy, (guitar) went to school with Dave and they in a band called Plastic People with him, moved in to the flat and joined along with Liam (drums, pads, purcussion), another old friend and collaborator. Finally, Susie ( fiddle) joined after a very random meeting with Ranald on the remote Scottish island of South Uist – although originally from Glasgow, over a few whiskies they discovered she lived opposite the studio in Bethnal Green so she agreed to come down and play… and thankfully decided to stay too.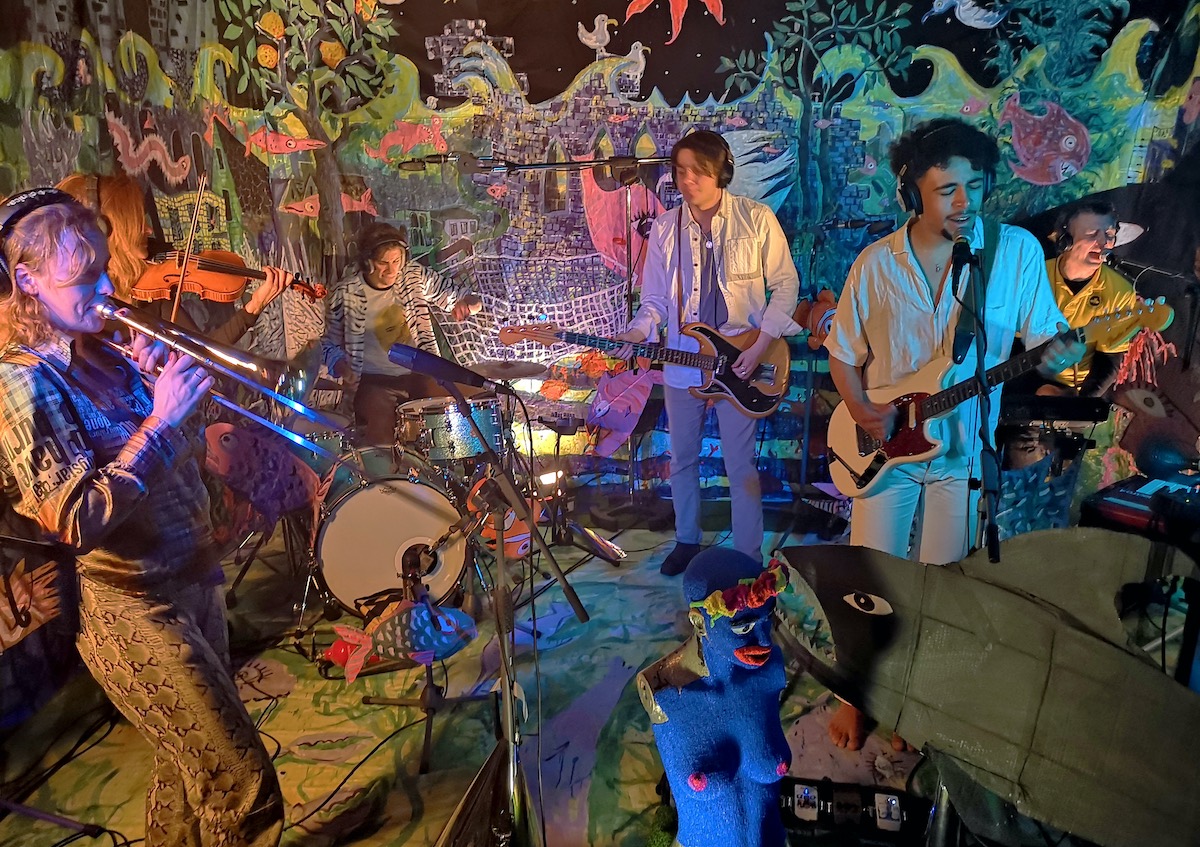 Your music possesses a dreamy, cinematic quality that transports listeners to an alternate reality. How would you best describe your sound and how it was developed?
This is the Deep: Our thinking with This Is The Deep was to make something that was a cross-over between a visual and sonic world, so it makes sense it ended up being quite cinematic.  Composers like Ennio Morricone and Angelo Badalamenti come up quite a lot. We'll also talk about what 'room' we're in with the music, which could be anything from a honky-tonk bar to a landscape from Mario-Kart… we do tend to add ' but underwater' to most of them come to think of it.
Your current releases "The Best Is Yet To Come" and "Simulator" are off your upcoming LP The Best Is Yet To Come (Part 1) what is the inspiration behind these intoxicating tunes?
This is the Deep: I guess they are inspired by the present moment in different ways. It's hard to pin point though as our process seems to work best when we're not completely aware of why we're doing what we're doing. We'd definitely be in the camp of listening to the song and trying to work out what it needs, letting it lead you somewhere, rather than dictating exactly where you want to take it.
Not only are all of you incredible musical talents, but you also have a creative flair for art, crafting your own album artwork and popcorn sculptures as well as stop-motion videos. What is your creative process like when coming up with these distinct pieces of art?
This is the Deep: Basically again it all depends on what feels right at the time, and then you can work out why it felt right after you've done it. We've been looking at a lot of Loony Toons for inspiration lately and draw a lot from our own individual research and practices as artists as well as other visual artists we're following.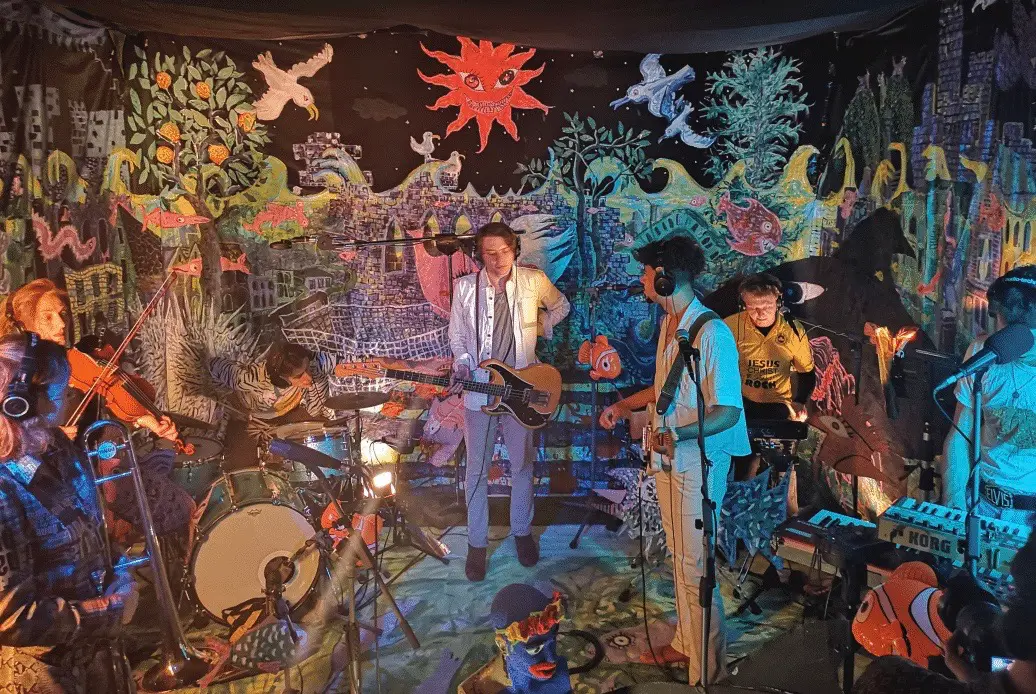 The band has developed a bit of a cult following supporting prominent acts like Family Time and PVA as well as your own sold-out events. What has your experience been like performing live at venues such as Windmill Brixton and Moth Club and are there any interesting stories you can share from your gigs?
This is the Deep: We've been lucky to play in a lot of the best small venues in London- both of those are great-  the Windmill especially. Although they are struggling right now. You can go to www.crowdfunder.com/saveourvenues or www.crowdfunder.co.uk/savewindmillbrixton  for fundraisers.  Our performances are made much more special by the work of Alice Macdonald and Mark Connolly who are purely visual members of the collective. They make giant underwater post-apocalyptic paintings and installations-each one telling a story and connecting to the last.
In terms of our musical performance It's a kind of organized chaos. The current ensemble of seven all have their own areas but freedom within those areas to do what they want. We're definitely not aiming to recreate something that happened on record or at another show but let it be its own thing getting guests and friends to come up and play helps too.
Speaking of gigs, now that they have been put on hold, have you been doing any virtual shows and have you watched any good ones from other bands or artists?
This is the Deep: We've just got confirmed for our first gig of this year happening at WerkHaus on the 18th of December. we'll be supporting the legendary Horsey, which we're really excited about. It's socially distanced and seated which is a first and should be interesting. We haven't done any virtual shows yet but we are planning something.
On the subject of other bands and artists, are there any in particular that inspire you the most you can recommend to our readers?
This is the Deep: Enjoying Katy J Pearson,  Warmduscher , and Working Men's Club and you can't go wrong with Sinead O'Brien.
Finally, "The Best Is Yet To Come" is the ideal track for 2020 as we are all hoping for a brighter future in the New Year. What is next for This Is The Deep and what do you look forward to seeing happen in 2021?
This is the Deep: We've got another single and an LP coming out early next year on B3SCI Records which we're really excited about and we're working on our second LP as we speak which we are also really excited about. Looking forward to some more gigs hopefully too.
— —
Connect with This Is The Deep on Instagram
? © 2020
:: Stream This is the Deep ::