Singer/songwriter William Fitzsimmons pays tribute to the late legend John Prine with a hauntingly bittersweet cover of "Angel from Montgomery."
"Angel from Montgomery" – William Fitzsimmons
---
We lost a legend last week. Everyone has their own way of grieving, and for singer/songwriter William Fitzsimmons it was to pay homage to the late singer by covering the aptly titled, "Angel from Montgomery."
Atwood Magazine is proud to be premiering Fitzsimmons' hauntingly beautiful and bittersweet cover today. Originally released in 1971 as a part of John Prine's self-titled debut album John Prine, "Angel from Montgomery" has been a staple of  Prine's extensive catalog for nearly five decades. The original recording features a lone Prine singing alongside acoustic and subtle slide guitar accompaniment; simple and unassuming, it's a truly spellbinding listening experience:
---
For Fitzsimmons, covering this classic was no simple feat. It took care, tact, and a wealth of respect to pay faithful homage to Prine, who passed on April 7, 2020 due to complications caused by COVID-19.
Fitzsimmons humbly describes the experience: "Covering John Prine is about as daunting in spirit as covering the Beatles. No matter how you do it, you know you're breathing rare air when you're singing those melodies and playing those notes. But his songs are so inviting and sweet that you can't help but want to get lost in those feelings. It's a joy to play them and recording one was even more so."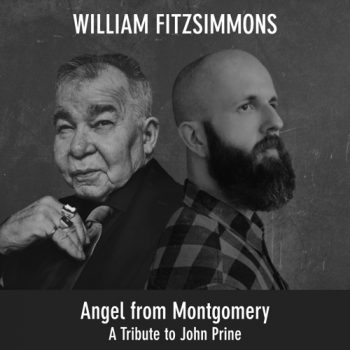 I am an old woman
named after my mother
My old man is another
child that's grown old
If dreams were lightning,
thunder were desire
This old house would have
burnt down a long time ago
While he's not wrong about stepping into the shoes of ones that cannot be filled, Fitzsimmons beautifully portrays the music and lyrics that Prine birthed,
Make me an angel that flies from Montgomery
Make me a poster of an old rodeo
Just give me one thing that I can hold on to
To believe in this living is just a hard way to go
Fitzsimmons atmospheric harmonies and full guitar licks allow' you to sit in the melancholy of the loss, while appreciating the talent that John Prine brought for so many years.
"I join in the worldwide grief over the passing of one of my, and so many others' songwriting heroes, John Prine," Fitzsimmons shared upon announcing this cover. "Prine, like one of my other heroes, Townes Van Zandt, was a once in a generation writer. He distilled emotions down to simple phrases and timeless melodies. He wrote songs that seemed like they existed decades before he even penned them. His work was a constant challenge and motivation to me to be economical and fearless in my own art. I'm honored to be able to cover and share with you my favorite song of his, 'Angel from Montgomery.'"
As always, Fitzsimmons is a voice we will never get sick of listening to, and we appreciate his dedication to the late, great icon, John Prine. Stream William Fitzsimmons' appropriately poignant and heartwarming cover of "Angel from Montgomery" exclusively on Atwood Magazine!
"Angel from Montgomery" – William Fitzsimmons
— — — —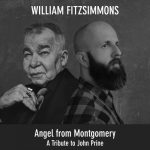 ? © Shervin Lainez

:: William Fitzsimmons ::
---