On "The Imitator," a jangly saloon tune, folk rockers Town Meeting puzzle-out the solution to our society's dualistic ways.
Stream: "The Imitator" – Town Meeting
[soundcloud url="https://api.soundcloud.com/tracks/1002010237″ params="color=ff5500&auto_play=true&visual=true&hide_related=false&show_comments=true&show_user=true&show_reposts=false" width="100%" height="300″ iframe="true" /]




---
Despite the tumult, Town Meeting have fought to give their fans a good year. Since June 2020, after the release of their album Make Things Better, they have released the first of two B-sides EPs, booked as many shows as could be played safely, co-hosted a Neil Young themed podcast with Boston mainstream radio personality Mike Hsu, and between the members' various side projects, recorded and released at least two dozen songs. Although people could use a good new song at just about any time, Town Meeting's new single, "The Imitator," arrives in time for some new anniversaries that will have us reflecting on the past year. True to the band's custom, "The Imitator" is a fun track that might guide you in through those necessary, tough reflections.
Atwood Magazine is proud to be premiering "The Imitator," the latest single from Boston's Town Meeting. The song ambles in on Town Meeting's country-folk sound—campfire guitars, a slide on the electric, a harmonica. In come the Condon brothers singing a harmonious showtune melody. In this lyrical vignette, set in a restaurant, drummer and singer Russ Condon plays both the customer and the waiter.
"What I will say is that when I wrote this song, I was in a daydreamy state of imaginings," says Condon, elaborating that he had imagined "watching myself interact with others and observing the act of the dance that I was putting on for whoever I was with, while also feeling what it felt to be a server and to be serving myself."
Through the vision of a witness
Who's been watching for a while
The Imitator is looking restless
Eating drinks and sipping smiles.
Elevated by a story
Told through tiny dancing lights
It sparks the need for him to sit up
Get his head back out and write.
Condon's frustration seeps through the carefree vibes as he confronts the dualistic natures of himself and everybody else. As the song progresses, the layers of culpability accumulate from the semi-anonymous Imitator, to those around the Imitator, to Condon's "empty chasm" of a soul, to the collective "you." It seems that while everyone has grown comfortable in their own polarized position that they have forgotten how to tread common ground, and so duality proliferates.
They don't know themselves
And so instead of acting out
They go and act like they know everybody else.
Burrowed through the ash
Until the coals came firing back
Into the empty wooden chasm of my soul.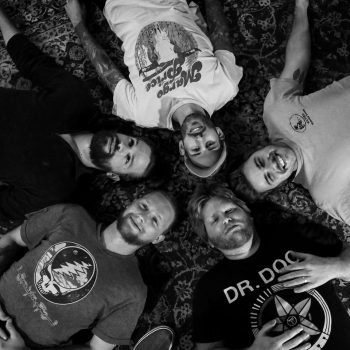 "Duality is often a muse for my writing," says Condon, "especially in concerns of false identity and what we think we 'are' when we think about what others might think about us or even what we imagine our 'self' to be." The power that he finds in this type of introspection is that it generates the empathy that allows him to see what lays between and what lays beyond.
Welcoming a war as if you knew
What those were for, or as you would
If you could will yourself to win… anything.
Button up your cloak because
A downfall ain't no joke you had to
Go and poke a rainbow in its chin.
"We definitely all have the potential for more empathy," he says. "I just think maybe we have too many years of patriarchal, racist, greedy and just all around horrible conditioning in our societal bones…" The band responds by making those bones dance. Along with the brooding, Russ Condon and his bandmates keep a playful, jazzy rhythm, and steadily build their dynamics to relieve the lyrical tension. The dynamics plateau within three minutes, leaving the last quarter of the song for bassist Derek Fimbel and harmonicist "Babe" Condon to sing a call and response bit.
In its chin (in its chin)
While you grinned (while you grinned)
Till it laughed (till it laughed)
In your face (in your face)
Russ says that with "The Imitator," that he wanted to remind "myself and the listeners not to be shitty selfish people and to have some fucking empathy." The balm for our dualistic ways, he says, may be to "get outside, go for a walk, get some nature, some solitude, meditate, interact safely with loved ones, and really try to realize that even though our suffering or our joy is our own, we aren't alone in it."
Anyone who has seen Town Meeting in concert will agree with Russ's emphatic consideration of Town Meeting as primarily a "LIVE" band. With the release of "The Imitator," the band would also like to announce two live, safely distanced outdoor shows this Spring: Friday, April 30th, 7pm at Stone Church in Newmarket, NH, and Saturday, May 29th, 4pm at Marty's Driving Range in Mason, NH. Ticket sales TBA.
Stream "The Imitator" exclusively on Atwood Magazine!
— —
Stream: "The Imitator" – Town Meeting
[soundcloud url="https://api.soundcloud.com/tracks/1002010237″ params="color=ff5500&auto_play=false&visual=true&hide_related=false&show_comments=true&show_user=true&show_reposts=false" width="100%" height="300″ iframe="true" /]





— — — —
? © Angela Ryan
:: Stream Town Meeting ::
---