The danger of being a band for over 25 years is that you run the risk of getting lazy. Not the case for Blur, who continue to musically develop and reinvent themselves as shown by "My Terracotta Heart," the latest release off the veteran band's upcoming eighth studio album The Magic Whip (expected April 27 via Parlophone).
Released on YouTube today (April 18),"My Terracotta Heart" has a very indie, lo-fi English rock feel to it – in essence, it's characteristically Blur – but the arrangement and approach feel fresh. It's been twelve years since the release of Blur's last studio album Think Tank, but while each member has clearly had a lot time to receive new musical influences, it's hard to tell if "My Terracotta Heart" feels fresh because of those new influences, or because Blur have always been ahead of the curve. Sure, you can find hints of Wilco and Coldplay if you want, but did Wilco rub off on Blur, or did Blur rub off on Wilco?
The song is heavy, with what sounds like an electronic clap driving the beat while a rosy and warm, full-toned lead guitar carries the melody. There's a looming darkness surrounding "My Terracotta Heart," in both the music and the lyrics: A premonition of things to come, drawn out by the electric guitar's taunting, melodic minor riffs and Damon Albarn's inviting and evocative vocals. Albarn plays around with the rhythm of the words, making it difficult to hear exactly what he's saying at all times, but also drawing the listener closer.
"My Terracotta Heart" comes from a place of nostalgia, darkness and sadness. Blur took that melancholy and made something truly beautiful out of it.
Listen: "My Terracotta Heart" – Blur
"My Terracotta Heart" – Blur
[Verse 1] And the bright rings we got in summertime
Seemed like a breath of fresh air back in the summertime
When we were more like brothers, that was years ago
So if it doesn't sing like a broken chord
[Chorus] I'm running out of heart today
I'm running out of open road to you
And I know you are the [?]
If something broke inside you
Cause at the moment I'm lost, a feeling that I don't know
If I'm losing you again
[Verse 2]
And when we fly tomorrow over the [?] seas
My younger man will be there with me
Cause they remind me of swimming out too far one day
When the coral was gone, but I didn't care anyway
[Chorus]
I was running out of heart that day
I was running out of open road to you
And I know I was [?]
If something broke inside me
Cause at the moment I'm lost, a feeling that I don't know
If I'm losing you again
I'm running out of heart today
Just sitting out the constant doubt in my head
But I don't know what it is
I'm (swimming/sweating) out the [?]
Is my terracotta heart breaking? I don't know
If I'm losing you
If I'm losing you again
(via genius.com)
The Magic Whip – Blur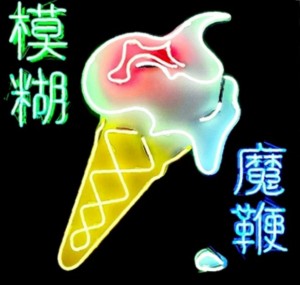 Track Listing
New World Towers
Ice Cream Man
Thought I Was A Spaceman
I Broadcast
Ghost Ship
Pyongyang
Ong Ong
Mirrorball
Watch: "Lonesome Street" – Blur
My personal favorite Blur music video is "Coffee and TV" from their 1999 album 13:
Watch: "Coffee and TV" – Blur