From the second Kate Grom embarks upon her tale of love, something is deeply awry. "Intrude upon my lips," sings the New York City based songwriter and musician, "colored in rouge… I remember you even when I don't want to." This isn't a fairy-tale; in fact, it's about as far from a perfect love story as is possible. Yet it's as easy to get caught up in Grom's "Tricks" as it is to get lost in the real emotions that color any romance, no matter how fleeting or one-sided it may be.
Intrude upon my lips, colored in rouge
Your hands upon my hips when I left you
I remember you even when I don't want to
Oh, and I still miss your touch even when I've had enough
Listen: "Tricks" – Kate Grom
[soundcloud url="https://api.soundcloud.com/tracks/290893577?secret_token=s-U6Blw" params="color=ff5500&auto_play=true&hide_related=false&show_comments=true&show_user=true&show_reposts=false" width="100%" height="150″ iframe="true" /]
---
Atwood Magazine is proud to be premiering "Tricks," the second single off Kate Grom's upcoming debut album Heroine (independently released February 24, 2017). An enchanting display of the Americana songwriter at her finest, "Tricks" tells an age-old tale that is as universally relatable as it is forever poignant, despite its timeless repetition.
That forlorn gaze and wistful smile; the warmth of a memory whose flame has long since extinguished. An old, familiar touch… And the cold chill of a feeling not reciprocated. "Tricks" is the melancholy story of one such "love and lust," as the chorus so fittings puts it.
I'm stuck, in this game of love and lust
You don't burn your bridges, they just rust
And though I tried so hard to trust
You just, play your tricks on me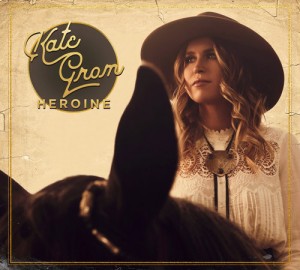 How appropriate that Grom's country influences would shine bright on a song about a love that wasn't meant to be; short and heavy guitar licks moan for unresolved emotions as Grom laments a woeful situation. She finds herself wrapped up in another's gaze, completely intoxicated. This supposed suitor, however, has no intention of a long-term courtship: "You don't burn your bridges, they just rust," describes Grom. She doesn't receive closure from this one-time flame; instead, the door is left ajar, and she is left confused and vulnerable.
It's easy to be used – for another to take advantage of your hungry heart, only to leave you lonesome again. We are not all after the same thing in life, and the game of love is certainly just that – a game often riddled with jumbled conversation, subtle body language, and complicated emotions. Grom ensures her experience of being used is palpable – her emotions translate as vividly as her unique intimacy.
"The title "Tricks" is the main theme of the song's story," explains Grom. "There is a relationship where the participants are viewing the situation and experience from completely different colored glasses and perspectives. The main character feels as though they have just had a series of "tricks" played on them due to an overall lack of communication. My hope was that listeners who have been in this situation themselves would resonate with the experience or find comfort in knowing these things happen all the time, like many of the stories on my album."
Put me on your shelf and pick up someone else
I'm under your spell – I can't help myself
And I remember you, even when I don't want to
And i still miss your touch even when I've had enough
This is the way the world works; it's far from ideal, but we are not alone. We've all felt the sting of unrequited love – and if we haven't, we probably should – and it's made each of us stronger, smarter individuals. Grom balances a finer line than most, however, as she tries to figure out what it is about this significant other that she so strongly desires.
Not only was she once burned; she still comes back for more. Hungry for something, Kate Grom refuses to carry the classic burden of lost hope, instead demanding compensation for her unresolved thirst. It may not come off as immediately obvious in the song's first listen, but in her final words, Kate Grom relinquishes her position in-between love and lust, opting for the choice that will bring her the satisfaction she craves. "'Cause love is the touch is the stuff that I need," the singer croons gently, "Come on baby won't you give it to me?"
Cause love is the touch is the stuff that i need
Come on baby won't you give it to me
Lust is the touch is the stuff that you need
But you were just playing tricks on me
One has to hand it to Kate Grom: She won't go down without a fight. Alas, the admission of her partner's "tricks" marks an unwanted closure. Sad as she may be, Grom knows she won't get what she wants out of this person, and she has to let the dream die. She must say goodbye to the fairy-tale – the notion of a life lived happily ever after with Prince Charming or whomever, for it simply won't happen.
That goes for all of us. There will be times when you find yourself stuck in a game of love and lust, too. "Because the involved parties in this story are coming from different places, with different intentions, it's easy for the main character to feel like they are stuck in a game that never existed," explains Grom. "The lack of communication between them creates an unsettling unpredictability that makes the main character feel like something is going on, a game perhaps. Finally the main character understands that their glasses are shaded by love and wanting more, while the other person wears glasses shaded with contentment and lust. It's the story of how a perfectly good romance, no matter what constitutes it, can turn into a battle between love and lust when understanding and communication are not present."
Life is more complicated, and far more exciting, than any children's story. Love is slow, but life is long – we have plenty of chances to experience the many kinds of love! If you keep an open mind and a ready heart, you never know what may come to pass. Kate Grom connects to a deeper truth on "Tricks," which you can listen to now via Atwood Magazine's exclusive stream. Get to know Kate Grom, and look for her debut album Heroine, out 2/24/2017!
— — — —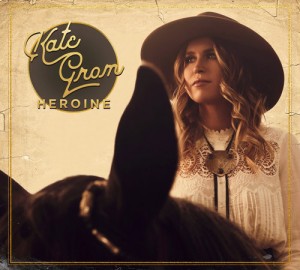 cover: Kate Grom © Jeremy Cowart