The West Coast Feed's self-titled debut album creates something magical with its invigorating and soulful sound.
— —
The image that comes to mind when listening to The West Coast Feed is biting into a juicy peach on a hot summer day. The feeling of ice cold nectar dripping down your chin, providing momentary respite to your sun kissed skin is recreated for your ears in the band's self-titled album The West Coast Feed, released October 26, 2018. Their melodies are simple and their sound is massive. Blaring horns collide with screaming electric guitars creating a sound that carries the grit of rock n roll with the passion and expressiveness of blues. The result is electrifying.
---
"August Peach," a playful and flirtatious tune, captures the invigorating energy of Jesse Butterworth's savory voice as it swirls around bubbling horns and soaring violins. It's a tune that makes you feel good as it tosses you into the throws of a boyhood crush,
You're so sweet like an August peach
And the way you look, girl, is good enough to eat
So come, come, come girl and let me hold you tight
And I'll do my best, girl, not to take a bite
---
It could almost make your mouth water and your skin tingle. The West Coast Feed have a speciality in songs that make you feel good. Their album's lead off track, "I Know You Want It," is a passion-filled song that feels mischievous and empowering as it boils over with love. (After all, it is about love)
I've got the thing you want,
the thing that's right
The thing to satisfy your appetite
I've got the the thing you need,
the thing divine
The thing that everybody's trying to find
Real Love
The excitement in the performance spills onto the track and you can feel the joy with which the song was created. Butterworth tells Atwood Magazine that he notices it too, "This is one of those albums that you can hear that we were sincerely having fun while we were in the studio making the music together."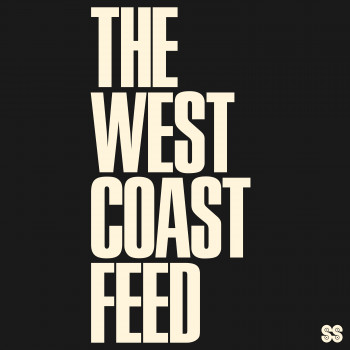 Especially for an album that is about fighting your way back to a place that makes you feel okay, the positive energy that the 8-piece band brings to every song is what makes this album something special. One standout track, a cover of Pearl Jam's hit single "Alive," showcases this fusion of heartbreak and hope in a bluesy tune that sings of disappointment and heartache,
Son, she said,
have I got a little story for you
What you thought was your daddy was nothing but a…
While you were sitting home alone at age 13
Your real daddy was dying,
I'm sorry you didn't see him
This is then met with the uplifting mantra, "I'm still alive," urging us to take pleasure in the beauty of life. The result is the musical equivalent to a sunny disposition — music that can brighten up your mood in an instant.
That's not to say that the band can't produce something a little darker. In fact the album has a few ballads that will surely slip from your lips whilst drunk at a karaoke bar. A personal favorite off the album is the soulful "Strung Along," a song about the all too familiar feeling of holding onto something that you know isn't meant to be. The anguish in Butterworth's voice will echo through your bones as he sings the chorus,
But I keep holding on to hope that this could be something
Hoping that I'll know when I'm not wanted
Holding on the rope
So you can keep me strung along, just strung along
With this debut album, The West Coast Feed create something vibrant, impassioned, and a little bit magical. Their upbeat pop-country sound radiates love and positivity in a way that is deliciously contagious. Everyone needs a pick-me-up from time to time, so why not take a bite into the delectable sound of The West Coast Feed?
— —
— — — —
? © 2018
:: Stream The West Coast Feed ::