New Orleans natives Tank and The Bangas are back with their best yet, the jazz-tinged, hip-hop number "Ants."
Stream: "Ants" – Tank and The Bangas
---
If you aren't yet feeling the Tiny Desk-sponsored love for Tank and The Bangas, you are missing out. The New Orleans-based winners of NPR Music's 2017 Tiny Desk Contest captured hearts and ears when they entered the competition with their slippery, buoyant hip-hop number "Quick." Since then, they've toured, released a live album, and several singles. Their newest song, "Ants," rises above (released March 1 via Universal Music Group). Tarriona "Tank" Ball is joy and energy personified. Her presence fills whatever venue she's in, even if that venue is your car on the way to work. "Ants" combines the best of Tank and her band, from her smooth, resonant vocals and her infectious rap flow, to the band's impeccably played jazz and funk tinged backing instrumentation (Norman Spence, Joshua Johnson, Albert Allenback, and Merell Burkett).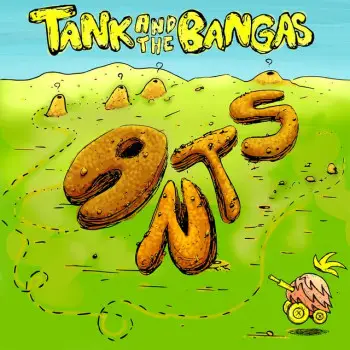 The song begins with a music-box synth and Tank's voice like a lullaby: "Where do the ants go?" 45 seconds in, she begins rapping gently about running into an ex at the gas station, and the bass sneaks in. She shrieks "bye!" and abruptly, the track drops into a Latinesque funk groove, complete with bongos. Tank raps a wordy verse, punctuated by interjections from saxophonist Albert Allenback. She references childhood moments: "double dutch and free lunch," "Lizzie McGuire and One Saturday Morning on the weekends," and someone talking about her in third period: "Oh, well!" Her flow often echoes Chicago rappers like Noname, but the location specific sound of New Orleans bleeds through, just as Chicago does for Noname. The chorus is sung in a soaring, floaty melody that is reminiscent of Latin jazz standards like "Caravan" or "Afro Blue."
Where do the ants go?
Why do they run away?
Leave me alone now
Why can't I make you stay?
The production of the song is also at a new level: the sound is full and warm, but never overpowering, never muddled. Each instrument is clear and distinct, and even extra overdubs and adlibs feel perfectly mixed. This, too, feels like much of modern jazz production. Jazz is obviously an integral part of their sound, as much as is Tank's background as a spoken word poet. She raps like one, she sings like one, she presents like one: all of this sets her apart from many other rapper/singers – at times, you could almost compare her more easily to Gil Scott Heron than anyone contemporary. Her artistry drives this band forward, and there's no question why they were the unanimous choice for the Tiny Desk winner two years ago. "Ants" will warm your soul in these final days of winter, and hopefully this means we have summer jams on the way.
Stream: "Ants" – Tank and The Bangas
— —
— — — —
 © Nick Spanos
:: Tank and the Bangas ::