Parisian pop-punk four-piece Two Trains Left harness raw vulnerability and aggressive angst into their soaring, roaring new single, "Lack of Sleep."
Stream: "Lack of Sleep" – Two Trains Left
---
As much as we may believe that some words are better left unspoken, in spite of our best efforts, nothing remains unsaid forever.
For the French pop-punk quartet, Two Trains Left, what was unsaid was not unheard —  searching for peace and solitude while grappling with inner demons, the band's latest single, "Lack of Sleep," painfully expresses that feelings left unacknowledged will surface eventually, and when they do, you're left feeling even emptier and more vulnerable than before.
Atwood Magazine is excited to be premiering "Lack of Sleep," a gripping pop-punk track on the difficulties of managing life's external issues when internal ones are left neglected. Emotionally and sonically searing, the second single off their highly anticipated debut album follows the release of the equally introspective and earnest "Disappear" last May. Set for release this Friday, March 17, "Lack of Sleep" provides a deeper look into what Two Trains Left have in store for this year, as well as what they've prepared for their LP in 2024.
I've been ignoring all my problems
Because I like to think that everything's alright
Maybe the lack of sleep doesn't help me
No It doesn't help me
I like to hide beneath my own skin
Which I fucking hate and it kills me to think
That I'll probably never love myself more than
An hour or two sometimes
Ignorance is not always bliss, especially when it comes to turbulent emotions and coping with them — more often than not, it makes matters worse. Two Trains Left make this clear with acerbic lyrics that speak to self-destructive habits and tormenting restlessness. Their words are sensitive and personal, while still maintaining the bite and grit of what ultimately makes a pop-punk song, a pop-punk song.
Having toured with Chunk! No Captain, Chunk! in their home country of France last fall through winter, the four guys of Two Trains Left have gained significant attention from some of the most iconic names in the French alternative scene. With the best yet to come, vocalist-guitarist Dimitri Benhamou, bassist Tom Bessah, guitarist Julien Debruyne, and drummer Maxence Leullier are working tirelessly to take even longer strides on their musical journeys.
Maybe the lack of sleep doesn't help me
No It doesn't help me
I always feel like I owe some apologies
No It doesn't help me
Giving some insight into the track, Benhamou shares, "Two Trains Left's new single 'Lack Of Sleep' is screaming the words many are too exhausted to speak, searching the reason of tiredness everywhere but inside your mind, taking pills instead of healing."
Maybe it's the song's genre, or maybe it's the catchy, scream-worthy songwriting that makes it feel universally familiar and rapturously cathartic, or perhaps it's both, on top of the music video's nostalgic and vibrant production; sonically, lyrically, and even visually, "Lack of Sleep" captures the essence of loneliness and exhaustion without overbearing pathos.
"The evocative language of the title immediately ignited within me a desire to create something truly fantastical, blurring the line between the realms of dream and reality," explains video director Jeremy Marlon. "It felt almost like a creative imperative for me to pay homage to the iconic horror film, Wes Craven's Nightmare on Elm Street. Drawing from my diverse range of cinematographic inspirations, I melded them together with the exquisite interior design of Deborah Dermont and the stunning photography of Alexis Fontaine. The result? A stunning and hauntingly beautiful masterpiece that I call 'Lack Of Sleep.'"
Life moves pretty fast
And I'm scared of getting older
I know I won't last forever
For fuck sake, why am I so lost
I might feel worse than I thought
Why am I feeling so damn wrong?
Am I enjoying it? What's the point?
Why am I feeling so damn wrong?
I need someone to save me
Employing catchy rock riffs, upbeat tempos, and a pounding, melodic bite, "Lack of Sleep" contains every element that characterizes a solid pop-punk anthem. All this being said, it doesn't look like the 2000s nostalgia-aligned genre is going anywhere anytime soon — so long as Two Trains Left continue carrying its torch, the legacy of pop-punk is in more than safe hands.
With their debut record still beyond the horizon, in the meantime, stream the video for "Lack of Sleep" exclusively on Atwood Magazine!
— —
Stream: "Lack of Sleep" – Two Trains Left
— — — —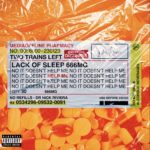 © Alexis Fontaine
:: Stream Two Trains Left ::
---