Stirring, sweet, and awash with flavorful sound, The Witherbees' warm and wondrous sophomore album 'Love Letter' is just that – a wistful, dreamy soundtrack our rainy days and starry nights alike.
Stream: "Easy" – The Witherbees
---
Stirring, sweet, and awash with flavorful sound, The Witherbees' warm and wondrous sophomore album arrives ready to soundtrack our rainy days and starry nights alike. As wistful as it is dreamy, Love Letter is an intimate, reflective, and honest outpouring of heartfelt, deeply emotive jazz and folk. It's an invitation to sit back, relax, and rest our busy minds and weary hearts for forty-five minutes of enchanting, immersive acoustic charm.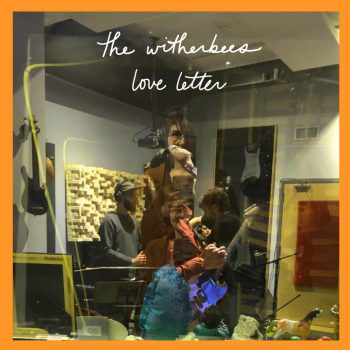 Atwood Magazine is proud to be premiering Love Letter, the sophomore album from Philadelphia's The Witherbees. The jazz-folk band co-led by Mike Lorenz and Jacqui Armbruster, The Witherbees were founded in 2018 and thus far have two records to their name – 2019's Mike Lorenz & the Witherbees delivered an introductory "21st Century Songbook" full of space and jazzed-up nuance, and 2020's "odds-and-sods" Tribute Valley covers EP showcased some of the group's personal favorites and inspirations.
Rounded out by Justin Sekelewski on bass and Kyle Andrews on drums – with an assortment of friends and guest musicians featuring throughout – The Witherbees have quickly come into their own as a beacon of musical light. Their latest album features eight originals, one Beach Boys cover, and one song written by a friend – and all ten tracks make for an entrancing, vibrant journey of escape, introspection, and self-discovery.
For The Witherbees, this record is a very long time in the making. "We started working on the songs for this record right after we released our first album in August 2019," Mike Lorenz tells Atwood Magazine. "I wanted to capture a band sound which I think was present at our shows, but was never present on the studio recordings we were doing. I'm all for a nice clean album, but sometimes it tows the line of being too sterile. We changed studios and worked in a totally different way for this one with the guitar, bass, and drums recording all in the same room. I think the vibe is really elevated by that simple shift from being isolated from each other to all playing in the same space together. It was a goal of mine to really showcase Jacqui's gifts as a songwriter, singer, and violist on this record too and I think we've really achieved that for where we are in our trajectory."
Armbruster secured an artist grant from her school, Oberlin Conservatory, which helped the band make their new record and document some shows in early 2020. Spring plans to re-record vocals and assorted other parts were stopped in their tracks by the pandemic, but Armbruster and Lorenz adapted:
"We ended up finishing the record in Mike's dining room over the summer, with some really amazing equipment that was lent to us from our friend (and producer) Tom Spiker," Armbruster explains. "We also finished writing "mo(u)rning" during that time, so that entire song is a result of the dining room sessions. Now, almost a year later with the world opening up, we are finally ready to release it into the world! I think listening to it now as a finished product, it's really a trip to think that the band is playing in this place and time of joy and simplicity and then I had to track vocals when the world around me was so drastically different. Overall though, I think this record is much more reflective of our sound and the direction that we're headed as a group."
"I think at the beginning of the process we were just really excited about recording more of our original music and coming back to the studio with a more developed group sound than our first record," Armbruster adds. "I think throughout the process, because we sat on these recordings for so long, we went through phases of nitpicking, feeling disconnected from the original material, and at times not wanting to hear it at all… [but] at this point, we have all come back around and are ready to celebrate this music and appreciate the place we were in when we recorded it, but acknowledge where we are now and how that informs the way that we play and express ourselves."
The title Love Letter has many interpretations, but everything ultimately speaks to the love and joy The Witherbees have for each other and for their music.
"The title came to me sometime in December 2019 or January 2020…" Lorenz recalls. "I wanted this record to showcase Jacqui's songs more than anything, and it started to just feel like the record was a "love letter" to the music we make together and our friendship. It stretches out to our bandmates too, Justin and Kyle, with whom we have a really rich and long relationship with."
Armbruster has her own interpretation: "From the beginning of the Bees, we saw the group as a love letter of sorts to our own musical identities – an appreciation and acknowledgement of the artists who shaped us, y'know? I think that, combined with the fact that pretty much every song I've written for the band centers around topics of love and heartbreak (and are often in second person which makes it feel letter-y, or at least directed at someone specific), made it the right choice for the name of the record."
Fans of jazz and fans of folk alike can easily fall for The Witherbees' intimate, organic sound. Lorenz considers Love Letter the band's "first real record," and takes pride in the music's inherent camaraderie and collaboration. "We've come into a sound and an approach as a band that is really uniquely ours in many ways," he shares. "This record also features three songs from me and five by Jacqui, which is totally different from our first album. This album is by a band who makes original music and feels like they have something to say."
"I think that Love Letter does a great job of showcasing all of us in a meaningful way," Armbruster says. "Our first record is very much us feeling things out and getting to know each other, but Love Letter feels much more personal, much more authentically "us", and I think also taps into an emotional, introspective sound that hasn't really been heard from us before."
It's obvious, speaking with The Witherbees' co-founders, just how deeply they care about this album – both conceptually, in its entirety, and piece-by-piece, song by song. Their journey begins with "Linger," a colorful tune that lyrically reckons with heartache, as its instruments vacillate between order and chaos.
"A lot of this record, at least from my songwriting perspective, centers around grappling with loss, going through unhealthy cycles with a partner, and eventually accepting the way that things are without them," Armbruster explains. "'linger' opens and ends with the question, "how long (will you linger)?" and I think that question sets the stage for the emotional journey I try to create lyrically throughout the record."
Sweet harmonies, glistening guitars, and guest instrumentalist John Swana's electric valve instrument (EVI) make "Linger" a compelling entrance a record full of wonder, exploration, lyrical poignance and musical joy. In true jazz form, much of Love Letter is spontaneous – made up of happy accidents. "Regarding the music and the performances, I'd say only about 20% of the record, and that's being generous, is totally scripted," Lorenz admits. "I'd say that almost any part of the record has a sense of improvisation and risk at hand. We're prepared and maybe have planned many different ways the music could go, but we're open and ready to take those chances when they arise."
"I think everyone in the group has a lot of freedom to go for whatever they are hearing and feeling," Armbruster adds, "but we do that within a form that can sometimes be really loose and other times pretty structured. Overall though, we value an organic sound and allowing things to be free, so there is always flexibility within those forms."
Flexibility and freedom are inherent to The Witherbees' ever-growing artistic identity – even when they're covering a renowned classic, they bring their own charismatic improvisational spice. The only cover song on the record, The Beach Boys' "I Just Wasn't Made for These Times," often barely resembles its 1966 original counterpart.
"I've just always loved the Beach Boys, Pet Sounds, and that song," Lorenz says. "There are some really great covers of it out there, but it's not a song people approach too often. I thought our arrangement was really unique, and I love the way we all dive into it and pull it apart. The idea of things falling apart with the lyric "but what goes wrong" felt like a really great opportunity for some blatant and literal word painting, which we really go for. I'm surprised no one tried it before us!"
"He is so great with figuring out good places to "pull things apart" as he calls it, and I think the places we go "out" when connected to the lyrics makes you think about the song in a different way," Armbruster notes. "I think the whole group agreed that our interpretation was authentically Bees and would serve the record well."
Highlights abound for all members on this record – which, in truth, deserves to first be listened to as a whole, from start to finish, before listeners assign their own favorites. "I really love Mike's tune "Goody Bag" because it features our drummer Kyle Andrews, and he absolutely eats it up in his solo," Armbruster shares. "That tune always makes me smile, and I think the energy of it is a good palate cleanser for a lot of the other heavier material. As for songs though, I think [album closer] "mo(u)rning" or "easy" would be my favorites!"
Lorenz shares Armbruster's passion for the record's final tune. "I think "mo(u)rning" is really special and showcases all the resolve and dedication it took to pull the record together," he explains. "I think it's a really wonderful song, too! I also love the vibe and sound of "linger." I think it is kind of a bold statement track of where we are and where we can go as a band."
Their music may not have lyrics on every song, but The Witherbees make their lyrics count and care deeply about the words they say.
I think my favorite lyrics are the first few lines of 'to be free,'" Lorenz notes. "I probably had the typical "guitar player in a band" experience where I played the song a number of times and then asked, 'Wait, what are you singing there?' Jacqui has this great way of what I call "dovetailing" lyrics, where the end of one idea is the beginning of the next. Another less adept songwriter might leave the lyric at "I've grown tired / of these lines I've drawn." Jacqui's lyric goes further and deeper with the image, and I just love it. 'I've grown tired / of these lines I've drawn / to hide myself / from the sun.'"
"I am super critical of myself and am still very much developing a lyrical style," Armbruster says on the topic. "If I had to pick a favorite line from the record, it would be in "mo(u)rning" when I sing, "mourning starless skies above me – living in a memory fading fast," because it's where we finally see the connection between morning/mourning and the band does such a good job of clearing space for the lyrical shift and making it feel almost suspended in time — it's a really special moment."
True to its name, Love Letter is a moving jazz/folk tapestry. Its songs are full of heart, open to interpretation, sweetly resonant, and an utter delight to get lost within.
"I hope any listeners feel curious and invested in what we're doing, and I hope the music speaks to them and offers a space of comfort and solace," Mike Lorenz shares. "Making this record, in the midst of a pandemic and everything else life can throw at you, was a pretty crazy emotional undertaking that I couldn't have foreseen. But when I step back and listen to the music without thinking of all the heavy work that went into it, I really appreciate what we're all able to do together and I think it's a beautiful thing."
"Of course I hope people enjoy the sonic experience first and foremost, but I also really hope that they get something out of the lyrics and the stories we are telling throughout," Armbruster adds. "This process was unlike any other project I've ever taken part in, partly because of the whole global pandemic thing (haha) but also because I have never allowed myself to be as vulnerable as I am on these recordings. I think the record's creation was a big test of patience and trust and faith in the band and the songs, but I am really proud of us for sticking it out and making something meaningful to all of us."
Harbingers of the beautiful, The Witherbees are quickly making a name for themselves in their native Philadelphia and well beyond. Experience the full record via our exclusive stream, and peek inside The Witherbees' Love Letter with Atwood Magazine as Mike Lorenz goes track-by-track through the music and lyrics of their sophomore LP!
— —
Stream: 'Love Letter' – The Witherbees
:: Inside Love Letter ::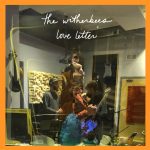 — —
"linger"
This is one of the first songs we workshopped for the record in December 2019. I remember jacqui brought over a pretty complete song with lyrics and chords but it didn't have a full blown arrangement. We collaborated on some of the new harmonic ideas and the underpinning rhythm that is kind of the first "hook" of the song. Having John Swana play on it was an idea I had kicking around that was really fun to see become a reality.
"Mirage"
I was gifted this song by my friend Robinson Morse, a great bassist from Montpelier, VT. It's written by pianist and trombonist James Harvey, a stalwart of the Vermont jazz scene. Something about it's whimsy and openness really fits our sound as a band almost perfectly. It's playful, has a little bit of a chamber music vibe, but gives us a chance to seriously get into some expressive playing too.
"to be free (interlude)"
I love records and love thinking about how they're paced. I got into creating "interludes" for my own records going back to a release called speak between. With the emotional weight of some of the songs on the record, this kind of reminds me of the idea of foreshadowing, giving the listener a little sense of what's around the corner.
"I Just Wasn't Made for These Times"
I arranged this song in my head while I was on a run one day in the summer of 2019. I had just gone through a really awful breakup and this song just sort of kicked into my head. One of my biggest influences is the jazz trio the Bad Plus, and I truly love their affectionate covers of pop songs. In my opinion, our deconstruction of this tune draws a straight line to their influence on our sound.
"cold spell"
This is a great instrumental piece by jacqui that pushes our sound into the potential "chamber jazz" side of what we can do. I love this as a little palette cleanser after the deconstructed Beach Boys tune. This is another one we demoed and workshopped in December of 2019.
"easy"
This is the 3rd song that jacqui brought to the band and one that we started playing first as a duo. It has this ability to remind me of when I realized that we had a rich personal and musical connection beyond just playing some songs we like in a band together. I love the living room intimacy and lilting beat on this one and the casual strength that is showcased in the lyrics.
"Tribute Valley"
I love writing little vehicles for improvisation for the band. Strangely enough, almost every one that I've written happens to be some modification of the blues form and this one is no different. jacqui and I came up with the name one night as an homage to our hometown's obsession with tribute bands.
"to be free"
Another song we workshopped in December 2019 and another one that holds a lot of cherished memories working on and exploring music together. It's a beautiful song with some surprising turns of phrase. Our friend, pianist and organist Chris Simonini, fills out the sound with some overdubs.
"Goody Bag"
Another modified blues, this one was written in about 15 minutes when I was heading out the door to a gig. We played it that night and it has gone through little change since. A really fun and quirky tune that is probably the most "jazz" thing on the record.
"mo(u)rning"
This is the first song that jacqui and I wrote together with pretty much 50/50 contribution from each of us. I wrote the basic tune and she ran with it, composing the lyrics and filling out the form. This one is also a great story as far as what it took to finish the record! We recorded the basic track, acoustic guitar and voice, in my dining room with a relatively refined but primitive recording set up. Super intimate and direct. I added some layers of guitar, some post production kind of effects, and our buddy and recording engineer Tom Spiker played pedal steel on it.
— —
Stream: 'Love Letter' – The Witherbees
— — — —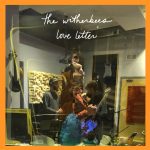 ? © 2021
:: Stream The Witherbees ::
---