With a mix of energized influences past and present, the end result of Big Society's "Marine Club Party" is an intriguing, endearing rock song.
Stream: "Marine Club Party" – Big Society
---
Remember that party from your youth that started like all the others but progressed into an evening you still find yourself reliving? How about that friend of a friend you only knew for a few hours but left an indelible mark? How much better would those memories be if they had a sleazy, distorted riff to accompany them? Well you're in luck because Big Society's new single "Marine Club Party" (released 28 June 2019) does exactly that.
The Manchester four-piece's newest single creates a heavily-distorted, mid-tempo riff and just sits in that pocket for the whole song. It never speeds up or slows down for long, always returning to this hypnotic beat. The guitars carry a slowed down Nirvana feel, while the vocals have a Vampire Weekend quality. Sprinkle in the obvious influence of rock'n'roll greats like Roy Orbison and the end result is an intriguing, endearing rock song.
Its greatest asset, however, is its charm. For a band who's self-proclaimed goal is to create music about being "young, knackered and naive," there's a tenderness that underlies the heavier tones of their sound. At its core it's a song about four young guys trying to figure out their early twenties but it's effect is twofold. For those twenty-somethings going through the same processit, a relatability is produced while there's also a nostalgic charm if you're on the other side of this epoch.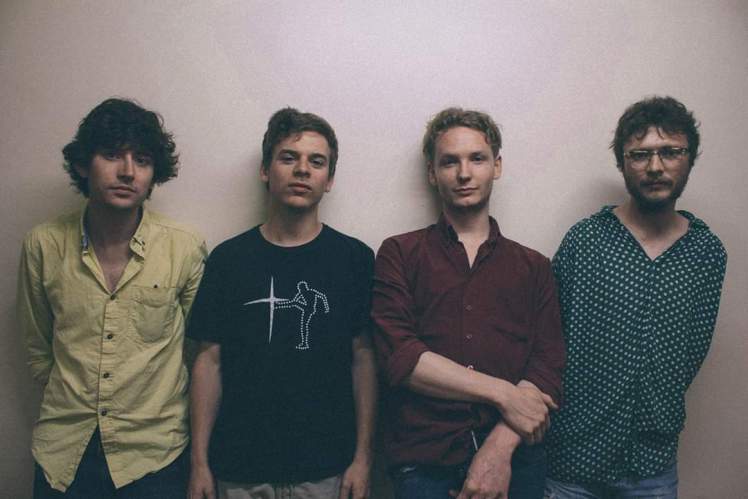 Lyrically it offers a simple premise: a regular night out which takes a turn once his friend turns up with a friend who just bowls him over.
Ruby brought a friend last night
To the marine club party
Said all the right things to me
Convinced me to stay a little bit longer 
I know you know how I can be
But she was nothing that I've seen
And walked all over me
She's got a switchblade in her head that knows that I ain't going nowhere.
But like the long line of British bands before them-Kaiser Chiefs, Oasis, Arctic Monkeys to name a few-Big Society takes the idea of a youthful night out and explores the reality of it. Not a YOLO-party anthem but a track about how those nights usually pan out, "Marine Club Party" snapshots this perfectly; the constant chug of the music, the occasional highs permeating the restless energy, and then an abrupt ending.
On and on
we go for hours I know
It never changes
keep it on and on
I just wanna make you feel alright
keep it on and on
Cos everyone's waiting
For nothing
Everyone's waiting
For nothing
Big Society's ability to relate what it's like to be young and a little lost not only makes them capable of writing such intriguing tracks like "Marine Club Party", but makes them a band to watch moving forwards.
Stream: "Marine Club Party" – Big Society
— —

? © Becky Cleasby, 2019
:: Today's Song(s) ::
:: Big Society ::