ella jane dives into herself in her catchy, cathartic, and brutally honest 'Marginalia,' an utterly irresistible coming-of-age record of queer identity and inner reckoning. If she was a star on the rise last year, then consider her star now risen and shining brightly.
Stream: "Warhol" – ella jane
---
What growing up really is, I've come to find, is the ability to admit to yourself the truths you knew all along.
There's a ton we can take away just from the title of ella jane's sophomore EP.
Marginalia is an embrace of the stuff at the edges – per its definition, the words in the margins. It's a light shined onto the sidelines, where the light rarely shines. It's an embrace of life's finer details; the embellishments; the little notes we make to ourselves as we go about our daily lives. It's all those fleeting emotions and passing ideas we tend to overwhelmingly keep to ourselves – the hopes, the fears, the insecurities, and the daydreams – all of which might very well never materialize, were they not willed into existence, captured in writing and then sung in song.
These songs hit hard, and every single one of them leaves a mark. Catchy and cathartic, intimate and unapologetic, Marginalia is the irresistible record of a queer 20-year-old artist coming of age in New York. It's a snapshot of life lived in short stories; the blueprints of an identity in the midst of its own journey of self-discovery.
I wonder what you think of me
or if you're thinking anything i
hope in your head you're nice to me
can you see it clearly now
cause lately i don't have a shape
I'm blurry lines without a face
so if you want i'll rearrange
switching all the colors out
i've been waiting forever to be noticed
up on a white wall
i keep twisting the image til i'm not myself at all
'cause you love andy warhol
– "Warhol," ella jane
Released October 28, 2022 via FADER Label, Marginalia is aching emotion channeled through sublime indie pop perfection. "I'm a sore loser who always falls for the winner," ella jane sings three tracks in – and while she is certainly entitled to feel that way at times, there is no mistaking that she is the overall winner here.
It was only about one year ago that we were proclaiming jane "a star on the rise" for her debut EP THIS IS NOT WHAT IT LOOKS LIKE!, a 25-minute showcase of lyrical prowess, raw vocal talent, and an acute ability to package every moment with hints of darkness and light, pain and beauty.
"In many ways, she reminds us of The Love Club-era Lorde, both in her dynamic indie pop ethos and in her ability to capture fleeting emotions and special little moments in time," we wrote at the time. "An intimate and electric indie pop experience, jane's THIS IS NOT WHAT IT LOOKS LIKE! is a vulnerable and honest coming-of-age record that leaves no stone unturned and no feeling untapped. It's euphoric; it's limitless and immortal; it's heartbroken; it's anxious and depressed."
THIS IS NOT WHAT IT LOOKS LIKE! spawned the hits "nothing else i could do" and "bored&blind," introducing jane as an artist-to-watch and setting her off on the whirlwind that has been her very busy 2022.
Marginalia takes jane's art to the next level, finding her diving even deeper into herself while simultaneously honing her already sharp pop sensibilities into an edgy, unparalleled singular force.
Produced by Mike Irish, this nine-track collection, which could very well be considered a debut album or mini-album (if she wanted to call it that), is as intimate as it is expansive: Brutally honest and beautifully soul-stirring, Marginalia cuts deep.
"Marginalia was my first real attempt at starting an entire project from scratch, so I think there was a lot more intention put into it – a lot of asking myself, 'What do I really want to say?'" ella jane tells Atwood Magazine. "I think that question made me feel a lot of pressure at first, mostly because my songs are typically so diaristic and autobiographical. What can I say that means something, that hasn't been said before? But as soon as I started writing, I realized that I didn't HAVE to make some grand statement; rather, the simple act of documenting my own coming-of-age as a queer 20 year old living in New York was statement enough."
"I think that originally, I only had a very loose idea of what I wanted the album's sonic, visual, and conceptual identities to be. And I'm super glad it stayed that way, because that lack of structure really allowed me to write freely instead of within whatever confines I set for myself. Like, I think I had originally imagined it taking a brighter sound more akin to "Time On" (the first song I wrote for the record). But as more songs started to take shape, most began lending themselves to a much warmer and richer sound. So figuring out that sound first and letting the rest follow felt much more natural."
"To me, this album is my first real cohesive project. I feel like it's the best reflection of my current tastes and writing style, without being derivative of my influences. I'm definitely proud of my last EP, but I'm excited to put a new foot forward with Marginalia – I think it's the perfect introduction to my "world" for new listeners."
Someone's house with a city view
And a girl I've known for a day or two
Light a cigarette by the outdoor pool
If I hold my breath will you jump in too?
All of a sudden, I melt into you
And I don't even know you,
But I'll act like I do, 'cause
I always end up doing shit like this
Saying "I love you" for a party trick
Drink your attention 'til it makes me sick
Just for the night, I'll make you mine
Just for the night, just for the night
Much has already been made of the record's reflective title; for jane, Marginalia is the perfect encapsulation of all that's within.
"The word "marginalia" literally means writing in the margins," she explains. "It's a title I've had written down for a long time, because annotating as a concept has always been super interesting to me; I've read with a pen in hand since high school. Most of my songs have a line or two that were inspired by something in a book I read, or from a movie or show I've seen. Even from real life conversations. So to me, these songs felt like annotations on a larger scale – a way for me to interact with and "mark up" the events in my own life as they happened or after the fact."
"I used to think that growing up was synonymous with hitting certain milestones, like a driver's license, or an 18th birthday, or maybe a high school graduation," she adds. "But it's not, of course it's not. What it really is, I've come to find, is the ability to admit to yourself the truths you knew all along. Once you do that, you can start telling the truth to other people. And once you do that, you can start growing up. This project is a coming of age story. And if I want to connect to an audience who is also coming of age, then it is imperative I tell them my own truths."
That coming-of-age story opens with the rising confessional "7," a song about childhood and family and the indelible impact of our younger years on the person we eventually become. A reckoning and a realization all in one, it sets the tone for all that's to come, catching that perfect blend of earworm melodies and unapologetically expressive lyricism that makes jane's art so special. Previously released singles like "Party Trick" and "How Do I Lose You" served as particularly strong examples of jane's poppier side – and indeed, "indie pop" is probably the right "box" to put her in, if you feel so inclined to do so – but as a comprehensive project, Marginalia is a blend of indie rock, folk, soul, alt-pop, and so much more.
"I really love the song 'Sore Loser,' because the style of it is the type of production I typically gravitate towards when I listen to music," jane says. "As much as I love pop, it was really refreshing to give myself a little departure from my usual sound. I'm [also] really proud of the lyrics in "You Shouldn't Have Said That" – there's a couple moments in there that I spent weeks on, tweaking small words and syllables in a really calculated way. That really paid off. I feel like up until this record, I never really let myself have a moment to be silly and lighthearted in a song. But I snuck in this verse: "I st-stutter around you / called a speech pathologist / she said to fuck off and see my psychologist / looked for distractions, I found none at college / just rich kids from jersey and part-time astrologists / still thought about you, just now i know communists." I think it's fun.
---
---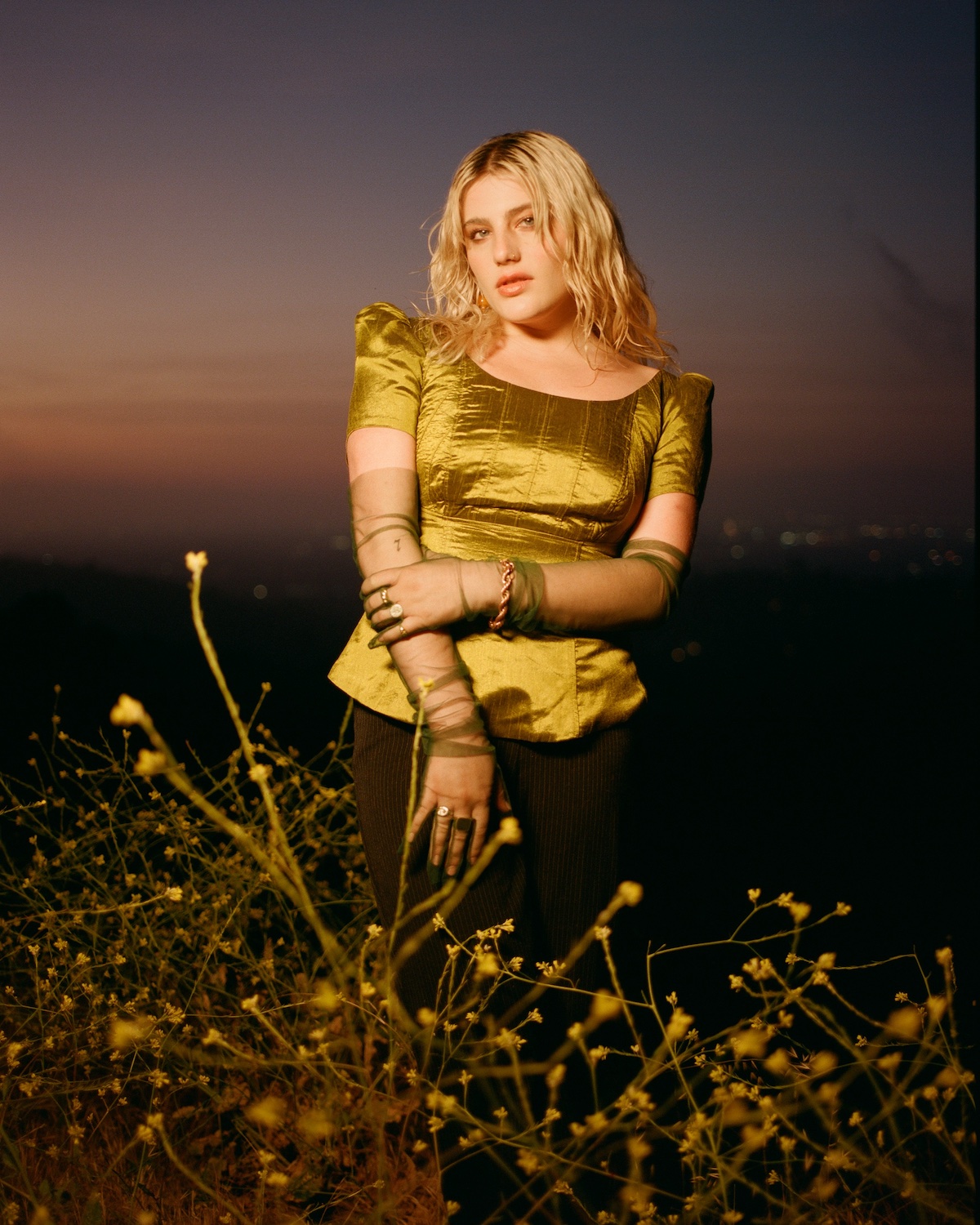 If ella jane was a star on the rise last year, then consider her star now risen and shining brightly.
jane is currently in the midst of a nearly sold-out Marginalia headline tour that began in Boston in late October, and concludes in San Diego at the end of November. The tour is set to pick up again in early February.
As far as takeaways are concerned, jane definitely injected herself into this EP in a massive way – even if she doesn't always identify with her confident, self-assured public persona. "This sounds kind of cheesy, but I genuinely just hope that listeners can relate to my experiences somehow," she shares. "That's all I can ask for as an artist. There's no real takeaway for me besides that."
A truly stunning and welcome October surprise, Marginalia is breathtaking in the best of ways. Whether you find yourself falling for ella jane's repeated heart-on-sleeve proclamations of "I wanna be in love," or see yourself as "blurry lines without a face," this coming-of-age record embodies everything there is to love about musical inner reckoning and introspection. In discovering herself in the margins, ella jane creates a vessel through which we can dive deeper and connect with who we really are as well.
Experience the full record via our below stream, and peek inside ella jane's Marginalia with Atwood Magazine as the artist goes track-by-track through the music and lyrics of her sophomore EP!
— —
Stream: 'Marginalia' – ella jane
:: Inside Marginalia ::
— —
7
This is a song about childhood, family, and how where you're from can profoundly shape you (even if you never realized it). It's my personal attempt to confront the past while simultaneously making peace with it. What originally began as a letter to my twin brother quickly morphed into an apology to my younger self- I never showed her enough love then, so "7" is my way of showing it now.
TIME ON
"Time On" is about wanting to feel desired / wondering why you aren't when faced with rejection. It's a common experience but an often embarrassing and vulnerable admission, so I hope that this song is a way for listeners to feel understood and validated in a feeling that's not really openly talked about. This was such a rewarding song to finish because the writing process took so long – almost six months – and each time I listen I'm reminded of all the work that went into it. I wrote the chords in my childhood bedroom on my college winter break last year; sketched out the verses during midterms on a dingy practice room piano; finished the chorus lyrics a week later while humming in the communal showers.
SORE LOSER
"Sore Loser" is one of my favorite tracks on the EP. It's a song about two types of jealousy: the kind that develops when other people start flirting with the person you like, and the kind you feel towards the person you like. The latter tends to be a uniquely queer experience, but it's one that is as embarrassing as it is isolating. Unfortunately, both are the cost of being someone whose "type" is just exceptionally beautiful people… and both are the result of personal insecurity. What I love about "Sore Loser" is how well the warm, laid-back production lends itself to the tongue-in-cheek lyrical style – the outcome is a light-hearted yet honest exploration of that insecurity.
PARTY TRICK
"Party Trick" represents a lot of new and exciting beginnings for me – for one, it's the first song I've ever released that is conspicuously, unmistakably about a girl. Though I've been open about my bisexuality for a while now, for a long time I was afraid to write about girls in any obvious way. I think this is because I wasn't ready to be fully honest with myself. But piecing together "Party Trick" reminded me just why I write songs: to access my truest, most vulnerable self, unadulterated by the expectations of others.
Secondly, this song marks the beginning of a new chapter in my life, and I think that really shines through in the music itself. I have found an incredible collaborator in my producer Mike Irish, who knows exactly how to marry the alternative and pop qualities of my writing in a really unique way.
YOU SHOULDN'T HAVE SAID THAT
Ow. Gut punch of a song. I wrote the bulk of it in 30 minutes right after a very disappointing facetime call: the guy I liked at the time had just told me about some amazing date he went on. Our friendship had been pretty flirty for a while, but as we became better friends and began to share more of our personal lives with each other, that meant hearing about all these girls he was into. So on this particular day it just stung extra hard to listen to him recount the details of his night, knowing what he'd said to me in the past. Hence the line "you shouldn't have called me pretty and think I'd forget it / my memory's shitty, but god, it's selective" – one of the best, most painful lyrics I've ever written. That pain becomes even more delightfully pronounced when it is followed by the massive distorted synth lead (a staple of David Marinelli, who produced the song) that seems to howl and weep as it tears through the guitar and soars across the drums. I am so proud of this song, and in a strange way, so glad to have encapsulated this pain in such a special way.
HOW DO I LOSE YOU
"How Do I Lose You" is a quintessential example of how much I love to pair fairly unhappy lyrics with upbeat, danceable music. I get such a kick out of tricking the listener like that. So despite its quick pace and jumpy melody, the track is really about the anxiety of being in an undefined, "let's see where this goes" type of (non-)relationship. Musically, it's definitely one of my poppier efforts, but I love the way the production kind of indie-fies it. Part of that is actually thanks to Orla Gartland (although I don't think she knows it yet); I was really inspired by this video she posted a while back where she explains how she duct-taped the strings of an upright piano to create this muted, mallet-y sound in her song "More Like You." I tried the trick on my piano at home, and soon started bringing a roll of duct tape with me every time I went to the studio. It immediately became a really big component of the texture of "How Do I Lose You," and later many other tracks on my forthcoming EP.
WARHOL
A copy of a copy of a copy; so many versions of the thing that the thing itself loses all meaning. This is a motif that runs throughout much of Andy Warhol's work, and one that inspired me. However, while Warhol used it as a commentary on consumer culture and celebrity iconography, I related it to something a little more personal: my own identity. I actually had the title "Warhol" sitting in my notes section for a long time before I started writing it, and originally planned for it to be a song about this guy who told me I remind him of his girlfriend.
Something kind of fun and stupid. But soon the line "'Cause lately I don't have a shape / I'm blurry lines without a face" spilled out, and it quickly became obvious that I was writing about myself. I've always been a big believer in fake it till you make it, but the acceptance of my public persona – a much more confident, self-assured girl – as ME has made me question who the real me actually is. So in short, this song is an exploration of that.
I WANNA
"I Wanna" is probably my favorite song of mine to date. I originally recorded the chorus idea sometime in 2021, but I honestly remember thinking it would just lie dormant forever – I just couldn't see the song going anywhere. That was, until last summer, when a co-writing session found me addled with writer's block. As I dug through my voice memos in a desperate search for some seed, ANY seed, I stumbled across that first voice recording. The mumbled "I wanna be in love"s were enough to spark inspiration, and I was able to lay down the piano part and map out a tentative verse melody. The rest of the song came together in the form of late-night notes app poetry, then first drafts, then second and then third. Fine-tuning the lyrics in the studio once I felt they were near-perfect, I worked with [co-writer] Steph Jones and [producer] Mike Irish to capture the coming-of-age feeling we were going for. To me, "I wanna" feels like the culmination of so many moments, both in my life and within the project. But ultimately, it's a raw admission of the universal desire to love and be loved, triumphant yet vulnerable as it courses through the electric veins of a synth-pop anthem.
CRASH CART
If I'm being totally honest, I did write this song about Cassie and Nate from Euphoria. But it would be untruthful and a bit annoying of me to tell you that it's not at all autobiographical; frankly, I empathized with Cassie more than I'd like to admit. For those who haven't seen the show – Cassie is a girl who will do anything to vie for the attention of Nate, who she has fallen in love with despite his abusive tendencies and romantic history with her best friend, Maddy. Cassie knows that in Nate's mind, she will always be second to Maddy, but she still goes through desperate measures to cling onto him as tightly as possible. Because as long as he is with her and not Maddy, Cassie can convince herself that she is the girl Nate truly wants. HEAVY, I know, but I think many of us can find ourselves in Cassie's plight (even if we'd never say it out loud). Really, all any of us want is to have the person we long for want us back – so if you have them even a little, wouldn't you do everything in you could to keep them in your clutches just a little longer? This is what "Crash Cart" is about: those desperate, selfish parts of us that yearn for love even if we know we'll get hurt in the process.
— —
— — — —
? © Paris Mumpower
:: Stream ella jane ::
---