A familiar ache runs through The Airborne Toxic Event's visceral and vulnerable return "Come on Out," their first song in five years and the lead single off their upcoming sixth album 'Hollywood Park.'
"Come on Out" – The Airborne Toxic Event
---
There's nowhere to run to tonight; just his fist on your face now, you hope to replace how the emptiness fills you inside.
The Airborne Toxic Event felt like one of the biggest indie rock bands in 2009 and 2010 not because they had a big following – they didn't – but because their music came from, and spoke to the soul. Mikel Jollett opened his band's self-titled debut album with a feverish cry into an enveloping overdriven darkness, ramping up the tension through every second of "Wishing Well" until it all came pouring out in an emotionally exhaustive overhaul. The epic "Sometime Around Midnight" (the band's "Stairway") was beautifully bittersweet; "Happiness Is Overrated" was painfully honest and infectiously angsty; "Papillon," "This Is Nowhere," and "Gasoline" lit sparks with their upbeat grooves and raucous riffs. Everything had its purpose and place on what summed up to be a breakout debut album that catapulted an otherwise cult favorite into the spotlight.
But we didn't like The Airborne Toxic Event because our friends liked them; rather, we connected to how Jollett felt, and how he made us feel, on a visceral level. He and his fellow bandmates so effortlessly captured an unadulterated, raw piece of this experiment we call the human experience. That's what The Airborne Toxic Event so special a decade ago, and it's what makes their new music feeling so special now.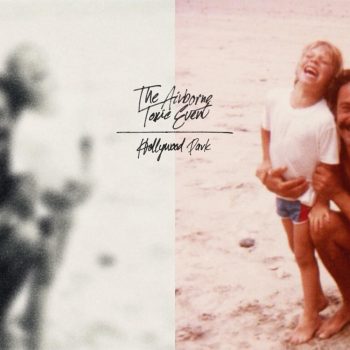 Black lungs, headlights,
heading off to the city tonight
Out the front door, turn right,
I was alone, alright, alright, alright
I wonder what they'll think of me
I'll run away, run away
This is my town, this is my night,
heading off to the city tonight
And she said, "Come on, out with it.
Come on, out with it."
Released February 3, 2020 via Rounder Records, "Come on Out" heralds The Airborne Toxic Event's long-awaited return with a song as vulnerable and affecting as their very first releases eleven years ago. The band's first studio offering since 2015's Dope Machines and the stripped-down Songs of God and Whiskey, "Come on Out" arrives as the lead single off their upcoming sixth album, HOLLYWOOD PARK (out May 8 2020).
A punctuated drum beat opens to a flurry of chugging guitars as Jollett, Steven Chen, Anna Bulbrook, Adrian Rodriguez, and Daren Taylor get things underway. Jollett's vocals are dark and haunting, his voice strong and assertive as he bellows a coming-of-age story of youth, escape, abuse, and self-discovery. "'Come on Out' is about the night I ran away from home when I was 11 years old," Jollett shared upon the song's release. "It's also about child abuse and anger and the oddly dangerous world of children."
Hard words on a hot night,
"I'll have a beer, won't you turn out the light?"
From the front door I could hear it right
I'm just running dumb and
dumb and dumb and dumb
I wonder if I'll be turning back
I got twenty bucks in a pocket with my stash
I'm not afraid. I'm not your "good night"
I'm just a shadow of a shadow tonight
And she said, "Come on, out with it.
Come on, out with it." Come on out.
Jollett, who was born into the violent Synanon cult, has yet to touch on or dive deep into his youth through The Airborne Toxic Event's music; HOLLYWOOD PARK marks a first in this respect. His mother escaped the cult with him and his brother when they were young, and he was raised into poverty in Eugene, Oregon.
"I mostly grew up in the wreckage of the cult where I was born, since we left when I was so young," Jollett explains. "It came to me like a puzzle I had to put together, almost like separate realities with different rules. So I wrote the songs on the record (and the book) from that perspective: that of a child trying to piece together the reality of the changing world around him; because that's how I experienced it: like a mystery I couldn't quite fathom that I had to piece together over a lifetime."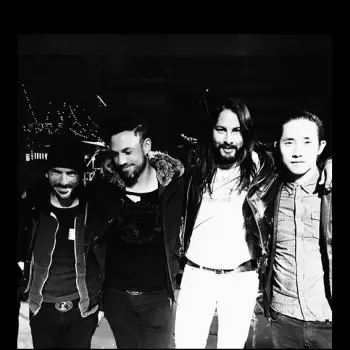 Jollett's retelling of the night he ran away from home mirrors much of the uncertainty, fear, and fracture we feel around the United States today: How did we get here? What are we going to do to fix this? Is this salvageable? Jollett's story is one of a youth growing up far too fast, yet we don't have to be young to feel the looming presence of encroaching shadows.
The Airborne Toxic Event reach an emotional apex in the song's third and final stanza, finding Jollett losing his calm, cool, and collected exterior in favor of a more unhinged and expressive force: Shouting into the microphone, he wildly emotes the pain and anxiety of his situation – of feeling trapped, helpless, and hopeless:
And the night shadows watching
The darkness approaching
You came for a life in the park
So you stand on the stage at such a young age
As you're feeling around in the dark
And your mother, she's calling
You feel your hopes falling
There's nowhere to run to tonight
Just his fist on your face now
You hope to replace how the emptiness fills you inside.
"You hope to replace how the emptiness fills you inside." No line better sums up this song, and all the inner pain it reveals. As Jollett pleads for someone to "break my fall," we feel his resolve wane and the band's energy begin to fade. They make their last stand in a passionate, chorus that transforms the "come on out with it" chant into an anthemic rallying cry: An invitation to seize the moment, throw our fists in the air, and scream the words as loud as we can until our lungs are sore and our voices hoarse. It's a reclamation, in a way; of what, exactly, we have to discover on our own.
This is how we came to know The Airborne Toxic Event; this is why we love them still.
A transformative, impassioned outpouring of emotion, "Come on Out" finds a renewed Jollett & co revelling in the visceral depths of our emotional experience.
They hold nothing back in delivering a rollicking, turbulent song full of humanity and grace. Cutting through the band's brute guitar-driven rock and urgent percussion is a soul searching for a home: An lone person, just looking for his place in the world – hoping to find where he fits into the mess around.
"Come on Out" is familiar and fresh, something old and something new. It's the very first page of the next chapter in The Airborne Toxic Event's story – a story Jollett has had to tell for a long time. Coinciding with HOLLYWOOD PARK's summertime release, Mikel Jollett is also releasing a book entitled Hollywood Park: A Memoir, publishing through Celadon Books on May 5 (available for pre-order now). For now, dive into The Airborne Toxic Event's latest offering below!
— —
"Come on Out" – The Airborne Toxic Event
— — — —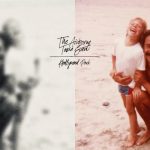 Connect to The Airborne Toxic Event on
Facebook, Twitter, Instagram
? © The Airborne Toxic Event, 2015
:: Stream The Airborne Toxic Event ::
---