You've never heard a take on psychedelic rock quite like XIXA's, who've recreated the sounds and ominous feelings of the American Southwest in singular style on 'Genesis.' 
Stream: 'Genesis' – XIXA
---
In a land where Mexican, Native American, and contemporary U.S. culture all collide, XIXA are there to scoop it all up and channel it into their multi-faceted music. The latest example of this process, Genesis (out now via Jullian Records/The Orchard) marks a major creative breakthrough for the six-man act from Tucson, Arizona.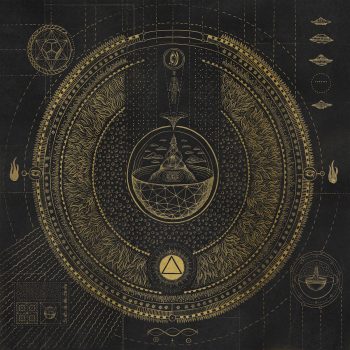 XIXA emerged in 2016 with their debut record, Bloodline, and have continued to tour and record extensively over the ensuing five years. Throughout that time, XIXA have developed their own innovative approach to psychedelic rock, one that is infused with many of the styles the band members each know well. Peruvian chicha, cowboy folk, desert blues and goth rock are among the Wild West-friendly genres that XIXA have managed to factor into their music after all their time together as a unit.
"We've toured for years now – hundreds upon hundreds of shows –  to the point where all our collective musicality and personalities have intertwined into this freaky weird organism not only on stage, but in the studio as well," says XIXA frontman Brian Lopez, who guided production of the new album at the Dust and Stone Recording Studio in Tucson.
According to Lopez, this genre-mashing outcome is on especially proud display on "Genesis of Gaea," the album's first single and second track.
"You've got all of the elements that make us XIXA right there in the lead single," he says. "We've got a bit of magick, a bit of psych, a bit of Western twang, some heavy fuzz… all wrapped in a hodgepodge that, up until now, you've probably never heard of. This is a sound we've been working on for years."
Along with their idiosyncratic approach to psychedelia, another signature XIXA element that makes its way back into Genesis is the ominous feeling of impending danger that has long since permeated their music. Such a sense of dread is certainly characteristic of the U.S.-Mexico border region where the group resides– a place where coyotes and poisonous rattlesnakes are on the prowl, and where the spirits of the dead are given their own annual celebration. Now, that same atmosphere has come to vibrantly characterize much of Genesis, perhaps most distinctly on the follow-up single, "Eclipse."
The lyrics of the song take us deep into a land "where the coyote know to feast [and] where a man can lose his fortune to a Tanque Verde thief." What's more, people coming through this land are greeted to the eerie cries of the moon pleading us to "please, just please bury me deep." The song's music video preserves this ominous vibe as its authors take us on a tingling tour of their native Tucson, where the clip was filmed on location.
"We've always intertwined our music with heavy imagery and conscious aesthetics," Lopez explains. "Both 'Eclipse' and 'May They Call Us Home' are true representations of different aspects of our homeland. The desert shots in 'May They Call Us Home' are the lands we wander. The lowriders and Barrio Viejo in 'Eclipse' is the culture and imagery that surround us on a daily basis."
Along with evoking the sounds and ominous feelings of the American Southwest, XIXA further encapsulate their homeland by occasionally singing in some of the languages, in addition to English, that are commonly spoken in southern Arizona. The aforementioned "May They Call Us Home" is partially sung in Spanish, as Lopez confides to his lover that, in terms of living the life he wishes to lead: "No puedo sin tu amor. No quiero sin tu amor." Meanwhile, "Eve of Agnes" features lyrics sung in a language associated with a different desert– the Tamashek language of the Western Sahara– a product of XIXA's collaboration with Algerian desert blues band, Imarhan.
"The use of different languages in our music is nothing more than a natural happening," says the group's co-frontman, Gabriel Sullivan. "We live one hour from the Mexican border and have grown up with a strong sense of the Spanish language. We felt that Spanish was the fitting language for "May They Call Us Home" and Brian crafted the lyrics from there. With 'Eve Of Agnes,' we co-wrote the song with our Saharan desert brethren, Imarhan. We wanted their singer, Sadam, to sing the choruses and while he does speak French and English, his native language of Tamashek was what the song called for."
Genesis, an album both multilingual and multi-instrumental, thrives on the fine work of its six musicians: Jason Urman, Winston Watson, Hikit Corbel, and Efrén Cruz Chávez, in addition to Sullivan and Lopez. In terms of honoring dark themes, that objective is perhaps best achieved on the song that honors the father of Dark Romanticism himself: Edgar Allen Poe. On "Nights Plutonian Shore," Lopez adopts a spooky whisper of a singing voice, and enters the mind of the Raven, quoting the most famous word from the 1845 poem repeatedly: "Nevermore shall I wander… Nevermore shall I answer, nevermore I shall be."
"[It's] a world where all has gone dark and The Raven reigns supreme," Sullivan describes. Given his band's penchant for "painting landscapes and images for the listener to wander through," it was easy to succumb to the desire to create this "post-apocalyptic blackened earth where the Raven is king."
Psych-rock, Berber tongues, 19th century poetry – there are so many exotic elements cobbled together into Genesis that it's hard not to feel allured by the final project. XIXA have steered full clear of the sophomore jinx and given us a follow-up LP of astonishing curiosity value.
— —
— — — —
? © Puspa Loh Meyer
:: Stream XIXA ::
---