There's always one song that comes out and perfectly captures the essence and feeling of a certain experience. It's that one good jam that you have to crank the volume to, and sing along with at the top of your voice; the song that you and your friends all have to know because it will be played at every gathering. What better experience is there to capture than the warmth and freedom of summer?
It feels so good to be in LA
Every artist must have a summer anthem in their arsenal; it's the season that carries its own universal language. Summer loving, summer night, summer sun… Each person has his or her own personal favorite song that reflects their specific summer experience, and LA indie act Pretty Sister (aka singer-songwriter-producer Zak Waters) has created something that will become a new favorite to many this summer.
Listen: "Drive" – Pretty Sister
[soundcloud url="https://api.soundcloud.com/tracks/245545714″ params="color=ff5500&auto_play=true&hide_related=false&show_comments=true&show_user=true&show_reposts=false" width="100%" height="166″ iframe="true" /]
---
Pretty Sister's latest single "Drive" somehow continues to repeat itself over and over long after the music stops. Boasting a groovy and soulful melody while maintaining electronic elements, "Drive" captures the warmth and forward-momentum of R&B. Flurries of high hats and fat bass pumps display Pretty Sister's old-school influences that bolster the song's classic pop theme to unanticipated heights. 
And we could just drive, baby
Nothing but sunshine on our faces
We could go get high back in my place
And got no trouble in the world when it feels so good to be in LA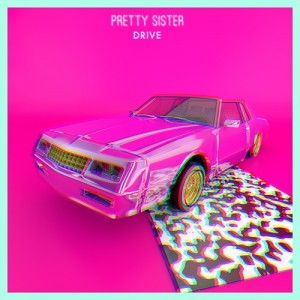 "Drive" is an anthem – an ode to the summer. It's easy to picture the carefree atmosphere described in the chorus' lines, "We could just drive baby / nothing but sunshine on our faces." No matter what season or time of year you're in, this song carries a heavy theme of nostalgia and love for the summer. Waters' infectious attitude is reminiscent of Asher Roth's blithe spirit in the forever-classic "I Love College." Genuine passion shines bright and true through Waters' sun-soaked lyrics.
The song even reflects on the sometimes not-so-positive parts of summer partying, such as waking up with that killer hangover and not being able to remember the person's name who's sleeping next to you. Even though going back to someone's house to "get high" may not be the best idea, Pretty Sister croons it in such a heartfelt manner that the most skeptical would have trouble declining the offer. These are the elements of what it means to be blissfully young and willfully naïve, and "Drive" epitomizes that mental state in what seems to be the most carefree way.
Said it feels so good
'Cause we've got the top down, radio on
Singing every word to a Tupac song
Hey, we've got our hands up, radio on
Singing every word to a Tupac song
"Drive" embodies the world's collective yearning for summer, and its success proves how much audiences crave the season: "Drive" climbed its way to number four on the Hype Machine's "Most Popular" chart within its first week. Not bad for a band's third single – yet it's considering the subject matter and its presentation, such popularity shouldn't be too surprising. Sporting classic pop and R&B elements disguised in new clothes, "Drive" makes an impact on listeners both young and old: That relatable factor is what pulls the audience in and keeps them coming back for more. Waters' simultaneously raspy and hearty tenor tone is easy to listen to, and Waters' range is nothing less than impressive: He effortlessly reaches beautiful, daring falsettos. The vocal ability is clearly there, but it is used as an occasional accessory and therefore doesn't assault the listener's ears. Most artists want to show off what they can do in their singles, but Pretty Sister lets the song speak for itself: Waters' vocals perfectly emanate the theme of "Drive," with its upbeat-but-not-over-emotional feelings of summer.
This insanely catchy tune is the perfect party song, but it's also a song you can jam to on your own. "Drive" is the soundtrack to reflecting on memories of summers past and visions of summers to come. It makes the listener feel like they are in LA, singing every word to a Tupac song as well. But in this case, we're singing every word to this Pretty Sister song.