An intimate, wistful indie folk enchantment, Taryn Faye Randall's "Stride for Stride" sees the singer/songwriter dwelling in a space of longing and strain as she reckons with a relationship out of sync.
Stream: "Stride for Stride" – Taryn Faye Randall
---
Take your time, six steps behind. What am I still trying to prove? Matching stride for stride…
Utterly beautiful, tender, and radiant, Taryn Faye Randall's vibrant second single aches with the love of a heavy heart. Sometimes we learn to live with others' fractures and flaws, and sometimes we must learn to let go of those we love the most. "Stride for Stride" falls somewhere in-between: The intimate, wistful indie folk enchantment sees Randall dwelling in a space of longing and strain as she reckons with a relationship out of sync.
When you come over
I sit a little taller in my chair so I can meet
Your gaze that always leads to my
Slow defeat
Hanging in your pocket
I think that I've lost it or at least I'm going to
I've got half a mind to reject all that I'm still
Trying to prove
With a clever line on a perfect groove
Atwood Magazine is proud to be premiering "Stride for Stride," the second single from Brooklyn-based singer/songwriter Taryn Faye Randall. Formerly known as COTE, Randall is no stranger to our pages: We previously called her music "a passionate journey through the soul," further praising her as "an artist of truly inimitable depth." That early applause proved somewhat prophetic, as COTE's self-titled debut album (independently released in 2018) showcased the stunning range and scope of her burgeoning, brilliant art.
Randall's decision to make music under her own name represents what she calls a pulling back of the curtain entirely; using her given name "reflects a bolder and more confident approach" to her craft. She released her re-introductory single "Atlanta" – a glistening, gorgeous introspective piece with a healthy amount of soul and twang – in mid-October. Upon release, she called it her artistry "at her most raw and incisive, pairing witty reflections on heartbreak with country sounds that recall her formative folk heroes of the '70s."
"I started writing 'Atlanta' while still in a relationship and finished it soon after it ended," Randall recalls. "It's about the pain of wanting someone to give you more of themselves until you finally recognize they won't."
---
A comforting and cathartic exhale, "Stride for Stride" follows "Atlanta" as a lush, harmony-rich, expansive, and stirring display of Randall's pure passion and raw talent at work.
Warm and wondrous, the song showcases her abilities as a captivating vocalist, an immersive songwriter, and an utterly electrifying storyteller: The pains of a faulting relationship come to light slowly in "Stride for Stride" as she looks inward and comes to terms with her role in the partnership, her wants and desires that aren't being met, and the level of patience and, in reality, the amount of time she's willing to wait for her partner to become the person she needs them to be. The chorus is a moment of musical radiance and emotional reckoning:
Still you take your time, drag your feet
Trail four steps behind
I'll walk slower for you if you pick your pace
Meet me halfway here, at the line
Matching stride for stride
I'll forget how to move if I walk any slower
For you
"At its core, 'Stride for Stride' is about two people who can't get in sync, but I wanted the focus to be primarily on my role within that dynamic," Randall tells Atwood Magazine. "It's easy to write about someone else not stepping it up, but I'm the one who is putting up with it. In fact, I'm going so far as to slow myself down for this person and I have to recognize what that will do to me – I'm freezing my own movement forward for the sake of someone who may never catch up."
You're holding on, you're saving
But my God I'm craving more than you want
To toss my way
I fear I'm wasting all of my blessed days
Trying to add a second helping on my plate
I'm freezing my own movement forward for the sake of someone who may never catch up.
Randall's new music finds her working together with long-time friend and guitarist Chris Parker, bassist Jeremy McDonald, and drummer Sean Mullins. As the artist herself is quick to admit, this is just the very beginning of an exhilarating new era: And as achingly bittersweet and heavy-hearted as "Stride for Stride" may be, it is first and foremost a dazzlingly beautiful folk song full of light, warmth, and love. Stream Taryn Faye Randall's sophomore single exclusively on Atwood Magazine!
You're holding on, you're saving
But my God I'm craving more than you want
To toss my way
I fear I'm wasting all of my blessed days
Trying to add a second helping on my plate
Still you take your time, drag your feet
Trail five steps behind
I'll walk slower for you if you pick your pace
Meet me halfway here, at the line
Matching stride for stride
I'll forget how to move if I walk any slower
For you
Take your time, six steps behind
What am I still trying to prove?
Matching stride for stride for
Stride for stride for stride
— —
Stream: "Stride for Stride" – Taryn Faye Randall
— — — —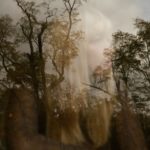 ? © Jen Trahan
:: Stream Taryn Faye Randall ::
---