A beautifully haunting ballad of grief and inner turmoil, Under the Rug's captivating "Go to Sleep" reckons in a space of intimate, intensely raw emotion.
Stream: "Go to Sleep" – Under the Rug
---
I wish there were more songs about weird human moments like that: Maybe we'd feel less crummy and alone if more popular art normalized that sort of thing.
We don't talk often enough about grief.
We don't talk often enough about trauma.
We don't talk often enough about distress.
If the pandemic has taught us anything, it is that the world has a long way to go when it comes to normalizing our full suite of feelings, and for it being "okay" to not "be okay." Isolation was 2020's buzzword; we all felt it to some degree, and for a brief flicker in history, folks around the world were connecting and empathizing around feelings of sadness and pain, depression and disarray. For some, this was brand new territory; for others, their everyday emotions were now "mainstream" and safe to open up about – but this itself was telling that, as far as we've come in discussing these "darker" topics over the years, we still have a long way to go.
Thankfully, art is pushing us in the right direction – and on their latest single, Austin's Under the Rug defy their name by sweeping it all out into the open. A beautifully haunting ballad of grief and inner turmoil, the captivating "Go to Sleep" reckons in a space of intimate, intensely raw emotion. The band open up and invite us to dwell in whatever, wherever, for however long we need. It's a powerful reminder that grief is normal, healing takes time, and that this all a part of the human experience.
2:00 AM, all alone,
I drunk dialed your mom on the phone
to hear a voice that sounds like you
she was kind as if she knew
she said, go to sleep
go to sleep, forget about tomorrow
forget about the lonely and the sorrow
forget about it now…
Atwood Magazine is proud to be premiering "Go to Sleep," the second single off Under the Rug's forthcoming sophomore album, Dear Adeline (out February 25, 2022). Following last December's release of "Dear Adeline" – the poignant acoustic title track that promises to wreck an unsuspecting soul – "Go to Sleep" is a lush indie lullaby, and one of the Texan trio's finest songs to date.
Formed over a decade ago, the band of Casey Dayan, guitarist Sean Campbell, and drummer Brendan McQueeney put out their debut album Pale King in 2019 to considerable local applause. The group's pop sensibilities, mixed with an undeniable alt rock ethos, lends their music an undeniably catchy spark – as well as a bit of an edge. That combination isn't easy to find (nor is it always there to tap into), yet the trio's debut presents nine songs (and one bonus track) that make expert use of that ethos while maintaining a sense of authenticity and uncompromising honesty. We recommend giving the full album a listen in your spare time.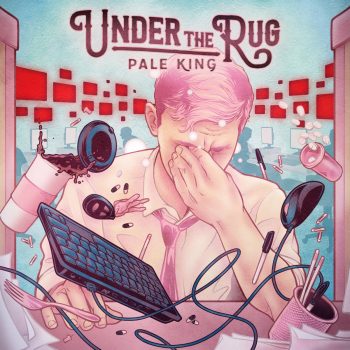 With this experience to go off, perhaps it is no surprise that Under the Rug's latest releases would so prudently take on some of life's hardest parts. Dear Adeline has been billed as "a ten-track collection of emotive, dynamic indie rock that chronicles grief, tumult, and healing after the loss of a loved one and simultaneous dissolution of a romantic relationship."
"The first few songs we wrote for Dear Adeline were written right after my mom died and my relationship ended and are really reactionary, and then the rest I wrote as I was figuring things out over the last few years," vocalist Casey Dayan tells Atwood Magazine. "Each song on the album is a different stage of dealing with those events."
Having lost my own mother in 2017 to cancer, my heart goes out to Dayan and his family – and I can't help but resonate with Under the Rug's manifestation of grief. For years, the terms "mom" and "mother" were my most visceral triggers. I could barely utter the words, let alone dwell on them for too long. The notion of dialing someone else's mom on the phone "to hear a voice that sounds like you," as Dayan sings in the first verse, is all too relatable. When you've lost someone, the first thing you want to do is fill that void. His imagery is a bit comical and it's okay to laugh, but there's also a deep truth to his sentiments. Only after we try filling that void, do we realize that our loved one can't be replaced; that's what makes them so special in the first place.
Thus, we learn to live with loss – but learning to live with loss is a constant and never-ending uphill battle as well. Sometimes, the only way to turn off the emotional faucet and calm the nerves is through escape, and sleep is an easy (if not the healthiest) way to go about achieving that. "Go to sleep, forget about tomorrow," Dayan sings softly and slowly, a wave of rich harmonies accompanying his lead vocals and elevating his already fragile state. "Forget about the lonely and the sorrow." Whether you're going through a heartbreak, a death, or any other kind of loss or trauma, sleep can often be incredibly inviting and enticing. It's an oasis of comfort in a bleak spiritual desert full of pain.
hardly could I see the road
in my lap, a mug full of beer;
driving fast or maybe slow
those three words ringing in my ear: go to sleep…
"Dear Adeline is a breakup album, and breakups are hard," Casey Dayan shares. "Especially if you really loved the person. Sometimes it's easy to be strong, do the right thing, meditate, get through it, but we also have moments of weakness and crummy, lame, pathetic desperation. Some of the strongest people I've ever known have had moments they'd rather take to their graves than share."
"I just think that's so cool, and human, and weirdly beautiful. I wish there were more songs about weird human moments like that: Maybe we'd feel less crummy and alone if more popular art normalized that sort of thing. As for the recording, it was one of the easiest on the record. It just knew where it wanted to go. We even called Sean's mom (no warning) and recorded her "hello" over the phone to get that little part in the middle to sound real. Someone said there should be a melodica melody in the solo, and it just worked, first or second take. Then, at the end, we knew we wanted a creepy music box to scratch out the melody one last time, so Brendan actually made a music box roll by hand. It was way tougher to think through than you'd think! But it's sort of ugly, which, I think, like what I mentioned about the songwriting above, makes it great!"
Under the Rug succeed not only at capturing the wreckage of grief, but also at depicting the unrelenting restlessness of insomnia.
We could do without the terrifying human-sized wind-up monkeys in the "Go to Sleep" music video, but hey – the mind plays strange tricks on us in the dead of night, especially when we're already living in a nightmarish situation. The monkeys are hypnotic, and by the end of those four anguished minutes, they even feel like friends – demonic friends, but friends nonetheless.
All this is to say that Under the Rug have struck gold in "Go to Sleep." Whether or not you yourself have experienced a great personal upheaval or traumatic event, this is the kind of art that can help to normalize topics of grief, trauma, and distress. There is still a long ways to go, but here's to another band reminding us that it's okay to not be okay. Watch "Go to Sleep" exclusively on Atwood Magazine, and pencil in February 25th: You won't want to miss the full depth, breadth, and bittersweet beauty of Dear Adeline!
go to sleep
go to sleep, forget about tomorrow
forget about the lonely and the sorrow
forget about it now…
— —
Stream: "Go to Sleep" – Under the Rug
— — — —
? © 2022
:: Stream Under the Rug ::
---