There's a darkness surrounding Fallow Land's "Faux." It's a veil of doubt – subtle and provocative, begging us to listen deeper. There's something underneath the surface. Introspection and urgency collide in flurries of bass, percussion, voice and guitar. For something so minimalist, it's surprisingly expansive. Fallow Land's journey into the self leads listeners down a similar path, making "Faux" an uncannily catchy, intellectually and emotionally stimulating experience.
If the bone marrow won't stick to my bones
I can disassemble myself
And destroy the concentrated cells
There's no God waiting for us
We're all alone and we're all corrupt
Listen: "Faux" – Fallow Land
[soundcloud url="https://api.soundcloud.com/tracks/296265840?secret_token=s-gWpgg" params="color=ff5500&auto_play=true&hide_related=false&show_comments=true&show_user=true&show_reposts=false" width="100%" height="150″ iframe="true" /]
---
Atwood Magazine is proud to be premiering "Faux," the lead single off Fallow Land's upcoming debut Pinscher EP (independently out June 30). Consisting primarily of Whitaker Fineberg and Evan Veasey, Ann Arbor's Fallow Land capture a mix of energies in their initial offering: Veasey crafts an almost dreamy soundscape through reverb-heavy, pulsing guitar riffs, while the bass follows along to vocalist Fineberg's angst-ridden singing. Dark minimalist music tempts its way ever closer to heavy drops, but Fallow Land never unleash – not on "Faux," at least. That compelling tension keeps us listening the whole way through, again and again.
"'Faux' expresses a time when I so badly wanted to conform to someone else's needs, that I fantasized about being able to recreate every aspect of myself down to my molecular structure," explains Fineberg. "I sought to capture the incessant nature of these thoughts via repetition, both lyrically and in terms of song structure. The band helped create different textures underneath the recurring verses in order to maintain interest through the repetition."
At its simplest level, the word faux alludes to artifice: An imitation, fake or false. The narrator in the song struggles to become something he is not – we sense the internal clash between who he is, and who he is trying to be. There is an intrinsic desire to change his very being – alter that which makes him him, so that he can become something new; the folly of a disguise is that you when you wear the mask, you are playing a character – thus whomever you interact with, they interact with the character, and not you.
Such insincerity will consume you, in time.
"We're all alone and we're all corrupt," Fineberg exclaims at the end of song's only, repeated verse. The strain of that inner conflict is reflected in the fragility of the singer's voice, and mirrored in the surrounding instrumental. Of their music, the band explains, "Fallow Land seeks to blend odd-meter, polyrhythm, texture, and conventional song structure to create innovative yet accessible compositions. We focus on creating songs that one can exist within and moods that will envelop you." Their ability to evoke tangible emotions out of experimentation and sonic exploration is a testament to the band's confidence, creativity, and deeper connection to their own sound.
In fact, "Faux" is a great example of such experimenting. Fallow Land recalls, "'Faux' really transformed in the recording studio. During the pre-production phase, our producer, Chris Bathgate picked up on a lot of the catchier aspects of the song and brought them to our attention. We had not previously thought of the song as particularly catchy, but with this new awareness, we were able to accentuate the more, "danceable," moments while maintaining the initial quirkiness of the song. After hearing what 'Faux' had become in the studio, we all agreed it had to be the single."
"Faux" is profoundly genuine: Most listeners can likely relate to the ill-fated battle of trying to be someone or something you're not. You cannot change for someone else, and still be yourself; nor can you will yourself to so easily acquiesce and adapt. Fallow Land invite deeper thought as they question our nature: With thought-provoking lyrics and clever, evocative melodies, the first offering from Fallow Land's Pinscher EP shows a band that is willing to take risks and dive headfirst into a song.
Look out for more from this promising independent act: Fallow Land's Pinscher EP is out 6/30/17.
— — — —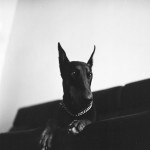 cover © Heather Nash
art © Andrea Calvetti
:: Listen to More from Fallow Land ::
[soundcloud url="https://api.soundcloud.com/users/160703233″ params="color=ff5500&auto_play=false&hide_related=false&show_comments=true&show_user=true&show_reposts=false" width="100%" height="450″ iframe="true" /]
---