Velvet Starlings' new single "Technicolour Shakedown" provides listeners with the feeling of being at a live show with its raw and rowdy nature.
Stream: "Technicolour Shakedown" – Velvet Starlings
Elvis Presley once said, "A live concert is exciting to me because of all the electricity that is generated in the crowd and on stage. It's my favorite part of the business, live concerts." For a while, gigs and concerts were placed on hold due to the pandemic. There is a powerful, intoxicating energy when watching a singer or band's live performance, and that exhilarating experience has been deeply missed by many. Now venues are starting to re-open, and we can get our live music fix once again. Velvet Starlings know that feeling of longing to see a live show all too well. Their latest bold rock banger "Technicolour Shakedown" pays homage to the show-going experience with its lyrics and booming, boisterous quality. The organic vigor oozing from the track encapsulates the air of a live show.
So turn it up and turn it on
Just like a rainbow in the night
We fly like Lucy in the sky
We turn it on yeah
We turn it up we turn it on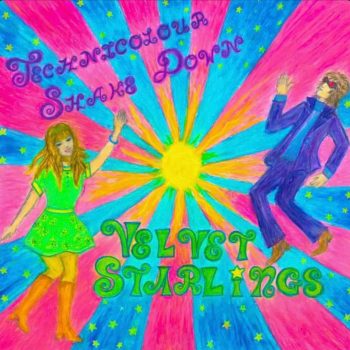 The song's video bursts with psychedelic flair, providing that same amped-up momentum of seeing your favorite act play. From the monkey ice-skating to a flying rocket and sparklers, the wild and wacky depictions perfectly convey the single's essence. Viewers are further sucked into the vibrant offering with the video's concluding, kaleidoscopic image. Velvet Starlings know just how to excite, sonically and visually.
Their debut album, set for release in September, is also titled Technicolour Shakedown. This title track possesses their same signature retro rebellion that can be heard in previous tunes such as "Bitter Pills" and "Karmic Lemonade." Fans young and old have fallen in love with the group's nostalgic charm. Atwood Magazine spoke with Christian Gisborne of Velvet Starlings, discussing inspirations, the new single, and the video, and more.
— —
A CONVERSATION WITH VELVET STARLINGS
Atwood Magazine: You can be recognized for your irresistible "60s garage rock" sound. What drew you to this style of music?
Velvet Starlings: Well, I started out like everyone does with The Beatles and went from there! Hearing the crazy sounds four people can make with just guitars, bass and drums really blew my mind when I was 6, and from there, I got into way too many bands.
Who are some of your biggest inspirations from that era?
Velvet Starlings: I'd say probably Beatles, The Who, Doors, Kinks, Monkees, Donovan, Shocking Blue, Animals, and Rolling Stones.
"Technicolor Shakedown" portrays that same rowdy, retro rock style fans know and love. How was the song developed sonically?
Velvet Starlings: Sonically, I'd say the mix is pretty harsh. We wanted this album and song in particular to sound very live and distorted as if you're really there at the show.
I love that name for your single. How did you come up with that title?
Velvet Starlings: I was on a walk and thought it sounded pretty cool. Funny you should bring it up, we actually had the title Technicolour Shakedown picked out as the album name before the song itself came into existence!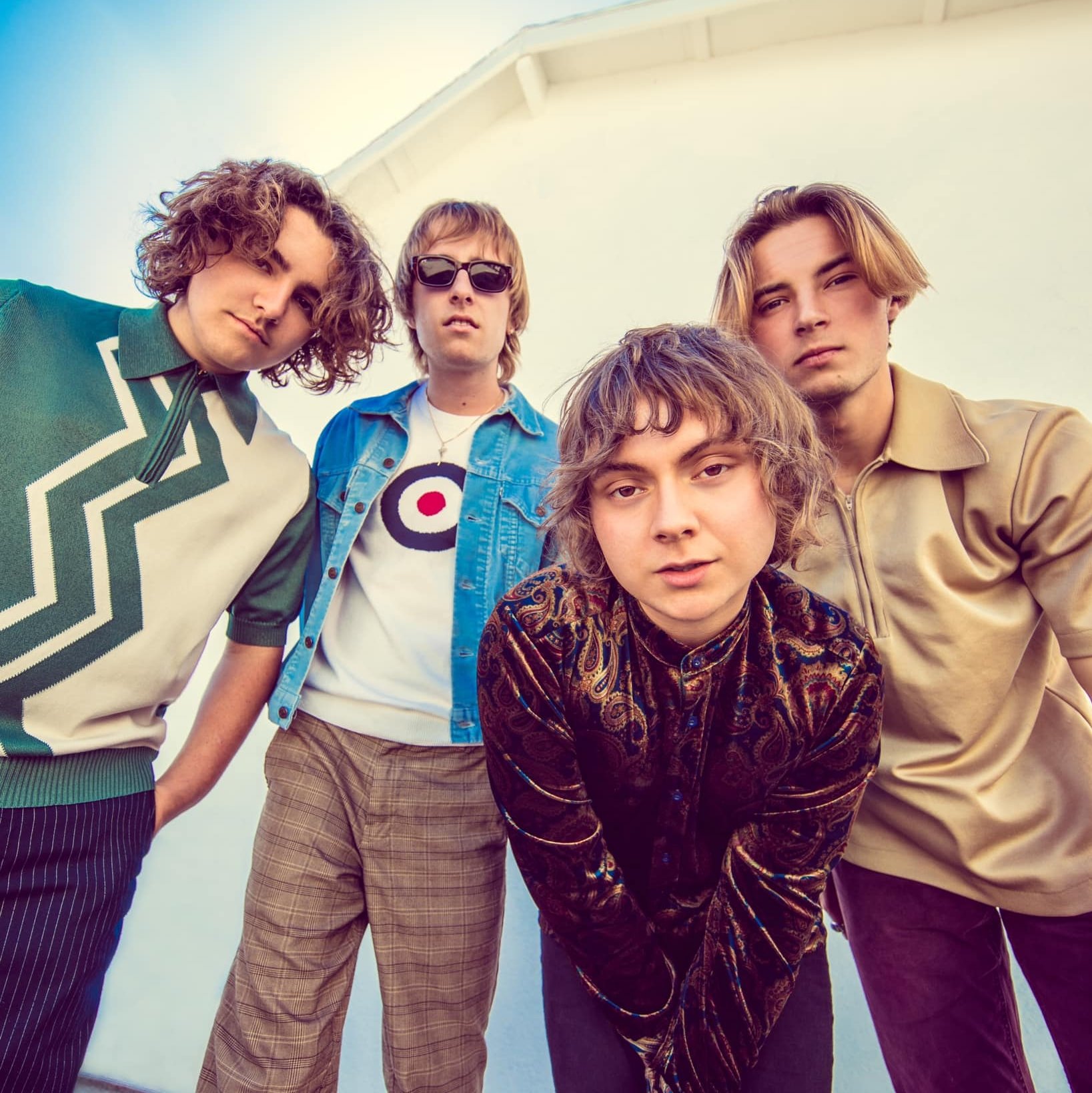 The release is an ode to the experience of seeing a live music show. What is your favorite part of attending a gig?
Velvet Starlings: So many parts! Waiting in the line meeting all of the die-hard fans is always fun, trying to get a set list off the stage, jumping on the stage and diving off. There's so many aspects but I'd say my favorite part is definitely when a band plays your favorite deep cut that you weren't expecting.
Who is one of your favorite acts to catch live?
Velvet Starlings: One artist I've seen a lot of times is Jack White. He's one of those artists who has such a huge catalogue of amazing tracks that his fans will know all the words to his entire set. Going to a show when you're familiar with the music is a totally different experience from just going to a regular show.
The trippy visuals for the tune provide the ultimate vintage vibe with colorful patterns and 60s dance party images. What inspired the video's aesthetic?
Velvet Starlings: There's all sorts of cool 60s footage from commercials with kids dancing around. I guess I wish more house parties in LA were like the "Technicolour Shakedown" music video. The rest is shots of us at Venice beach. Funny story actually, I forgot my guitar strap when we got there to shoot – so I had to hold it up the whole video John Dwyer style.
I understand you wear many hats. You are a performer, writer, recording artist and producer. How have you been able to master so many skills at such a young age?
Velvet Starlings: Well that's just it! The only way to do a lot of stuff is not fully mastering any of the things. When I turn on Protools, to me it looks a bit like flying the Millennium Falcon and most of the time I have no idea what I'm doing. Same with all of the instruments. I know what to do to some extent and that's all I need!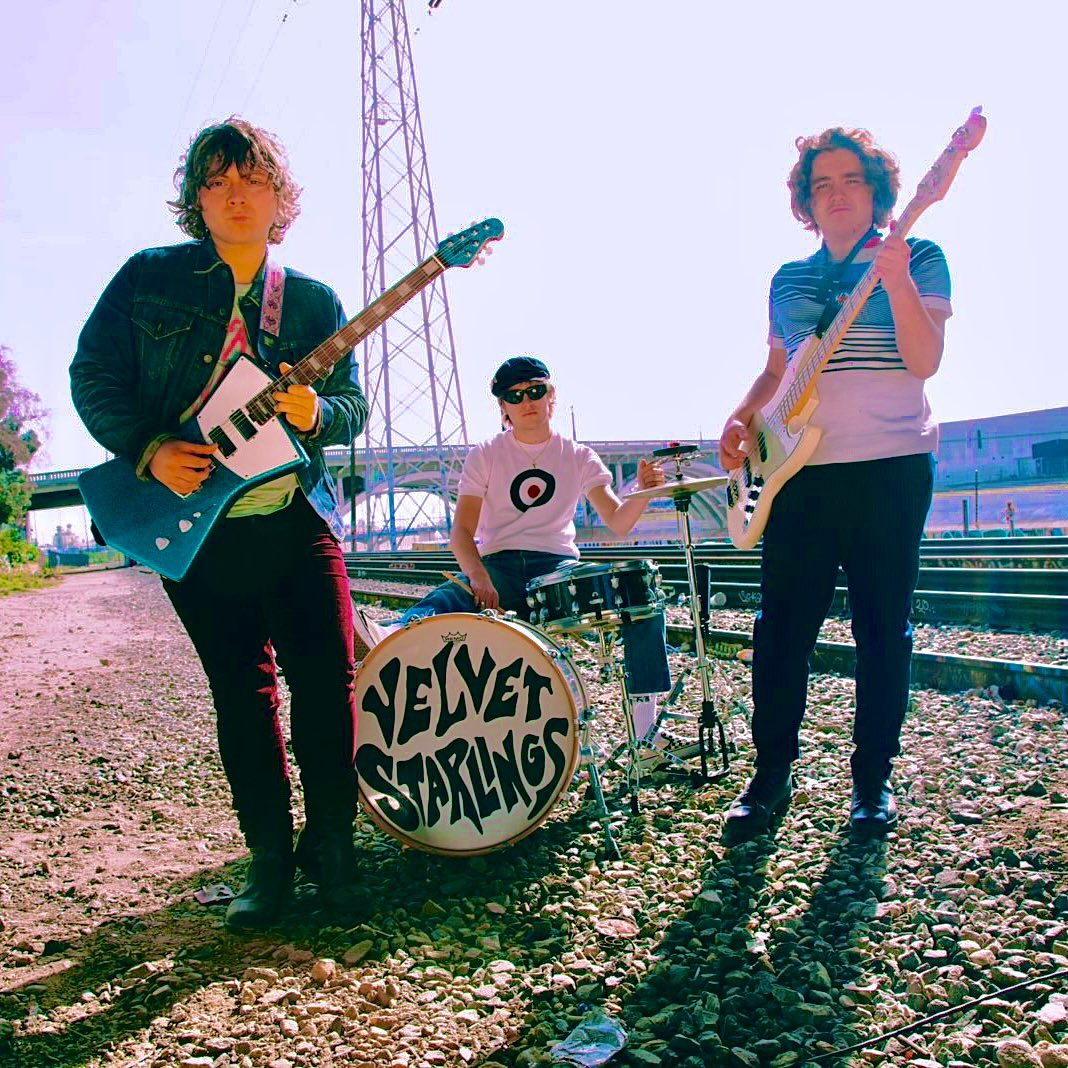 If you could perform with any artist or band of your choosing, who would that be?
Velvet Starlings: Well dead, definitely The Beatles. I feel like that's the only answer. But in real life? Realistically? I'd love to jam out with King Gizzard and The Lizard Wizard. They are so hilarious and some of the most creative people making music today. I'm sure that would be a real fun time.
.
Lastly, any music on your current playlist you can recommend to our readers?
Velvet Starlings: 2021 has seen the release of so much awesome new music! Best new records this year have got to be the new Wolf Alice, Sleater Kinney, Ty Segall, Goat Girl, King Gizzard, and Black Honey! For any music pre 2021 though, we have a curated "Velvet Starlings" playlist of all the bands throughout history we dig on our Spotify.
— — — —
? © Megan Blanchard
:: Stream Velvet Starlings ::