vverevvolf's fun, fierce "Sugar & Spice" is a bold and energetic expression of self-assurance, imperfection, and vulnerability.
for fans of Royal Teeth, The Mowgli's, Youngblood Hawke
— —
It's brash and totally different than anything we've released before.
Is there anything spookier than confronting ourselves and our own human fragility? This Halloween, badass alt-pop duo vverevvolf are treating us to a scarily catchy surprise with "Sugar & Spice," a bold and energetic expression of self-assurance, imperfection, and vulnerability.
Call me sugar and I'll give you spice
Maybe then you'll think twice
Call me hot stuff and I'll give you ice
Maybe then you'll think twice
Atwood Magazine is proud to be premiering the audio and music video for vverevvolf's new single "Sugar & Spice," independently out everywhere this Friday, November 2, 2018. Their first single following the release of debut EP Electric Blue in February, "Sugar & Spice" introduces a new side of vverevvolf (pronounced "werewolf") to the world: A fun and fierce persona with a provocative attitude.
Don't think of it as a transition; think of it as an addition – a pre-existing part of their identity waiting for the right time and place.
The Berkeley, California-based duo of lead singer Kelsey LaRae and singer/songwriter/producer Dylan Gallagher introduced their evocative synthpop to the world just last year. In premiering their debut music video, Atwood Magazine observed the band's ability to "harness the intoxicating allure of our dreams" in "a seductive song about personal endeavors, change, and determination." That magic was fully realized in the Marshall Rogalski-directed music video:
"Cruel Games" is about being drawn toward some special, invisible force – an entity more powerful than ourselves; something we can believe in. We feel the pull of the wild in vverevvolf's words as we watch it unfold on-screen, and just like that their desires go from utter fantasy to within the realm of possibility. Thus, while this debut comes from a dark place, it exists as a reminder that we can make our dreams come true.
"Cruel Games" and Electric Blue served the important purpose of establishing vverevvolf's talent, as well as their knack for weaving together the catchy and the meaningful – all of which continue to resonate in the high-octane pulse of "Sugar & Spice."
"Weirdly enough, this is the first song we ever worked on together – it was written way before we even wrote or recorded "Cruel Games,'" vverevvolf tell Atwood Magazine. "The song is really special to us because of that, but it's also exciting because it feels like a huge step forward for us as a band. We're really embracing a more poppy and energetic sound with this new song and EP. Plus, it also feels like a thematic departure from the stuff on Electric Blue, because whereas those songs were all kind of inwardly-focused, our new music is a lot more focused on talking about our relationships with the outside world, rather than just ourselves and our thoughts."
We see this external dynamic play out in the song's chorus, as the duo lay it all on the line:
I don't want you to turn around
I just want somebody right
I poke you and I put you down
But I want you in my life
Can you take the SUGAR AND SPICE?
"Lyrically, this song deals with the feeling of wanting to be close with someone but being afraid to be vulnerable – feeling like the second you show them your actual self they're gonna run away, and then responding to that fear by pushing them away first. Out of the four songs on our new EP, this one felt like the best jumping off point because it's brash and totally different than anything we've released before. Our goal has always been to experiment with a lot of different sounds, and we think this one will really shake people who thought they had us pegged."
I'm not perfect and I'll show you why
Maybe then you'll think twice
When my head splits open wide
Maybe then you'll think twice
Through a fog of thick guitar riffs and pumping drum beats, vverevvolf sing from the perspective of needing someone in one's life, while also being cognizant to one's own imperfections and other qualities that might detract from their overall appeal or allure. This is very well demonstrated in vverevvolf's Raùl Gonzo-directed music video, starring one very insecure humanoid in a bright pink jumpsuit with a television for a head.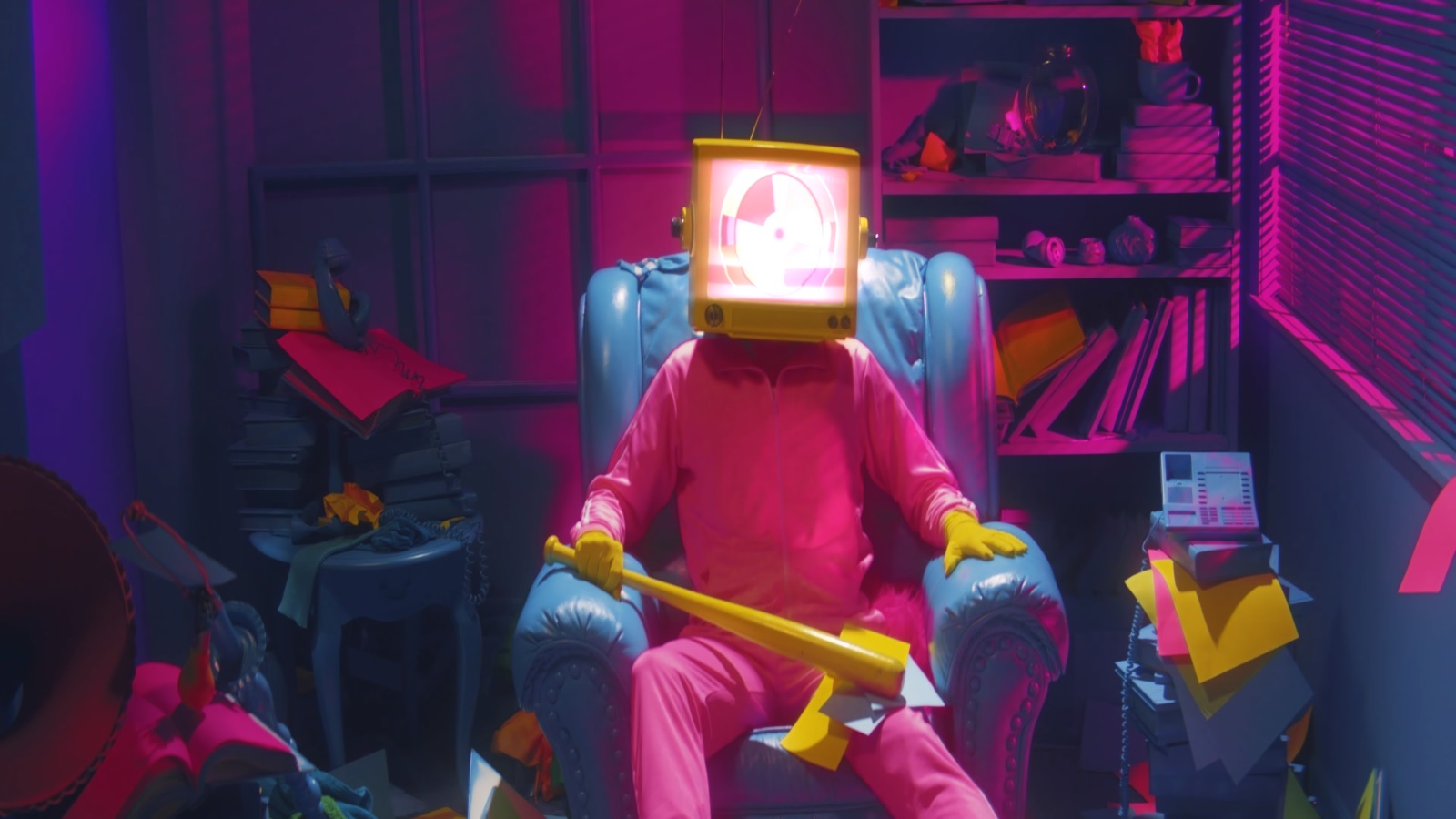 "To be honest, the first time we read it we were a bit confused because it's so bonkers," the band recalls. "But then we took a closer look at everything that was happening in Raùl's treatment – the person who wants control so badly that they would rather destroy a good thing than lose control of it – and saw a connection with the theme of the song. Being vulnerable is basically about losing control, right? That being said, we look forward to the era of this new EP, because it's the most confident, complex, and direct material we've made so far, visually and musically. And we're in complete control of it all."
To be truthful I'd rather lie
If it means you'll stay inside
And now you know what's on my mind
Maybe now you'll think twice
"Sugar & Spice" is a hot mess of a song – a caricature of some of our worst impulses sealed with a passionate fury. Stream vverevvolf's new music exclusively on Atwood Magazine, and a happy Halloween from our family to yours.
Stream: "Sugar & Spice" – vverevvolf
— — — —
? © Ashlynn Danielsen
directed by Raùl Gonzo
:: Stream vverevvolf ::
---