Wasuremono's second album 'Are You OK?' is a conceptual journey into the trials and tribulations of adulthood, mindfulness and emotional sincerity.
Listen: Are You OK? – Wasuremono
Shimmering with the psychedelia of dream pop and the foam of surf rock, Wasuremono's sophomore album Are You OK? (June 14th via The Wilderness Records) is an eclectic record that glows with emotional vibrancy. There is a certain melancholy to many of the tracks that may seem almost surprising considering the rather gaudy rainbow aesthetic of the album and act, however it quickly becomes clear on closer inspection that Are You OK? delves far deeper into the human condition than its cute cover art may suggest.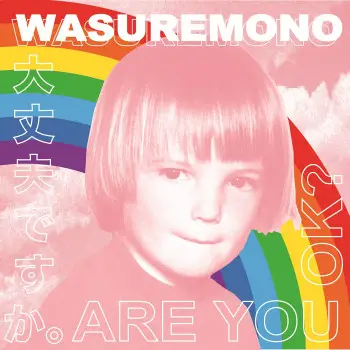 A number of themes are explored in the record yet with the rough translation of Wasuremono being "something forgotten or left behind," the necessity and pain associated with nostalgia seems to be especially essential to its construction. Wasuremono use lyrics to explore this journey into adulthood, creating a particularly personal and reflective album. Take for instance 'School', a track that is underpinned by haunting, static vocal harmonies and a minimal drum beat with lyrics discussing the fragility of youth and the pace at which life can pass you by. It not only references a time that has gone by but consideration of their own generation who are now becoming parents.
Similarly, the moving acoustic track "Don't Play With Ghosts (For Olive)" is written as a dedication to frontman William Southward's childhood dog Olive and obtains a particularly rustic feel through the use of childlike vocals playing over the main line. It is a slight shame that the lyrics are rather obscured on this track as although the overall atmosphere does require a certain waviness to the sound, the lyrics are impressive enough that it is sad they may well pass many by.
The album begins with title track "Are You OK?" a brilliant opener which evokes the kicked back atmosphere of the beach on a hot sunny day. It feels like their answer to an indie summer anthem packed full of catchy riffs and with a poppy drum line to match. The lyrics are just as joyous with the image of the waves and the dogs along the beach painting vivid images of the seaside.
And I love the seaside
Where the dogs bark bark
and the waves help me sleep at night
And it clears my mind
But now I don't know where we are
And I love the seaside
Where the dogs bark bark
and the waves help me sleep at night
And it clears my mind
But now I don't know where we are
Watch: "Are You OK?" – Wasuremono
---
This joyousness is imitated again in track "Nothing is Easy" which shows clear eighties inspiration from the opening little synth passage (that could have come straight out of a Whitney Houston tribute!) to the intensely major driving vocals and harmony.
Wasuremono are certainly not an easily definable act but this recent album demonstrates a real versatility of sound. From the slightly more bubblegum indie pop of opening track "Are you OK?" to the more harmonically experimental gospel sound of "One Last Trip" and the rhythmically driven "New York" there is lots to applaud and as a whole, the sense of cohesiveness in this album is clear. A mean feat to achieve for the 'difficult second album.'
See below for Atwood's exclusive insight into the world of Wasuremono with track by track commentary from Southward himself!
Experience the full record via the below stream, and peek inside Wasuremono's Are You OK? with Atwood Magazine as William Southward provides his personal take on the music and lyrics of the band's sophomore album!
Listen: Are You OK? – Wasuremono
:: Inside Are You OK? ::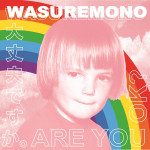 "Are You OK?"
Wasuremono: This is the title track off the album and was written at a time when I needed a pick me up… I mostly write the happiest songs when I need them. This song reminds me of Brighton where I used to live. I would practice guitar on the beach for hours, and it used to clear my mind for sure! Dogs and the seaside, can you ask for anything better for the brain?
"Lonely Type"
Wasuremono: We made a very weird clown music video for this one. I like how this song is sugar coating something more sinister, the melody is bright and poppy, but the lyrics tell a darker story… "I've been shaking hands with a man with blown up Marigolds" which is referring to feeling alone and having literal made up (homemade) friends with blown up rubber gloves for hands.
"School"
Wasuremono: As I'm getting older you begin to notice the people around you are getting older too. This song is about seeing my closest have children and how they look like them as kids and the role reversals in the cycle of life. Life can be simple and you should try and appreciate the small things. Try and worry less because it goes by in a flash!
"Don't Play With Ghosts (For Olive)"
Wasuremono: Written for my dog Olive who passed away last year at the age of 14. We were very close and she got me through the toughest of times (I even used to brew beer and put her face on all the labels). This song is about finding it hard to let go and move on, our garden sounds a lot different since she left…. The cats have moved in….
"Never Felt This Way Before"
Wasuremono: This song was written and dedicated to the new life coming into my life and the old ones leaving, its about moving on into the unknown and becoming a father for the first time.
"Self-Help"
Wasuremono: A reassuring song about pulling together and a "Self-Help" song to help you through the tough times. I really enjoyed putting this one together – it was the last one I wrote on the album and its got some pleasing production with the gospel call and response.
"One Last Trip"
Wasuremono: I started writing this song way before the last album, but could never finish it. I returned to it when writing this album, and basically re-recorded it and it came together really quickly in the end. It was originally written about when people are coming to the end of their life, and not wanting friends and family to see them suffer when they are sick. "One last trip in autumn, one last summer love" it's about saying goodbye. I seem far too obsessed with death, don't I?
"A Lesson to Learn"
Wasuremono: We recorded this in London a while back with Ian Dowling and it's the only track not recorded in the shed. I wrote this dedicated to the Outcasts of the world… "Yes somebody came to an evening for the right as rain" it's got a Nick Cave kinda vibe to it… And a great dancing music video that got screened at the Groovy Movie cinema at Glastonbury festival 2016, too!
"New York"
Wasuremono: I always write lyrics to interpretations of what I can hear on rough vocal lines I have laid down on demo's. I've spent a lot of time visiting family in New York and with this song I kept hearing the line "I can see New York" so it ended up sticking. It all went from there really, it's not necessarily about anything in particular, just some fat riffs and quirky quirkiness Wasuremono style….
"Nothing Is Easy"
Wasuremono: I love a perfect pop tune bringing you up and down in all the right places, I have a lot of songs that sound like lullaby's or children's nursery rhymes, I'm thinking of compiling them together and making an album for babies. Anyway, this one is a fun pop tune.
"Hail Ra!"
Wasuremono: Hail Ra! This took a while to finish but its one of my favourites. Its like an epic journey which tells a story through the music like a journey to the sun and back. I have no idea how this song ended up being about the sun but it did. "Ra" is the god of the sun and it seemed to fit so perfectly. Everyone needs some sunshine to be happy, so it also fits with the whole album vibe. It has some great big piano riffs in it which I can imagine being played on the pyramid stage at Glastonbury one day! (wink wink)
— —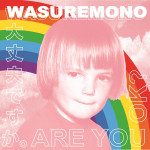 ? © Wasuremono 2019


:: Stream Wasuremono ::