This Women's History Month, Atwood Magazine has invited artists to participate in a series of short essays in observance and celebration of the month's significance. Today's submission comes from LA-based singer/songwriter Liddy Clark.
•• ••
As a person who actively participates in the female empowerment movement and doesn't shy away from standing up for what I believe, there is rarely a day that goes by where I'm not acutely aware of the honor that comes with being a woman. As such, Women's History Month holds a special place in my heart. Often underestimated and under-appreciated, it's important to take an authentic moment of acknowledgement and gratitude toward the women in our lives that have had an immeasurable impact on each of us.
For me, Women's History Month serves as an important reminder to reflect on the women who have played particularly significant roles in shaping me into the person I am today. From afar and personally – artists, teachers, mothers, friends and countless others have had a hand in shaping me into a person I am proud to be.
From an early age, I was given unfathomable support from my mom who was my constant champion, always assuring me my dreams could never be too big. She helped to lay the foundation for a lifelong pursuit of always giving my all and knowing my worth. Along the way there were friends and family members and a series of influences that each taught me something new. One of my biggest influences became Taylor Swift for her vulnerability in songwriting and commitment to using her voice as an activist for women and many other important causes. As a recent graduate of the USC Thornton School of Music, I was fortunate to have met many amazing female professors who became strong role models throughout my education, nurturing my love for music and inspiring me with their stories and talent.
Women's History Month is an opportunity to celebrate and honor all women – those who are still with us and those who came before us, paving the way for the lives we now get to lead. To all the women who gave me the opportunity to be whoever I wanted to be and do whatever I wanted to do, I am forever grateful. As I continue navigating through an ever changing world, I can only hope that in the end, I can serve as a woman the next generation will hold in high regard for being brave and bold in my pursuit to elevate the lives of women everywhere. – Liddy Clark
— —
— — — —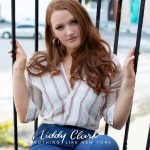 ? © courtesy of the artist
:: Liddy Clark ::
---