Le Couleur dives into tragedy on 'Concorde,' but instead of ruminating, they emerge with synth-laced dance hits to lose one's self to.
Stream: 'Concorde' – Le Couleur
---
The idea of mourning varies from person to person – culture to culture. What can be seen as sorrowful can be flipped into a celebration of unity. These ideas extend into tragedy and the conversations and topics surrounding it. For Le Couleur, they wished to talk about these tragedies and difficulties of life on their album Concorde, but instead of creating a somber environment, they subvert expectations with their signature disco melodies, and Atwood Magazine is proud to be premiering the album today!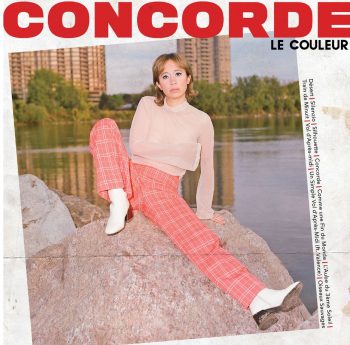 Finding beauty amongst the pain lies within the heart of Concorde, and the Canadian trio of Laurence Giroux-Do (vocals), Patrick Gosselin (bass), and Steeven Chouinard (drums) manage to showcase this with extreme poise and artistry. Based on the tragic plane crash in 2000, the album dives into the tragedies that follow such an event: mental illness, suicide, and drug use. Each song is a visceral exploration of French pop and disco, coiling around these hardships with a firm yet gentle grip that provides comfort with each note hit.
"Objects, pictures, movies, and architecture are big influences. Then the story behind this magnificent plane (Concorde) was so easy to talk about," explains the trio. "Actually the object itself as well as the tragedy surrounding it inspire us to talk about more tragic situations: Mental illness, sectarian collective suicide, a friend with drugs issues, etc. It's quite a dark album now I describe it! But it's never heavy and depressive since it's no personal situation. These stories aren't to free ourselves or anything like this. We thought there were good themes to put sounds and images on."
"Silhouette" – Le Couleur
Opening the album is "Désert," a song whose layers are seemingly infinite as throughout its entire duration, new elements are introduced to enrapture listeners. And it works. The track's end, however, takes a dip in nostalgia, the guitar solo creating a vintage presence that makes for a start like no other. "Silhouette" goes heavy into the synths and the result is a nu-disco inspired ballad that acts as a constant stream of energy.
Title track "Concorde" examines the plane crash in a dream-like fashion. Sultry and somber is a combination like no other, but Le Couleur pull it off as if second nature. "Train De Minuit" takes those disco beats and reaches the zenith with them. The guitar and synths coalesce to form pure majesty – the song itself a portal into yesteryears that will leave one hard-pressed not to be intoxicated by it.
Nearing the end of the album, "Un Simple Vol D'après" offers a sleek dance-pop rhythm adorned with charm and vibrant electro instrumentation. The closing track, "Oiseaux Sauvages," is an outlier. Its slowed, reflective approach offers a moment of reprieve at the journey's end, and with it a gorgeous showcasing of the dulcet vocals of Giroux-Do. It's a brilliant good-bye that gleams with excellence, and one that cements Concorde as an album nonpareil.
Concorde is a celebration of life, not falling into a pit of anguish but instead emerging with the hope that can still exist in the wake of adversity. This transformation of themes is one to be lauded, and each song is a beautiful undertaking that never fails to hit the mark. Le Couleur has shown their artistry and talent are peerless, making Concorde one of 2020's best synth albums.
Stream Le Couleur's Concorde exclusively on Atwood Magazine, and get it Friday, September 11 on all platforms!
— —
Stream: 'Concorde' – Le Couleur
— — — —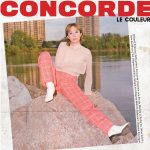 ? © Gabrielle Demers
:: Stream Le Couleur ::
---