Every Friday, Atwood Magazine's staff share what they've been listening to that week – a song, an album, an artist – whatever's been having an impact on them, in the moment.
This week's weekly roundup features music by The Vaughns, Rhye, Layla Rina (ليلى رينا), Amy Milner, Julia Church, John Tucker, Me Nd Adam, Marsela, Middle Part, J. Begalla, Deanna Devore, D'Zhari, Janelle Monáe, Fischer King, and Boy Willows!
— — — —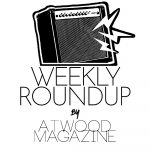 — —
:: "All Weekend" – The Vaughns ::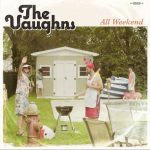 New Jersey's The Vaughns fell into my heart with their 2018 single "Coffee Sundae," which I described as "a tasty dessert full of intense flavors and a dash of jealousy… bursting with raw indie rock charm." Following 2019's excellently raucous debut album F.O.M.O., their new single "All Weekend" serves as a glistening and gentle reintroduction full of Alvvays-esque sweetness. Now a duo of Anna Lies and Ryan Kenter, The Vaughns have signed to Equal Vision Records and are looking forward to releasing their most polished raw music yet.
"This track is meant to make you smile," Lies says of "All Weekend." "If the song doesn't, we hope the video does. I started writing it last summer when I was touring and craving time alone at home but eventually adjusted the lyrics to show some perspective shifts after our state's mandated quarantine. Nothing cheers me up more than rom-coms and good take-out, so I hope this song can be a bit of that for everyone who needs it right now."
Life in the city babe
Can I keep up with my own reputation?
Late nights, longer days
Running round till I fall down
You called your friends, made all the plans
So I'd be in debt to you
Plus, I'm still in bed, so stuck in my head
I don't think that I want to move
All weekend I'm hanging low
With rom-coms and takeout food
Lies' vocals are enchantingly bright and immersive as she sings of living life in the moment and embracing it for what it is. A rugged and sultry accompaniment of guitars and synths helps the entire production soar until artist and listener alike are floating in a homemade dreamland – and that's where we want to stay as we bask in The Vaughns' groovy goodness. We'll be keeping close eyes and ears on this band in the months to come, and you should, too.
What's in the city babe?
Since everyone lost all those big expectations
Now everyday is laundry day
Take me back to September 8th
When you saw your friends
Danced till your dead
Now today you don't want to move
Just throw me the blankets
I'll build the fort, an introvеrt's cave for two
:: "Helpless" – Rhye ::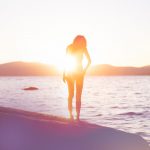 A sensuality that cannot be matched – a seduction that tantalizes and caresses the listener in such gentle fashions that it undoubtedly leaves shivers its wake. Rhye are masters at their craft, "Helpless" further proving it with the return of those dulcet vocals that cling to the ears while the melody takes listeners away. Each layer of the track is deeper dive into total infectiousness, making for an alluring experience that never seems to stop giving. Grab a glass of wine, stand in your room, and dance to rhythms that circulate around. It will surely be a steamy evening.
:: "روق (Rouq)" – Layla Rina (ليلى رينا) ::
There's a certain power that arises from the abundance and balance of strength and delicacy, and Layla Rina effortlessly exudes exactly all of it.
"Rouq," meaning relax in Arabic, talks to its main character, a man hurting, putting on a front, confronting the persistent pain he tries to hide by telling him it won't go away if he continues to deny himself of it. (You can find the lyrics and a translation here.)
With nothing but an ethereal voice, steady low harmonies, ticking percussion, spacey production, and the occasional impassioned electric guitar chords, all only to be interrupted by hi-hat cuts, "Rouq" is four distinct flowing verses that feel like careful tip-toeing around the middle of the night while Rina sings like she's navigating the wind, creating a smooth groove under the backdrop of a certain quiet intensity of the nighttime.
Hailing from Palestine, "Rouq" is the first of the young wordsmith's two singles; both sung in Arabic, and both transporting you to her vast universes through her immaculate breezy, yet grounded vocals and otherworldly production.
:: Big Bad Thoughts – Amy Milner ::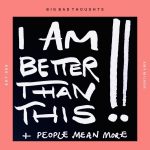 Already composing for herself and others from the mere age of 10, Amy Milner's natural talent shines vibrantly. From the result of the British songstress' latest creative efforts comes her debut EP Big Bad Thoughts (out via their own EKT Records), produced alongside Tim Larcombe (Lana Del Rey, Halsey, and more) between Amy's home in Suffolk and Tim's studio in Brighton.
Big Bad Thoughts is a 5-track journey through the artist's inner thoughts and emotions, all laid upon a canvas of extremely passionate songwriting and production. Previously released singles "Wildside" and "Closer" are stunning pieces of alt-pop, while introspective and emotional tracks such as "Big Bad Thoughts," "Sometimes," and "Grow" showcase just how intricate and forward-thinking Milner can be with her creations.  "Big Bad Thoughts is a story of dark and light, channeling a positive message and championing human strength through adversity," explains Milner. "It acknowledges how worries and anxieties stored up inside our own heads can be overwhelming, while urging us to remember that there are always people who want to care for you, to help make things better."
:: "Marionette" – Julia Church ::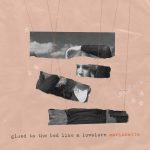 With a unique nonchalance and breezy swagger, Julia Church continues to stake her claim on the music industry with new track "Marionette." The South-African born songwriter/producer is at her soulful peak with "Marionette," a deep, groovy ballad with an almost eerily sarcastic top-line littered with 'la-la-las'. Indeed, what I love most about this track is the odd balancing act it treads between various binaries. For example, pop vs soul, kitsch vs laidback, and even melancholic vs hopeful. For fans of a classic ballad, a strong bassline, and some gorgeous husky vocals, it's an absolute no-brainer!
:: "Vacation" – John Tucker ::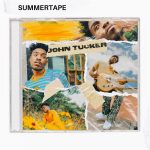 In 2018, John Tucker left behind his roots in Columbus, Ohio to pursue a career as a songwriter in Nashville, TN. While he learned to grow as an artist through Nashville's hub of other creative artists, it wasn't long before he began making music for himself and amassing 1M combined streams for his original songs within just a couple of months. One of Tucker's latest tracks, "Vacation," plays around with vulnerable emotion while embracing a soulful, easy-going, fresh take on a classic R&B beach vibe sound. Tucker's talent for writing hooks that stay looped in your head is evident on the song as well as his fearlessness to be honest.
The 23-year-old artist has also spent his time in quarantine creating new music and posting viral song covers on his TikTok page, winning over the hearts of new fans daily. However, don't let Tucker's feel-good, escapist track fool you. His influences span wide across the musical spectrum, as he draws inspiration from Joni Mitchell to Anderson Paak, and his other 2020 singles, like "Drake" and "You Wouldn't Know," echo the artist's talent for songwriting without emotional guards. The Summertape EP is an eclectic mix of music from an artist who has become too good at freezing his momentary feelings forever in sound, and it's perfect for anyone who appreciates organic music and isn't quite ready to leave summer behind just yet.
:: "Something Better" – Me Nd Adam ::
Austin's finest duo Me Nd Adam are back with another trashwave banger. This time, "Something Better" narrates a feeling we've been experiencing more often lately – the quarantine hangover. Months upon months of being stuck inside have left us with nothing to do but drink and Me Nd Adam admit they've been partial to a few bevvies.
"Something Better" is the third single to be released off of their upcoming debut album, American Drip Part I. The track is a flamboyant concoction of Bruce Springsteen meets Marshmello – a combination you won't hear anywhere else. Bursting with a kaleidoscope of sounds, the song features animated melodies, fast-paced percussion, and oscillating synths.
:: "Who Knows Where the Love Goes?" – Marsela ::
Soulful and husky with a distinctly dramatic vocal style, London-based, British-Albanian musician Marsela impresses with debut single "Who Knows Where The Love Goes?" A track that examines the struggle of a rough breakup and the consequent heartache, Marsela is fearless in her exploration of mental empowerment. As she explains, "'Who Knows Where The Love Goes'? is inspired by the act of someone waking up one day and deciding they no longer want someone they've been building a life with, with no explanation…I like to address issues that people don't feel comfortable talking about out loud."
Furthermore, she explains that "it waltzes between feelings of hopelessness to actually pointing the finger, which is what we do when we're left doing guesswork. I find it to be quite a terrifying prospect to have the rug swept from under your feet and so I wrote about it." Indeed, Marsela does all of this whilst showcasing the unique and effortless tone to her voice that seems almost timeless in its sheer naturalness.
:: "& Cry" – Middle Part ::
An intense and emotional offering that cuts you to the core, Brooklyn based artist Middle Part unveils his melancholy new single. Entitled "& Cry" the track is a poignant account of the struggles we face within a relationship when we are not in a good place mentally. The synth-driven, indie-pop track harkens back to early '90s rock with its dark, grungy vibes.
Middle Part's music exudes a raw intensity and unabashed honesty. Andrew Selkōw the brainchild behind Middle Part, moved to Northern Alaska after a major breakdown to rediscover his sense of self. It was from that transition the project was conceived. "& Cry" is the first single off his upcoming EP I Wish I Was Alive which details Selkōw's battle with mental illness and his powerful road to recovery.
:: "Hints" – J. Begalla ::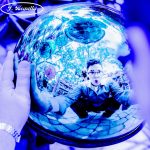 The second I heard J. Begalla's debut single, all I wanted to do was close my eyes and sway. A producer, songwriter, multi-instrumentalist, composer, and mix engineer from DeLand, Florida, Begalla recently graduated from Berklee College of Music and is just beginning to carve out his own space in sunny LA. "Hints" is the beginning of that story – a funky, experimental, hypnotizing dance track full of lush synths and colorful guitar grooves.
You've got a new boy
I bet he tastes like La Croix
Because you only like hints
You only like hints
You only like hints of the things you enjoy
You've got a new boy
I bet he tastes like La Croix
Because you only like hints
You only like hints
You only like hints of the things you enjoy
"Hints is about being the person that someone thinks that they want, but in reality they don't want you," Begalla explains. "They only want a more toned down version. The sparkling water La Croix was the perfect metaphor to reflect this concept! The singer (me) is the lemon lime soda, the real deal, and the singer's ex has chosen to leave the lemon lime in favor of the safer option, the La Croix boy… In a more indirect and personal way, it's a song about how I can be hard to love. I've always felt comfortable with taking risks, hence why I just moved to LA and I'm pursuing music full time. My desire to live a semi unconventional life has affected past relationships, but the truth is I wouldn't have it any other way. My happiness is tied to living my life how I want to live it."
Two immersive minutes take us quickly into and out of Begalla's world. "Hints" is fleeting – an experience that comes and goes in the blink of an eye, but for that brief time, I find myself utterly enchanted. Begalla's best work is surely yet to come, but "Hints" is a promising debut and one I'll happily slip away to from time to time, as a blissful escape.
:: "Love Again" – Deanna Devore, D'Zhari ::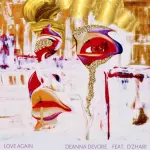 Neo-soul, jazz queen Deanna Devore is at it again with her latest single "Love Again." Teaming up with fellow Chicago artist D'Zhari, the two have prevailed in producing a soulful, mesmeric track that will tantalize all your senses. The easygoing song is the perfect medicine to relieve the stresses of everyday life, with Devore's dreamy soundscapes emitting the most idyllic atmosphere.
The story behind "Love Again" is an emotional one. Detailing the initial fear and uncertainty you feel once a relationship comes to an end, the song aims to shine some positive light on the matter, reassuring others that everything happens for a reason and things will get better. We've all been there before and it's nice to hear other people's experiences, especially when it comes to relationships.
:: "Turntables" – Janelle Monáe ::
It's always a pleasure to hear more from the insanely talented and unique Janelle Monáe, even if it's only for a relatively scant 2 minutes and 43 seconds. In this case, that's all the time it takes for her to make a powerful impression with "Turntables," which was included in the recent documentary All In: The Fight For Democracy. 
"Turntables" reexamines the sociopolitical chaos that Janelle observed on her most recent album, 2018's Dirty Computer, especially on tracks like "Screwed," on which she vowed that if "you fuck the world up now, we'll fuck it all backdown." Given how much everything has intensified over the past two years, she feels even more compelled to make further taunts in a similar vein– namely, "you fuck up the kitchen, then you should do the dishes," while in the meantime, "we kickin' out the old regime– liberation, elevation, education."
The accompanying music video (or "emotion picture," as she likes to call them) grants "Turntables" even more impact, particularly with imagery connecting today's protests with those of the Civil Rights Movements decades ago. It was a pleasure seeing this artist put out innovative and engaging music in the early 2010s when she was getting started, but a Janelle Monáe gone political is an especially strong force to be reckoned with.
:: "Lost" – Fischer King ::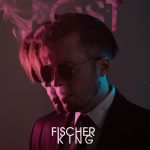 An exceptional producer, songwriter, and composer concocting stunning alternative pop, Fischer King unleashes his bewitching new offering "Lost." The track erupts with plunging synths, impassioned vocals, and eclectic fluctuating guitars. The track narrates the relatable feeling of losing yourself in a relationship.
A Detroit native, King's love for music came at an early age starting with classical and then later evolving to a punk rock and hip-hop palette. Moving to Los Angeles in his early 20s, he constantly worked to perfect his craft and discover his true musical identity. Within his releases, he reveals some of the uglier sides of life. Touching on themes of addiction and treachery, he admits that he himself has been on the edge of turning down a dark path.
:: "Fila" – Boy Willows ::
We're definitely running in circles these days, as Post Malone reminded us incessantly a little while back. Further elaborating on the experiences of "runnin,' runnin,' runnin' round in circles" is L.A.'s Landon Fleischmann. He earned his BA in Music Industry from USC in 2017 and has since been testing the waters of that same industry under the guise of Boy Willows. He emerged in '18 with his debut EP, Woods at Night, and now is expanding his catalog with new single "Fila," a collaboration with Dylan Minnette of the group Wallows.
Think of listening to "Fila" as a sort of Alice in Wonderland experience: "it's meant to take the listener down a rabbit hole of what's going on in my head," according to Fleischmann. The resulting music (and music video) is about as giddy and lighthearted as it gets, with the two singers prancing around and praising their mutual friendship: "If I weren't with you I'd be falling to pieces. Lying next to you, I'm not afraid of dying." Aaawwww. For a quick bit of soothing musical therapy, "Fila" by Boy Willows certainly will do the trick.
— — — —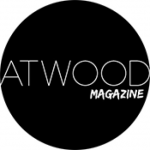 :: Weekly Roundup ::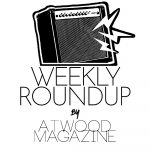 ---
:: This Week's Features ::
---