In honor of Pride Month, Atwood Magazine has invited artists to participate in a series of essays reflecting on identity, music, culture, inclusion, and more.
•• •• •• ••
Today, Los Angeles-based artist and actor Samuel Warburton shares his essay, "Farm Boy to the Big Stage," a reflection on his coming out journey through music that saved his life, as a part of Atwood Magazine's Pride Month series!
Warburton started his career as a Disney Prince playing the role of Aladdin in the hit Disney musical Aladdin, which is now on Broadway. Since then, he has been seen in several films and stage musicals, and he starred in the feature film, 'Exodus of the Prodigal Son.' He recently found his way back into the recording studio to bring his music and voice back to life.
Warburton's latest release, "Stained Glass," is out now. He describes it as "a raw story of coming out and revealing your true self to someone you love the most. And all you want is for them to love and accept you for who you are in your truest form."
•• ••
"FARM BOY TO THE BIG STAGE"
by Samuel Warburton
I, Samuel Warburton, grew up on a dairy farm in an extremely small town called Franklin, Idaho.
This town is located in Southeast Idaho near the town Preston, Idaho (home of the movie Nepolean Dynamite). The main religion in this town is The Church of Jesus Christ of Latter Day Saints also known as the "Mormon" religion. I always knew I loved music, dancing, and the arts. However growing up in a town like this, it wasn't celebrated when a boy participated. During middle school, my family moved down to Cache Valley, Utah. Males in the arts were even more looked down upon there. This town is quite larger than the small town I was raised in. I remember enrolling in dance classes, singing lessons, and piano lessons. Once I did that, the bullying started immensely. There wasn't a single day I wasn't verbally or physically bullied or harassed. This type of severe bullying continued even through my graduation of high school.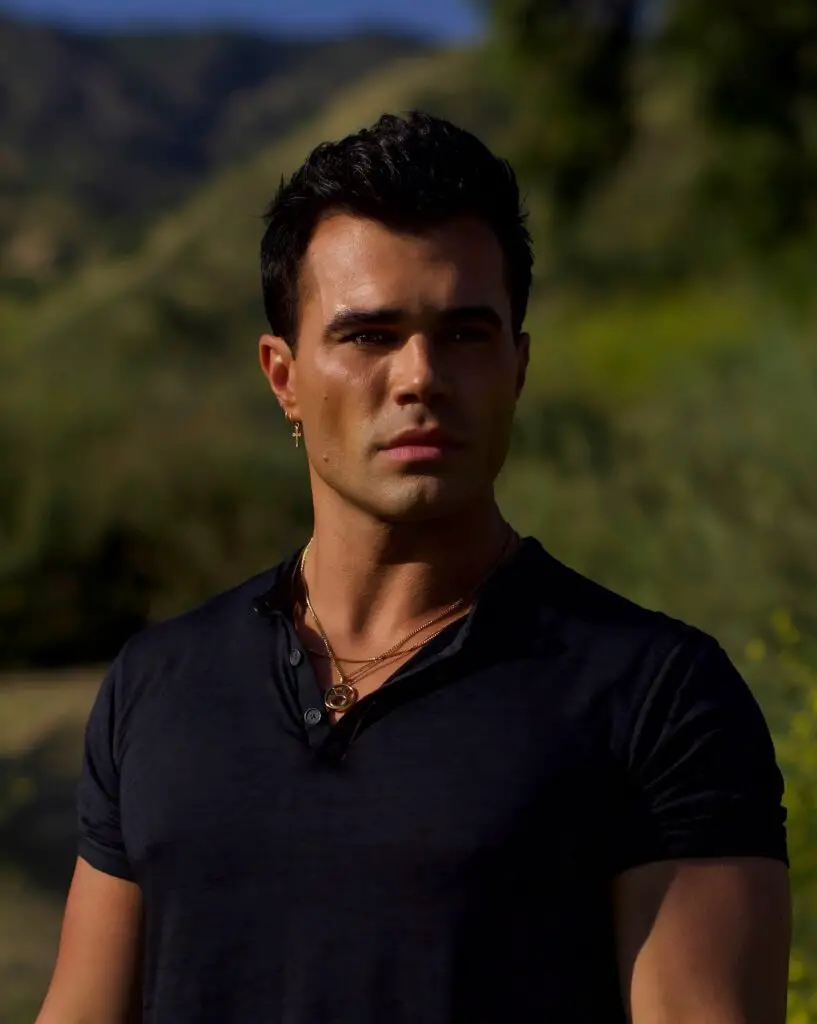 Even though my true love of the arts was in music and film, I was being heavily pressured into following the Mormon agenda which was for all worthy males to serve a Mormon mission and upon returning marrying a young woman in the Mormon temple. Because of these pressures, I was told I wasn't allowed to peruse a career in the arts. Therefore, I enrolled in cosmetology school, so I could somehow have a career in some art form. Well, that was also looked heavily down upon. I was told many times no woman would want to marry a hairdresser. That is a "gay" career. Well I didn't listen, but I did follow the rules of serving a LDS mission for the church. I was sent to Guadalajara, Mexico.
Upon my returning of my Mormon mission, I enrolled in college and immediately signed up for music, dance, and theatre classes. I once again felt like my soul was awakening. This didn't help, however, in the dating field. It was extremely difficult for me to find women who were interested in dating me. I was about as different as they came for a man in Utah/Idaho. After receiving my associates degree, I decided it was time to end my dream in the arts and get a degree that would make a woman happy and stop all the talking amongst the members of the church. But the universe had a different plan.
During my junior year of college, I was contacted by the associate producer at the Regional theatre company called Tuacahn. This is a professional Equity theatre, and they were holding auditions for Disney's Broadway Aladdin; Disney was having the world premiere of their new Broadway musical at this theater. The producers had seen a video of me singing the National Anthem on Facebook. They said my voice and look was exactly what they were looking for, for the role of Aladdin. I went through the audition process and later landed the role of Aladdin. This opportunity completely changed my life. I knew I was meant to be a performer. The universe had taken over, and I listened. This was also the first time I had been around queer people. What shocked me the most was that they were completely different than what I was taught about at church. AND, I never related more to a group of people before.
A couple years after this experience, I gained the courage to pack my bags and moved to Los Angeles, California. I immediately enrolled in acting classes and started auditioning everywhere I could. I put music more on the back burner because acting seemed like the more realistic thing to do. But yet again, the universe had other plans. It kept trying to get me to write and record music. I held off as long as I could because I was under the impression I was supposed to be signed by a huge label before having a career in music.
I was introduced to the producer Greg Cortez at Jungle Strut Music. This is an indie label that records at New Monkey Studio in Van Nuys. Working with Greg, I found my voice and the messages I wanted to tell through my music. It was also through music I was able to accept my queerness and come out to my family and friends. It also gave me the courage to leave behind the toxic and very damaging religion I was raised in.
The song I'm now releasing is called "Stained Glass" this is the song about me coming out to my family, in particularly my mom. The coming out process can be long, scary, and with much feeling of being alone. This song I was able to express all the emotions and the process of telling a loved one about coming out. What one truly hopes when coming out is that their loved ones won't leave them behind and look at them differently. But if they do, we will be okay and survive. Queer people are resilient and strong. This world can be very against the queer community. Even now in 2023. BUT, we must speak our truth even if it means we are putting back together all the broken shards of glass in our hearts. Writing and recording music had given me a voice and confidence. I have never felt more love for myself, and THAT is what is so important. We have beautiful souls and stories to tell. NOW is the time. Sending all my Love to this community and anyone who is going through their coming out journey. – Samuel Warburton
— —
— — — —
 © courtesy of the artist
:: Stream Samuel Warburton ::
---