Don't wait in vain, it's all that I love
How much can you take until you're pushed over the edge? What will it take to boil your blood? WVM's "I Will Run" is an intense expression of irritation that has crossed into fury, capturing an emotional state past the point of no return, forced into action.
Feel my face, nothing's wrong
I want to get us the hell out of here
I can take I'm the one
when everyone is only guided by fear
Listen: "I Will Run" – WVM
---
---
---
Atwood Magazine is proud to be premiering "I Will Run," the second single off electronic artist and multi-instrumentalist WVM's upcoming untitled album. A rebellious electro-pop song, "I Will Run" is a guttural exhale of energy, the result of the artist's literal inability to stand still emotionally or physically.
What starts off with a dark synth riff and backing drum beat quickly builds rife with tension as WVM sings the opening line, his voice like a whispered howl: "Feel my face, nothing's wrong, I want to get us the hell out of here," he exclaims. But this is not your average cabin fever: "The vocals in the verses definitely do not have a pop feel – they have a growl with perhaps a bit of disdain," notes WVM of this song. He continues: "A lot of it was written during the election of 2016 and watching all the racism that was coming out in the open."
"I will run, I will run, just say the word and we go," WVM sings in a beleaguered voice, his strain echoing that of Brandon Flowers on The Killers' "Jenny Was a Friend of Mine." Fat synths follow WVM's voice, echoing the howling dissonance of his lyrics.
I won't wait, I will run
to get away from this atmosphere
Don't you get in my way,
don't you know I am the one that you fear
Don't take it away the sky lit above
I won't tell you nothing tonight,
I can feel that something is right
"I wanted to keep 'I Will Run' with an almost cyberpunk kind of feel, raw and minimalistic, a less is more kind of vibe," explains the artist. In keeping things light, WVM is able to highlight individual instruments and tap deeper into the core emotions of his song. "It really showcases my synths – the Prophet 6, Sub 37, and Rytm – and is deeply analog to the core. The vocals were actually the first and second take played together of what was meant to be a scratch vocal, but when I heard it the next day I felt like it was already the final take and just kept it. The production on all my songs is very anti-establishment pop. The vocals are raw, no tuning or any of that. The vast majority of pop music today has vocal tuning which really bothers me when I hear it. That stuff zaps the life out of records, makes them lifeless in my opinion. I suppose that's why I've been listening to a lot of old records, when singers actually sang. A huge inspiration for this new record was Michael Jackson; there is a lot of late Michael in this song I suppose, but whenever I show my songs to anyone I always get such deeply divergent and diverse artists that I sound like, which tells me I really have my own sound."
A vibrant mix of primal urge and intellectual stimulus lend "I Will Run" its enchantingly dark allure. The anger and angst building up in WVM translates well beyond politics and race, speaking to the deeper underlying symptoms that create our tension in the first place. We all get that need to run – but how much will we take until we let ourselves go?
Mixed by Christoffer Berg (The Knife, Fever Ray, Frank Ocean), "I Will Run" is the latest off WVM's debut album untitled, anticipated later 2017. The dark synth master has been off to a promising start with singles "Sown" and "Blood," but it is the raw, untethered energy of "I Will Run" that proves the deeper potential of this glowing artistry.
— — — —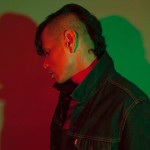 cover © 2017
:: Listen to More from WVM ::