Eighty Ninety illustrate the delicate balance of romantic reminiscence on "Your Favorite Song."
— —
Music is precious to each of us, oftentimes for incredibly personal reasons, but the basis of its importance is essentially that it evokes emotion. Music can give hope, renew strength and placate anger. It also has the power to remind us of people in our lives, places we've been, and moments we've experienced, whether happy or blue, peaceful or turbulent. With the weight it carries, music becomes a part of us as soon as it begins to have a personal meaning. Eighty Ninety explore the significance of music in romantic relationships with their latest single, "Your Favorite Song" (independently released September 29, 2017).
I can picture you
Still standing there
In your favorite jean jacket
And your movie stare
Listen: "Your Favorite Song" – Eighty Ninety
---
Brothers Abner (vocals, production) and Harper James (guitar, production) are Eighty Ninety, and on their latest track they tell us a reminiscent story about a past lover and their favorite song. Eighty Ninety masterfully demonstrate the happiness a song can bring to our lives, as well as the melancholy feelings it can unearth as we look back.
And when I hear it playing
I can feel you, oh
I still know all the words
"Your Favorite Song" is a delicate, alternative indie pop song with strong meaning. Powerful production and beautiful vocals evoke the complicated emotions of losing someone you love while keeping all the wonderful memories you shared.
We locked the door to your room
Lay on the floor and assumed
That things would keep getting better
'Cause we wanted them to
The track really does feel dedicated to a certain someone, because it's easy for the listener to identify with the heartfelt reactions that come through every word. Abner's vocals are both clean and profound. We can relate to feeling high on love, hope it will never end, and the striking realization that unfortunately, it's not always meant to last.
I have this picture that I took of you
The sky is clear
And your eyes are blue
I caught you laughing like you used to
But it's starting to fade
The combination of acoustic sounds and controlled electronic production mirror the sentiment of "Your Favorite Song" perfectly. Well-placed reprieves and thoughtful note placements encourage contemplation throughout. The fact that Eighty Ninety was able to construct such a catchy tune with such an intimate atmosphere makes them a pair to keep an eye out for. In the meantime, we won't judge you for keeping "Your Favorite Song" at full volume and on repeat as the summer leaves continue to turn to fall.
— — — —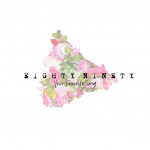 :: Listen to Eighty Ninety ::