Vansire create a moving ode to the world at large with "Metamodernity," a romantic narrative that explores the navigations of a postmodern world.
Listen: "Metamodernity" – Vansire
---
There's something innately moving about dream-pop group Vansire's latest release "Metamodernity." It is a song for people who are in motion: music for cross-country road trips, for a journey by train, for aimless car rides. The track, which was released mid-June, is full of cultural references, a bouncing beat, and earworm lyrics. It is quirky, fun, and simultaneously other-worldly yet grounded in the present: a true aggregation of everything there is to love about the band.
In order to understand the track, it is helpful to dissect the compound word "metamodernity" that dominates the meaning of the song. 'Meta' is either used as a prefix or an adjective; depending upon which way it is being used. The word, according to the Cambridge Dictionary, can mean "referring to itself or to something of its own type" or "involving change." Modernity, also as defined by the Cambridge Dictionary, is "the condition of being modern." Vansire's "metamodernity" therefore, can perhaps be defined as the state of being modern, referring to itself, or the state of being modern, while also undergoing change.
So call me when the world looks bleak
I love you but it's hard to believe
With every day we'll start to see
The rest is metamodernity
Vansire's vocalist Josh Augustin admitted in a December 2018 interview with Oberlin College that the idea of 'metamodernism' had been on his radar to write a song about for a while. "Lately I've been thinking about post-postmodernism, or 'metamodernism,' in relation to large scale musical and sociopolitical developments in America over the last year," Augustin stated. "It's kind of an attempted philosophical reconciliation between the grand romantic narratives of modernism and the self-deprecation and irony of the postmodern era. I think that'll be a big focus of whatever our next release is." Less than a year later, the band, comprised of Augustin and best friend Sam Winemiller, contemplates this idea precisely with the release of "Metamodernity."
The song opens with an ode to two of America's most fabled cities: New York and Los Angeles. Augustin makes a reference to the fashionable Hudson Yards area in New York, as well as how the narrator "parse[s] apart a troubled heart from the E train//And sing[s] about it in LA."
With clouds in the rearview
You start humming along
To the first verse
Of your favorite song
That you quote each day
With the words all wrong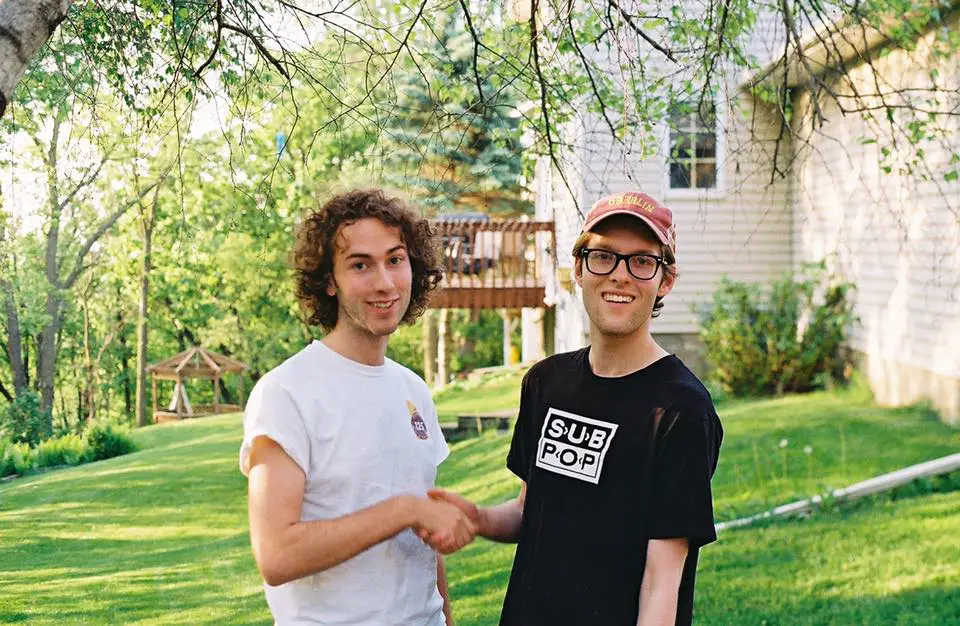 After mumbling a few words on reflecting on "clouds in the rearview," Augustin's serenade in the song's chorus is sincere and sweet. "So call me when the world looks bleak," he sings. "I love you but it's hard to believe//With every day we'll start to see//The rest is modernity."
Though it is hip and self-aware, there's also something hazy about "Metamodernity" both sonically and lyrically. It doesn't read like a love song, but in many ways it is. The track is a love song to the person Augustin is singing to, asking them to "call me when the world looks bleak," and a love song to the scenes he has experienced across the country. Through this, the band brings two different loves together in one song, creating another compound, something Vansire does best.
The next stop in the song is the Midwest, perhaps a reference to the duo's Rochester, Minnesota roots. The lyrics paint a picture of a humidity drenched Midwest summer and pink skies.
From the outset
It's been hard to tell
Why I'd feel this down
When it all bodes well
There's an undertone of confusion to the song. It's almost stream-of-consciousness and conflictingly honest. There's an acknowledgment of feeling "this down" despite the fact "it all bodes well" towards the end of the track. It's a slightly tumultuous realization, yet one Augustin doesn't seem too hung up on. Instead, he continues to sing, vaguely aware of how modern this exact sensation is. That is, perhaps, the exact repercussion of living in the modern world: a mind on overdrive, and a world that keeps moving, from coast to coast, despite it all.
— —
? © 2019
:: Today's Song(s) ::
:: Stream Vansire ::