Recommended If You Like: Anteros, Fleetwood Mac, The Big Moon
— —
We each have our calls: Special, unique moments that test us, push us, drive us to be the individuals we aspire to be, and more. You don't know when or how they will happen, but when the time comes, your choices will be clear: What you do next is up to you. SUAD's vibrant song "The Call" is a boldly personal, anthemic undertaking that connects on a deep level while capturing a potent, irresistible new artistry.
The fog doesn't look like it did before
  I can hear my name repeated on call
  But it said the same many times before
This time, it feels like a different call
Listen: "The Call" – SUAD
[soundcloud url="https://api.soundcloud.com/tracks/332982925?secret_token=s-8b3sB" params="color=ff5500&auto_play=true&hide_related=false&show_comments=true&show_user=true&show_reposts=false" width="100%" height="166″ iframe="true" /]
---
Atwood Magazine is proud to be premiering "The Call," the lead single off SUAD's debut EP The Call (released 10/6/2017 via Playground Music). The project of Helsinki-based singer/songwriter Suad Khalifa, SUAD comes off as a modern-day throwback to rock's classics: The warm spice of Stevie Nicks; the bluesy guitar licks of Tom Petty; the darkness of Velvet Underground; the rigor of The Smiths. Akin to London indie Anteros and other Atwood favorites, SUAD are an instant classic.
Indeed, one can easily hear the influence of any number of artists in SUAD's music – an aspect its namesake embraces. "I'm inspired by '70s classic rock, '70-'80s pop, alternative and progressive rock – so there might be some influences from those soundworlds," she shares. Yet this does not take away from her own burgeoning artistry; in fact, it enhances it.
Again around the corner I hear the call
It keeps me close, close to the wall
My big, loving arms never let me fall
Still, I hear the same, take – take the call
Opening with a thunderous build-up of emotional energy, "The Call" pulses with a constant forward momentum. The bass and percussion hold a steady beat as Suad sings about breaking out of her comfort zone; of stepping up and going above and beyond what is asked or expected. Her words are vague, lending them a certain mystique and universality that makes "The Call" all the more seductive.
It's easy to lose oneself in the harmony of perfectly-coordinated music and lyrics. Everything moves together, operating as individual gears in one fluid system. A wily electric guitar threads dynamic riffs over subtle verses and bombastic choruses, its voice one that is at once separate, yet in sync with the whole.
Ultimately, the listener is always drawn back to Suad's captivating, lush voice. Her fierce inflections fill the space with emotion as she tears through the surrounding noise, glowing with a relaxed yet confident demeanor that is utterly enticing.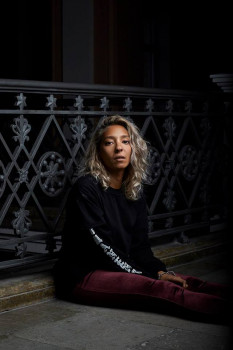 When it's time
to close the door too soon
For what is mine
And also yours in bloom
Or watch the paint dry in the room
When, in time
It follows too soon
If not other
Keep one eye on the moon
Or watch the paint dry in the room
"One aspect that binds the songs on the EP The Call, is being on the verge of a deeper, truthful understanding," the artist shares. The title song begs us to dive inward: It's a call to action, an active acceptance of personal duty and social responsibility – yet it's not prescribing anything specific.
We are all free to create our own interpretations of SUAD's music, a special feature that allows "The Call" to be a truly individual anthem. Thus, whether you're on a soul-searching quest, seeking to better the lives of those around you, or merely in need of a great new tune, "The Call" will speak to your deeper inclinations and help you see yourself through. Though SUAD have released The Call quietly, their music is not to be missed: This must-have 2017 artist to watch offers an incredible pool of emotion and connection that feeds the ears and the soul.
— — — —
photo © Riku Pihlanto
:: Listen to SUAD ::