Recommended If You Like: The Goo Goo Dolls, The Staves, Vance Joy
Most of the time, when going through a breakup, you try to figure out where it all went wrong. You try to pinpoint that moment that may have seemed insignificant at the time, but started the downward spiral into the demise of your relationship. In order to do this, you replay the memories in your head. You go over everything again and again to see if there was something they could've done differently. You get lost in the good memories, and then turn around and force yourself to think of the bad memories in order to stay strong and keep moving forward. It's a never-ending battle, until one day, for whatever reason, you just begin to move on. Usually not because you've figured it all out, but likely because you know there is no point in trying any longer.
Zander Hawley's music video for "Until We Both Get Bored," directed by Joey Brodnax, perfectly depicts that reel of memories that plays over and over in your head while dealing with a painful and inevitable breakup.
"Until We Both Get Bored" – Zander Hawley
---
Atwood Magazine is proud to be premiering the music video for "Until We Both Ge Bored," the stunning single off Zander Hawley's debut album When I Get Blue (independently released May 12, 2017). The video begins with flashes of memories of the relationship and Zander Hawley still, playing an acoustic guitar and singing in a small room surrounded by televisions playing home movies. Quickly, you realize that these home movies are not movies at all, and the small room is not a room at all; what we're seeing is Hawley inside his head replaying the memories he has with the one he loved. As the memories become more clear the old school home video format shifts into better visuals, placing you right there with them. The soft warm tone of the acoustic guitar paired with Hawley's voice matches the aesthetic of the memories perfectly.
Brittle heart, cold as ice
Left me lonesome once or twice
But thats alright, I'll keep waiting on and on
I miss the cherries, miss the trees
Miss the winter Austin leaves
And the way you used to hold me in your heart
Hawley, along with Brodnax, Drew Bauml (Assistant Camera/Set Design), Ashley Leone (Actress), and Taylor Puskar (PA/Set Design) worked together to depict an incredibly real relationship. Brodnax stated that in making the video they "tossed around several ideas that we pretty much concluded were slight adaptations on overused love song video tropes. That's where the idea to plunge head first into the traditional "first love" style of video came about, but we knew that we had to do it in a way that 1) felt completely new to the viewer, and 2) flipped the entire formula on its axis." He and Hawley had a mutual trust as they had worked together in the past and the rest was history. Hawley explained that the team worked over two weekends to "capture these really genuine moments that we may not have gotten if we shot all the scenes in a day." The work and the vision of this team clearly paid off.
"I tried to watch as many traditionally generic music videos as possible in an attempt to somewhat reverse engineer them," explains Brodnax. "We knew we needed a female lead and Ashley Leone could not have been more perfect for this. The off-screen chemistry between the two was something I noticed immediately and quickly realized was one of the most valuable assets we had. In an attempt to capture that, we didn't slate between scenes, we left the shot-lists and bullhorns at home, I very intentionally would be semi-vague when giving direction, and unbeknownst to Zander and Ashley, we pretty much never stopped rolling. Many of the shots that made it into the final cut are the moments just before or after we started each scene. This allowed us to capture the small essential moments between the two that made what we were portraying on screen feel real. Mainly because, in a sense, it was real. They weren't falling madly in love obviously, but there were real moments of connection between the two and I like to think we captured those."
You see the couple happy, you see them sad, you see them unsure, and you see them powering through all of that anyway in hopes of a happy ending. As Hawley sings the heartbreaking chorus you see the couple sadly slow dancing, perhaps coming to the realization that this could be it, before it breaks into another happy memory. The juxtaposition of the happy against the sad allude to how confusing it can be when you don't want to let someone go, but you also know that there may be nothing you can do to keep them. Sometimes you feel hopeful, and sometimes the doubt you have overwhelms.
Oh my god
I've fallen apart
I've lost control of my head
And my soul
Jumping cracks in the pavement
I've waited and waited
For nothing that comes
Am I already done?
The second verse begins and we see more flashes, more of the reel, turning and turning in his head. We get glimpses of Hawley in the small room of televisions singing straight into the camera, reflecting on the past, and how he felt fighting in those fleeting moments.
Love's like a call to war
I'll fight until we both get bored
And nothing lights our fire anymore
Atwood Magazine featured "Until We Both Get Bored" this past May, at which time Hawley told us, "In this song, I go from being with this person to realizing that the end of the song is also the end of our relationship." The bridge of the video is where the powerful realization of the ending comes through in his eyes and in ours. The beautiful and melancholy piano chords come in, and the hue of the memories turn to red, signaling the ending. The couple stare into the abyss, their eyes look empty, their bodies looked drained. Hopelessness begins to take hold. The memories flashing on the screen no longer go from happy and sad. They only show despair.
Hawley sings the chorus one last time and the visual shows the girl dragging a body bag, perhaps taking with her that piece of him he'll never get back. The video ends with brilliance. The televisions in that small room, and the memories in his head, go black. You hear a click tape reminiscent of rewinding a VHS tape in a VCR, reeling all of the memories back to the start; preparing to hit play again so that maybe this time, he will be able to figure out where it all went wrong.
Hawley feels exactly as he should of this music video; it is the perfect depiction of the song he created. "Joey has somehow captured visually everything I have ever or could ever wanted the song to mean. It's a feeling I've never experienced before. I'll be grateful to him and everyone who worked on it forever."
— —
— — — —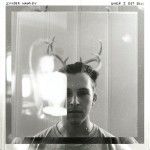 cover © Joey Brodnax
---
---
:: Listen to Zander Hawley ::